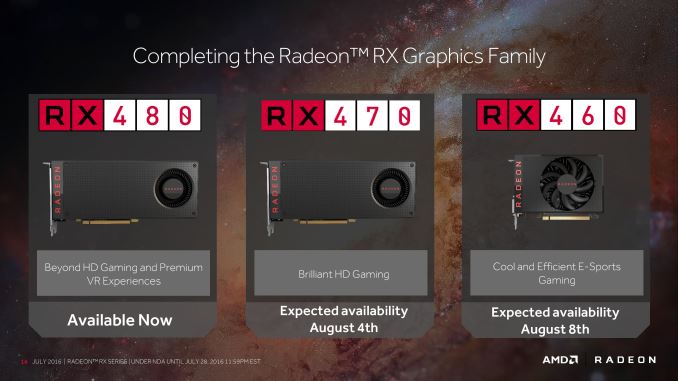 Back before Radeon RX 480 even launched, AMD briefly teased the next two cards in their lineup at E3 2016's PC Gaming Show. These cards, the Radeon RX 470 and RX 460, would further flesh out AMD's Radeon 400 series with cheaper and lower power options based on the same Polaris architecture that was used in RX 480. And while the specifications weren't released at the time, both cards were shown off to the audience, and from their designs alone we got a pretty good idea of where AMD would be aiming.
Now a bit over a month later, AMD is completely taking the wraps off of these two cards, announcing their full specifications and their quickly approaching launch date. So without further ado, let's take a look at the next members of the Radeon 400 series.
AMD GPU Specification Comparison
AMD Radeon RX 470
AMD Radeon R7 370
AMD Radeon RX 460
AMD Radeon R7 360
Stream Processors
2048
1024
896
768
Texture Units
128
64
56
48
ROPs
32
32
16
16
Core Clock
926MHz
N/A
1090MHz
N/A
Boost Clock
1206MHz
975MHz
1200MHz
1050MHz
Memory Clock
6.6Gbps GDDR5
5.6Gbps GDDR5
7Gbps GDDR5
6.5Gbps GDDR5
Memory Bus Width
256-bit
256-bit
128-bit
128-bit
VRAM
4GB
2GB
2GB/4GB
2GB
FP64
1/16
1/16
1/16
1/16
Transistor Count
5.7B
2.8B
?
2.08B
Typical Board Power
120W
110W
<75W
100W
Manufacturing Process
GloFo 14nm
TSMC 28nm
GloFo 14nm
TSMC 28nm
Architecture
GCN 4
GCN 1.0
GCN 4
GCN 1.1
GPU
Polaris 10
Pitcairn
Polaris 11
Bonaire
Launch Date
08/04/2016
06/18/2015
08/08/2016
06/18/2015
Launch Price
TBA
$149
TBA
$109
Starting with the faster of the cards, we have Radeon RX 470. This card is based on a salvaged version of the Polaris 10 GPU, trading disabled CUs and lower clockspeeds for lower power consumption. The GPU configuration used for this card ships with 32 CUs enabled (2048 SPs), 4 fewer than RX 480. Interestingly this is also the same number of CUs available on AMD's long-lived Tahiti and Tonga GPUs, to give you an idea of where this fits into AMD's legacy.
RX 470's clockspeeds are set at 926MHz for the core clock and 1206MHz for the boost clock. Relative to RX 480, this is about 95% of the boost clock, but only 83% of the base clock. Typically when we see wider ranges like this, it means that the GPU is not expected to be able to boost quite as often due to power limits, which makes sense given the card's lower 120W TBP. Still, I'm curious to see where the average clocks actually end up at, as the combination of disabled CUs and the lower maximum boost clock gives AMD some potentially significant room to curb power consumption through fused off silicon and lower voltages.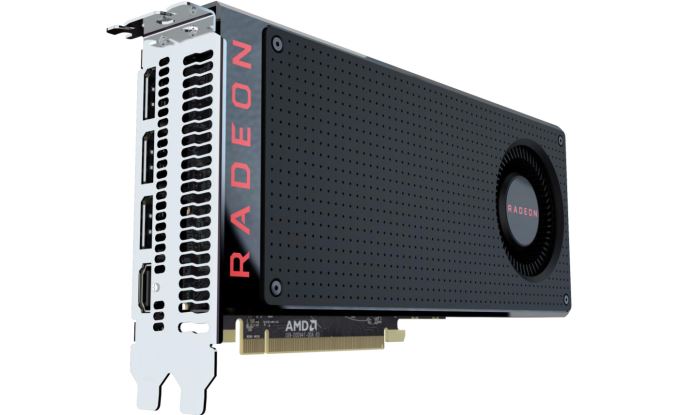 Other than the disabled CUs, the Polaris 10 GPU used in RX 470 is otherwise identical to RX 480. Importantly, this means that all 32 ROPs are present and enabled. Doing the usual paper napkin math then, at maximum rated clockspeeds this puts RX 470's shader/texture/compute performance at around 85% of RX 480's, and geometry/ROP throughput at 95% of RX 480's.
As for feeding RX 470, with all 32 ROPs intact, so is the full 256-bit memory bus. AMD is pairing the card with 4GB of GDDR5 clocked at 6.6Gbps. This gives RX 470 94% of RX 480 4GB's memory bandwidth. I'm actually a bit surprised AMD pulled back on the memory clocks at all – none of the memory vendors sell a 6.6Gbps bin – so this is likely to allow for a simpler board design that doesn't have to clock quite as high.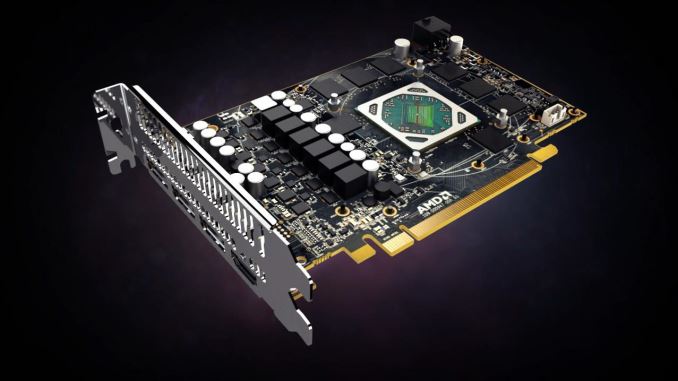 Meanwhile, as mentioned earlier the TBP is 120W. This is 30W lower than the RX 480, though 10W higher than the R7 370 it replaces. In terms of configuration AMD has released a couple of pictures of the reference board showing a 3x DisplayPort + 1x HDMI design – the same one used by RX 480. And though it's not easily seen, you can make out the 6-pin external power connector used by the card to carry the rest of the required power.
In terms of performance, AMD is targeting the RX 470 to replace the Pitcairn based RX 370 and RX 270 cards. Pitcairn was without question the workhorse of AMD's GCN 1.x generation, and while it served that job well over the years, as one of the last remaining GCN 1.0 GPUs still used in desktop cards, it's good to see it finally replaced. This means that gamers in this segment will be catching up on 4 years of tech in one go; everything from fine-grained clocking and Freesync support to new Polaris features like HEVC decoding and HDMI 2.0 support. At the same time this means RX 470 has quite a legacy to live up to.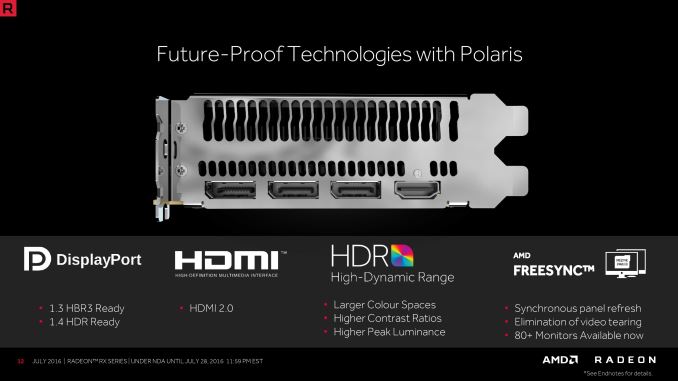 In terms of performance, the benchmark numbers in AMD's marketing materials call for anywhere between a 1.5x and 2.4x performance increase over R7 270; though we'll see how the benchmarks pan out next week. Relative to Pitcairn and R7 270/370, RX 470 has the benefit of higher clockspeeds, twice the number of stream processors, and all of the architectural enhancements and new features that went into Polaris. But on the ROP side of matters, the number of ROPs has not increased, and memory compression combined with a 32GB/sec increase in memory bandwidth can only do so much. I suspect that this is why AMD's performance range is as large as it is, as RX 470 will shine in shader/texture-bound games, while ROP-bound games won't stand to gain as much.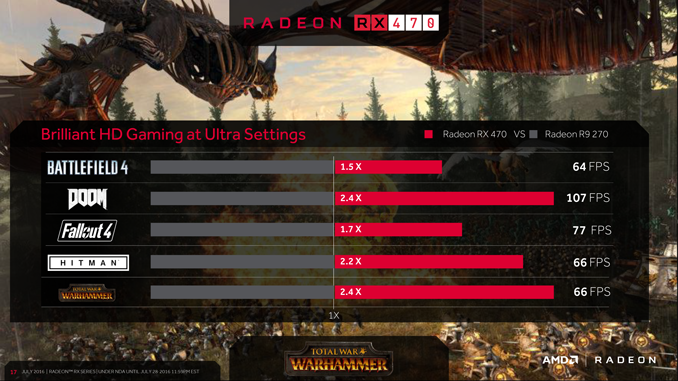 Overall then, AMD will be targeting RX 470 at the same general 1080p market as the 4GB RX 480. The difference between the two will be that RX 470 offers somewhat lower performance – maybe giving up MSAA in some games – in exchange for a lower price and lower power consumption.
Radeon RX 460
Schedule to launch just 4 days after Radeon RX 470 is Radeon RX 460. The lowest power member of the Radeon 400 family, RX 460 marks the desktop introduction of AMD's Polaris 11 GPU. This is the smaller of the two Polaris GPUs and is meant to be AMD's laptop workhorse and all around low-power desktop star.
Interestingly, RX 460 does not ship with a fully enabled Polaris 11 GPU. AMD previously disclosed that Polaris 11 was a 16 CU part, whereas RX 460 only ships with 14 CUs enabled. This means that we're not going to see everything Polaris 11 can do right out of the gate, as there are another 2 CUs to be enabled on a potential future card.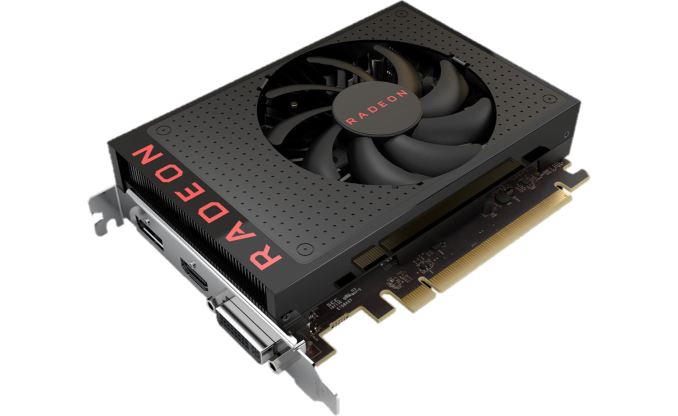 But in any case, AMD's new budget card will roll out with 896 stream processors enabled. Compared to RX 470 clockspeeds are a bit more aggressive; the boost clock is about the same at 1200MHz, but the base clock is a much higher 1090MHz. Meanwhile the card is equipped with 16 ROPs, half as many as on Polaris 10, and what we'd expect to find on a GPU targeting this market segment and power consumption. By the numbers, RX 460 is set to deliver 44% of RX 470's shader/texture/compute performance and 49.7% of the ROP throughput. Geometry performance will be relatively lower as well, though by how much is not clear at this time.
As for memory, RX 460 is equipped with either 2GB or 4GB of GDDR5 clocked at 7Gbps. This memory is in turn attached to the Polaris 11 GPU over a 128-bit memory bus. The narrower memory bus means that AMD has been a bit more aggressive on the memory clockspeed in order to ensure the maximum memory bandwidth, which is why we're getting 7Gbps here versus 6.6Gbps on RX 470. Taken altogether, the total memory bandwidth for RX 460 is 112GB/sec.
Meanwhile for power consumption, the card is rated at sub-75W. Importantly, this means that it runs without an external PCIe power connector and can be dropped into any system capable of supporting a full sized, full power PCIe card. The sub-75W market, though not the most glamorous market, is an important market for GPU vendors as a number of low-end to mid-range OEM desktop systems ship without external PCIe power connectors, so these sub-75W cards are the best cards these systems can handle. Equally important to AMD, this is the first time since 2013 that the company has put out (what should be) a competitive sub-75W card, as NVIDIA's Maxwell architecture essentially locked them out of that market. All of this of course has important prospects for AMD's laptop plans as well.
Looking at the card itself, the design is what we'd expect to see for a budget video card. AMD's reference design uses a double-wide open air cooler, on a PCB no longer than the PCIe x16 slot itself. Display I/O is 1x DisplayPort, 1x HDMI, and 1x DL-DVI-I. The inclusion of a DVI port may seem odd at first, but budget cards are especially popular with customers who are using older monitors, or even more so in the APAC region where CRTs (and VGA-port driven LCDs) are still a common fixture. So a DVI-I port allows older DVI LCDs to work without any kind of adapter (as simple as it may be from HDMI), and analog monitors to work without a more complex DP-to-VGA adapter.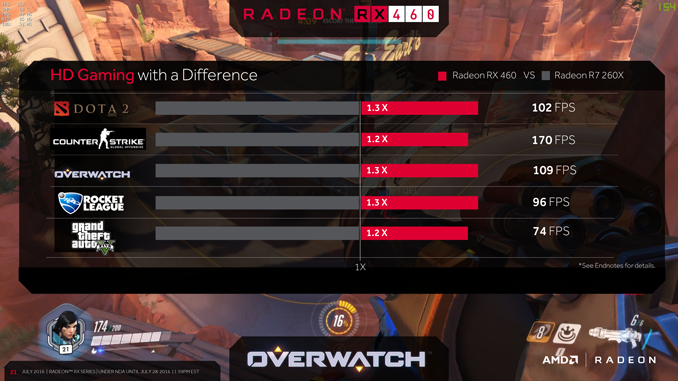 Looking at performance, compared to its direct predecessor, the Radeon R7 360, RX 460 is not as aggressive about performance as the other Polaris cards. AMD's official guidance here is only 1.2-1.3x the performance of R7 260X/360. Instead, AMD has opted to spend their architectural and manufacturing gains on producing a smaller, lower power die. Whereas the Bonaire based R7 360 was a 100W card, RX 460 is of course sub-75W, which for AMD is likely a good tradeoff.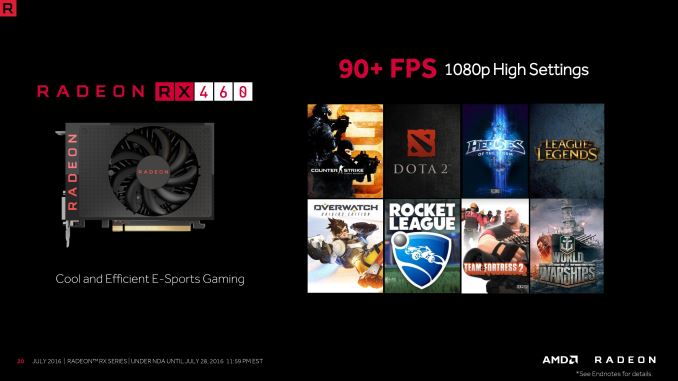 As for the target market, as you might expect from past generations of cards and AMD's own APUs, AMD is going first and foremost after the eSports market with this card. Games such as League of Legends and Overwatch are specifically designed to not require powerful GPUs in order to make these games as widely accessible as possible, and as a result even a budget video card can turn in high framerates at high quality settings. For this market segment AMD hopes that the strong performance of the RX 460 in these games, coupled with the new video encode/decode features of Polaris, will make it a strong contender for the market and a suitable upgrade for gamers coming off of particular old video cards or upgrading from iGPUs.
Pricing & Availability
As previously discussed, AMD will be launching these cards in short order. The Radeon RX 470 launches (or rather has "expected availability") next Thursday, August 4th. Meanwhile RX 460 launches 4 days after that, on Monday, August 8th. Unfortunately AMD has not disclosed the prices on these cards yet, and we're told that they'll be disclosed at launch. Historically these lower-end cards are entirely partner-driven, so precise pricing likely hinges on what partner designs actually reach retailers' shelves for the launch date. That said, if prices are anywhere close to where the Radeon 300 series launched at, and we'd be looking at card prices around $149 and $109 for RX 470 and RX 460 respectively.
But for AMD and their partners, they essentially have the sub-$250 market to themselves. NVIDIA's lowest end card is the $250 GTX 1060, so they do not have any GTX 1000 series cards currently in play in this market segment, nor have they announced anything for it. This limits AMD's competition to last-generation cards from themselves and NVIDIA. Last-gen cards can certainly see their prices cut to be competitive on a price/performance basis, however even in that case the RX 470/460 series will always have the edge on features and power consumption.