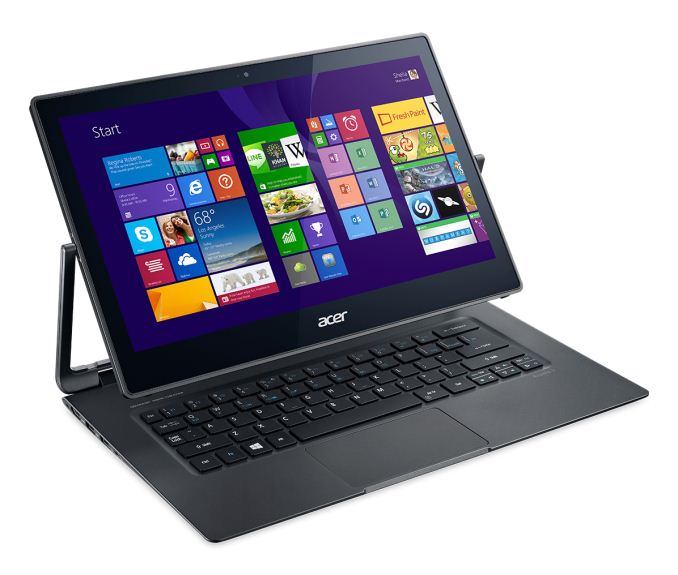 The world of the convertible notebook has come a long way in just a couple of years, but we seem to have settled in on two basic types of convertible devices. There are the tablet style devices where the display can be removed from the keyboard and used separately, and there are the notebook style devices where the keyboard can be rotated around and under the display in order to act like a tablet. Acer has decided to try something different with the Aspire R 13 which features their Ezel Aero hinge.
What makes the Aspire R 13 somewhat unique is the U-Frame to which the 13.3-inch display is attached. Unlike most convertible notebooks where the display rotates around on the hinge (a la Lenovo's Yoga line) the U-Frame can pivot on the laptop hinge, and then the display can pivot within the U-Frame. This has a couple of advantages over a yoga-style laptop. First, the amount of bounce when using the display with touch is reduced because the display has a mounting point half way up the sides, rather than just at the bottom. Second, it allows the device to be used in a tablet mode where they keyboard is not underneath, making it easier to hold on to. And finally, the U-Frame offers up a couple of new usage modes which are not available on yoga-style devices, with Ezel mode and Stand mode on offer, in addition to notebook mode, tablet mode, tent mode, and display mode, which are available on a device which flips the keyboard around behind.

This is not the first device to try this out of course, and others like the Dell XPS 2-in-1 also had a display that flipped around inside a frame, but the frame being just half way up does allow the display to be pivoted and used at pretty much any angle.
The downside to this design is that the frame needs to be fairly sturdy, and Acer has built the U-Frame out of magnesium-aluminum, so there is no worry about strength. The one thing you cannot avoid though is that this design is going to be wider and heavier than a yoga-style device.
The R 13 comes in two configurations. The base model has a Full HD 1920x1080 display, with a Core i5-5200U processor, 8 GB of memory, and a 128 GB SSD. The upgraded model features a WQHD 2560x1440 display, a Core i7-5500U processor, 8 GB of memory, and a 256 GB SSD. Both models feature the storage provided in RAID 0, but I'm not sure why. A single larger drive would likely do just fine. Let's take a look at the entire system specifications.
Acer Aspire R 13
As Tested, Core i7-5500U, 8 GB RAM, 256 GB SSD, 2560x1440 PVA display with Touch
Processor
Intel Core i5-5200U (2C/4T, 2.2-2.7GHz, 3MB L3, 14nm, 15w)

Intel Core i7-5500U (2C/4T, 2.4-3.0GHz, 4MB L3, 14nm, 15w)
Memory
8GB DDR3L-1600Mhz
Graphics
Intel HD 5500 (24 EU, 300-900 MHz on i5, 300-950 Mhz on i7)
Display
13.3" 1920x1080 IPS with Multi-Touch

Optional 2560x1440 Sharp IGZO PVA with Mult-touch
Storage
128GB SSD (RAID 0)
256GB SSD (RAID 0)
512GB SSD (RAID 0)
Networking
Intel Dual Band Wireless-AC 7265 (802.11ac, 2x2:2, 866Mpbs Max, 2.4 and 5GHz)
Audio
HD Audio
Stereo Speakers (downfiring)
dual array microphone
Battery
50 Wh Battery
45 Watt charger
Right Side
USB 2.0
SD Card Reader
Power Button
Power Connector
Left Side
2 x USB 3.0 Ports (1 w/USB Charging)
Headset Jack
HDMI
Dimensions
344 x 230 x 18.0mm (13.54 x 9.07 x 0.71 inches)
Weight
1.50 kg (3.31 lbs)
Extras
720p Webcam
Backlit Keyboard
Pricing
$899.99 to $999.99
Core i5-5200U, 128GB to 256GB, 1080p
$1299.99 to $1499.99
Core i7-5500U, 256GB to 512GB, 1440p
With the base model starting at $899, the Aspire R 13 is in a good spot. The base price is the same as the Dell XPS 13, but comes with a touch display and the convertible nature, and actually has a decent CPU upgrade over the i3 that is the base in the Dell. For $1299, you can move to the WQHD model. Both have a couple of different storage options which move the price around a few hundred dollars, with the 512 GB WQHD model having a MSRP of $1499.99. This is all right in the heart of Ultrabook pricing, and although it can get pretty pricey, it is really right around the same price as its competition. Acer will be competing on design and execution rather than price, but if anyone looked closely at the specifications you can see one issue already. The upgraded display comes in with the expected higher resolution, but moves from the IPS 1080p model to a PVA 1440p model. For a $400 increase in price, customers gain the Core i7 (which is a big chunk of the price difference), double the storage at 256 GB, and a PVA WQHD display with just 160° of viewing angle. I found that contrast seemed to fall off fairly quickly off center. It is a shame Acer could not have made the upgraded display IPS as well with a wider field of view despite it being a Sharp IGZO PVA panel which is normally quite good.
For this review, Acer sent us the $1299 model with the i7 and the WQHD display.