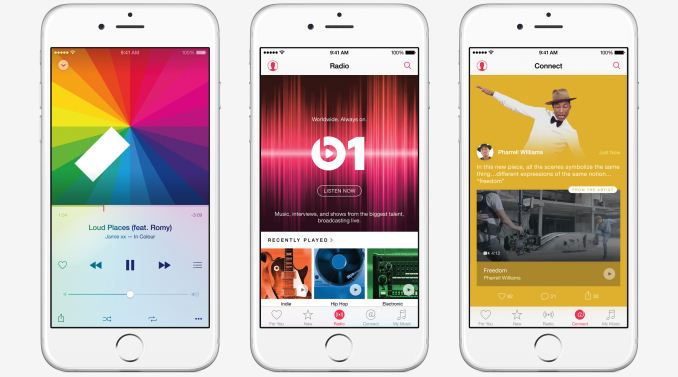 At the end of Apple's WWDC keynote the company revealed their brand new music streaming service, Apple Music. Apple Music is the successor to Apple's existing streaming music service, iTunes Radio, in effect building on top of the existing service with a number of additional features. The launch of the service has long been rumored ever since Apple purchased Beats and brought Jimmy Iovine into Apple along with it.
The service will go live on June 30 for OS X, iOS, and Windows, and there will be three tiers. Though not widely promoted by Apple, the free tier is being held over from iTunes Radio, giving users the ability to view the Connect service, listen to Bears 1, and listen to Apple's curated radio stations with limited skipping. Otherwise the paid tiers are $9.99 for a single user, or $14.99 for a family of up to six users, and grant access to the rest of the service's features, including streaming rights to the entire iTunes music catalog, and unlimited skipping on the radio stations. Apple Music will also be available on Android later in the fall, though the free tier will not be available on Android. Finally, as an added kicker, Apple is offering the first 3 months of the service for free, though it does require signing up on an account set for auto-renewal.
While Apple Music primarily acts as a competitor to other music streaming services like Spotify, it has a few features that may set it apart from other streaming services. As a radio service, Apple Music will provide recommended songs and playlists which are partially human curated, which they believe will give more relevant recommendations than those done solely by algorithms. Apple can also use your iTunes purchase history to examine what sort of music you enjoy, and base recommendations off of that. Meanwhile as a streaming music service, it allows on-demand streaming access to iTunes' music catalog, and this includes saving music for offline listening.
Apple Music also has a feature called Connect, which allows music artists to interact with their fans. Connect can aggregate all of a musician's social media into a single feed, which will allow them to keep their fans updated with their future events and songs. Apple hasn't had much success in integrating social networks with iTunes and their music services, but since Connect integrates with existing services like Facebook and Twitter it has a much higher chance of success.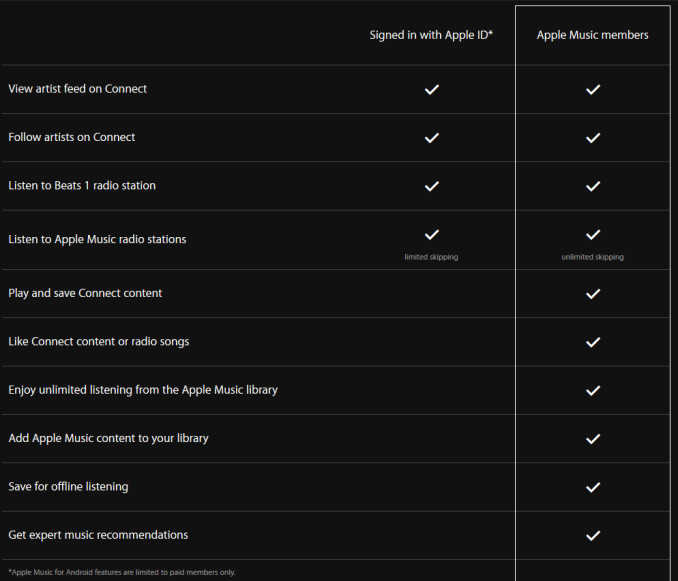 Apple is also launching a 24/7 radio station called Beats 1 which will feature a combination of news, interviews with musicians, and popular music. Based on the descriptions so far, I'd call the station vaguely similar to BBC Radio 1, especially given the mix of interviews and popular music. Though Apple is selling the benefits of Beats 1 to the public as a 24/7 manned radio station, I suspect it also offers some leverage for Apple, especially if it becomes a popular radio station.
It's not clear how popular Apple Music will be with consumers. Apple can certainly leverage their brand and their existing music products, but with pricing in the hands of the industry it's not really possible for them to compete on cost. Users will likely end up choosing their music streaming service based on features and the user experience offered, and so it's up to Apple to provide a better experience if they want their service to take off. It's also not clear what the launch of Apple Music means for the Beats Music streaming service that Apple currently owns.