Introduction
Rosewill is a company that started as a subsidiary and house brand of Newegg, focusing on simple components and hardware at very competitive prices. In time, the company fledged into a stand-alone company and expanded their product ranks to include a myriad of products from simple cables and adapters to advanced computer hardware, home appliances and office products. The sheer number of products Rosewill markets today is bordering on ridiculous. Nevertheless the company is strongly localized, with their products readily available only in the North American markets. Rosewill is making moves to enter other regions and some, but not all, of their products can also be found in Southeast Asia, Japan, China and Australia.
Today we will be having a look at the Rosewill Photon 1050W. This is the second model of the Photon PSU series which is aimed to advanced users and gamers. All the units of the Photon series are 80Plus Gold certified, have a single 12V rail and are fully modular without any hardwired cables. It is a large series, with units ranging from 550W up to 1200W - it is therefore extremely likely that not all of the units are based on the same platform, or even that they come from the same OEM. Therefore the results of this review should not be extended to reflect the performance of other units of the series.
The unit retails for $140 including shipping and the 1050W version of the Photon is significantly cheaper than most competitive products. The 1050W unit that we will review today boasts good features and warranty for its price range, yet there is a catch: it is rated for 1050W output at 40°C. This is not in any way illegal, as this is the normal rating for the operating temperature of consumer PSUs, but most of the competition rates their high performance units at 50°C. We do perform out hot testing with >45°C ambient temperature and as such we will soon see where the Photon 1050W truly stacks against the competition.
Power specifications ( Rated @ 40 °C )
AC INPUT
100 - 240 VAC, 50 - 60 Hz
RAIL
+3.3V
+5V
+12V
+5Vsb
-12V
MAX OUTPUT
25A
25A
87.5A
4A
0.3A
130W
1050W
20W
3.6W
TOTAL
1050W
Packaging and Bundle
Rosewill supplies the Photon 1050 in a fairly sturdy cardboard box, with a simple and very dark artwork theme. The artwork is focused on a picture of the unit itself, surrounded by abstract imagery. Very basic information about the PSU and its features can be found around the sides of the box.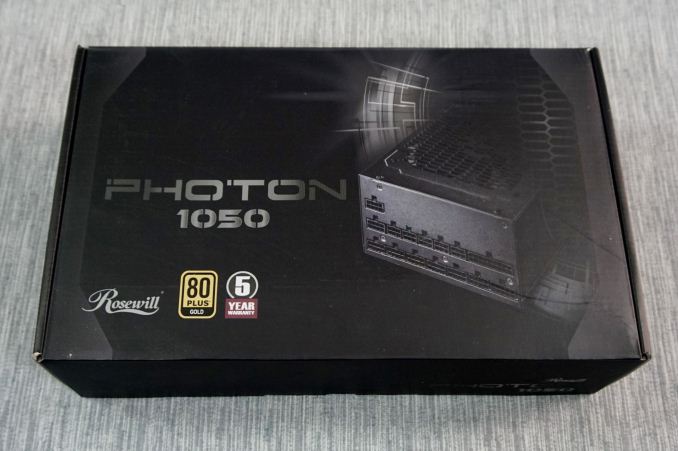 The bundled items are few, limited to some very short cable ties, four normal screws, an AC power cable and a very basic manual. The manual is so plain that the user would have to seek detailed information elsewhere, such as Rosewill's website. With the exception of the typical sleeved ATX 24-pin cable, the rest of the cables are "flat", ribbon-like, with black wires. There also is a very basic Molex to Floppy adapter, for those that still own legacy devices and want to power them with a $140 PSU.