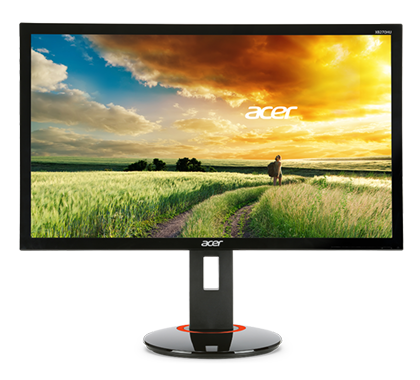 Monitors are getting exciting. Not only are higher resolution panels becoming more of the norm, but the combination of different panel dimensions and feature sets means that buying the monitor you need for the next 10 years is getting more difficult. Today Acer adds some spice to the mix by announcing pre-orders for the XB280HK – a 28-inch TN monitor with 3840x2160 resolution that also supports NVIDIA's G-Sync to reduce tearing and stuttering.
Adaptive frame rate technologies are still in the early phases for adoption by the majority of users. AMD's FreeSync is still a few quarters away from the market, and NVIDIA's G-Sync requires an add-in card which started off as an interesting, if not expensive, monitor upgrade. Fast forward a couple of months and as you might expect, the best place for G-Sync to go is into some of the more impressive monitor configurations. 4K is becoming a go-to resolution for anyone with deep enough wallets, although some might argue that the 21:9 monitors might be better for gaming immersion at least.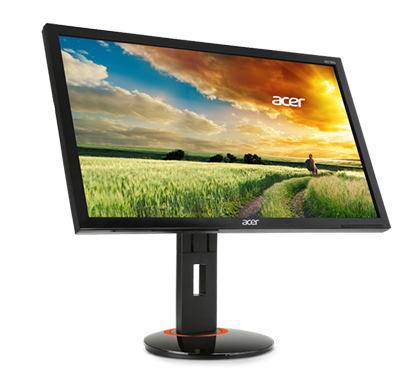 The XB280HK will support 3840x2160 at 60 Hz via DisplayPort 1.2, along with a 1 ms gray-to-gray response time and a fixed frequency up to 144 Hz. The stand will adjust up to 155mm in height with 40º of tilt. There is also 120º of swivel and a full quarter turn of pivot allowing for portrait style implementations. The brightness of the panel is rated at 300 cd/m2, with an 8 bit+HiFRC TN display that has a typical contrast ratio of 1000:1 and 72% NTSC. VESA is also supported at the 100x100mm scale, as well as a USB 3.0 Hub as part of the monitor, although there are no monitor speakers.
The XB280HK is currently available for pre-order in the UK at £500, but will have a US MSRP of $800. Also part of the Acer XBO range is the XB270H, a 27-inch 1920x1080 panel with G-Sync with an MSRP of $600. Expected release date, according to the pre-orders, should be the 3rd of October.
Source: Acer