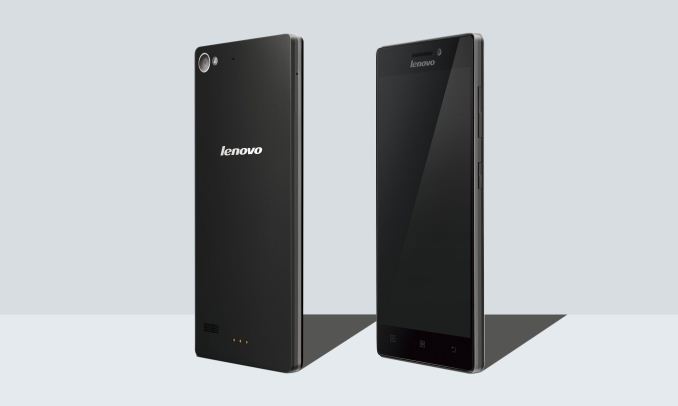 Lenovo has made quite a few announcements at IFA so far, but most have related to their traditional PC business. Today they announced a new high end smartphone branded the Lenovo VIBE X2, a sequel to 2013's VIBE X. Below I've laid out the specifications for Lenovo's new flagship.
Lenovo VIBE X2
SoC

MediaTek MT6595m True8Core
4 x Cortex A17 at 2.0GHz + 4 x Cortex A7 at 1.5GHz

Memory and Storage
32GB NAND, 2GB RAM
Display
5" 1920x1080 IPS LCD 441ppi
Cellular Connectivity
2G / 3G / 4G LTE (Category 4 LTE)
Dimensions
140.2 x 68.6 x 7.3 mm, 120g
Camera
13 MP Rear Facing, 5MP Front Facing
Battery
2300 mAh (8.74 Whr)
Other Connectivity
802.11 b/g/n/ac + BT 4.0, USB2.0, GPS/GNSS
SIM Size
Micro-SIM (dual Micro-SIM SKU in certain markets)
Operating System
Android KitKat with VIBE UI 2.0
The VIBE X2 looks a lot different from its predecessor. The rounded corners and tapered edges have been replaced with flat edges and a more rectangular profile. The VIBE X2 is also smaller but thicker than the VIBE X, which was likely done to help accommodate the larger battery. Lenovo is calling the VIBE X2 a "layered" smartphone, in reference to the three distinct color layers that make up the body of the device.
In terms of specs, the VIBE X2 is similar to the VIBE X. It retains the 13MP rear camera and 5MP front camera, along with the 5" 1920x1080 IPS panel on the front. However, the VIBE X2 sports improved connectivity and processing power. Support for 802.11ac, Bluetooth 4.0, and category 4 LTE have all been added. The new SoC is MediaTek's MT6595m True8Core which has 4 Cortex A17 cores clocked at 2.0GHz and 4 Cortex A7 cores at 1.5GHz.
The VIBE X2 will be launching in China in October of this year. Other countries in Asia, Eastern Europe, and the Middle East will receive the phone shortly after. Certain markets such as China will receive a dual-SIM SKU. Retail pricing is pegged at $399 USD.
Source: Lenovo