Reference Design and Final Words
With the A1100, AMD is providing system integrators with a reference design µATX motherboard and 2U server rack. These will demonstrate SoC power delivery, IO and boot configuration, as well as SCP connectivity to integrators to utilize in their own designs.
Interestingly, despite the considerable horsepower contained inside the Opteron A1100 compared to previous non-AMD Cortex A9 server designs, AMD's reference server is clearly not specifically targeting web server applications. The reference design is not computationally dense as it only has one 8-core CPU node in a 2U chassis. The design is targeting storage servers with slots for 8 hard drives.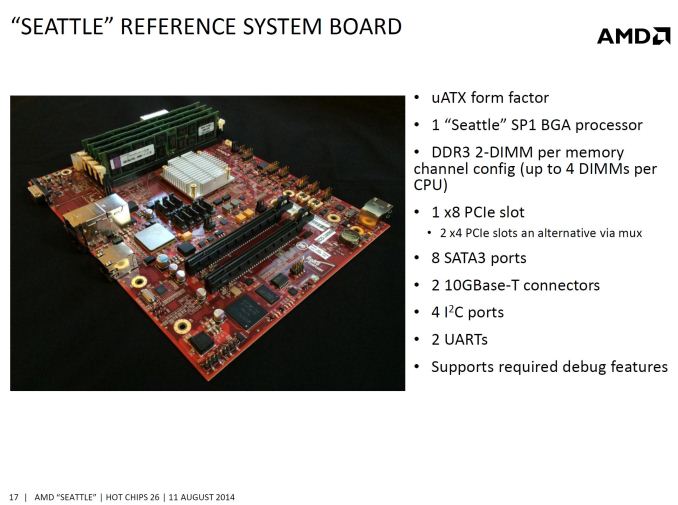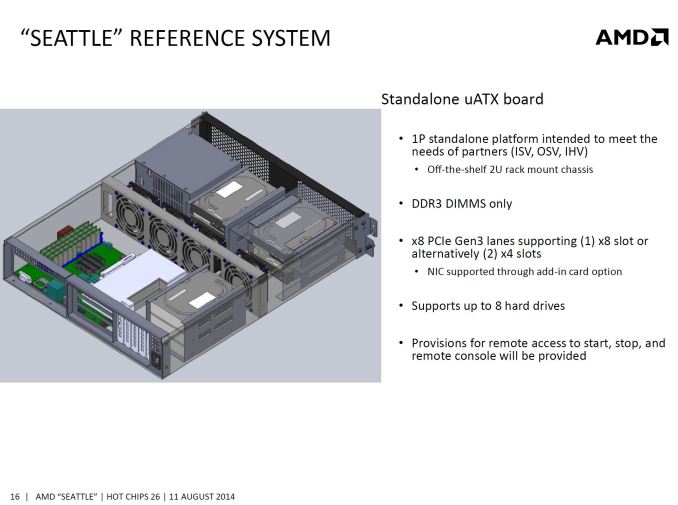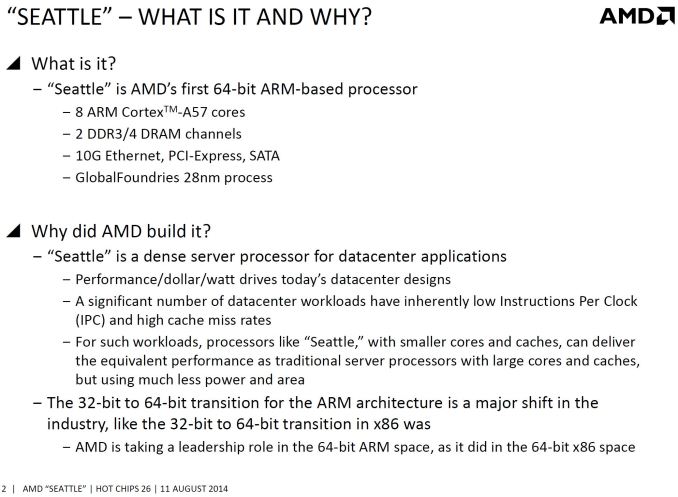 AMD's presentation mentions a focus on datacenters where IO connectivity and low power consumption are more important than CPU horsepower. AMD certainly has plenty of server experience and will be well positioned to attack this market with this differentiated product. However, I could not shake the feeling AMD was missing an opportunity in micro severs by not targeting the web server application market with a more processor dense reference design. In fact, digging through our own content on the A1100, I found a quote from Anand saying "AMD sees huge demand in the memcached space, cold storage servers and Apache web front ends. The offer is pretty simple: take cost savings on the CPU front and pour it into more DRAM." I agree with AMD, the A1100 is well suited for datacenter applications- but we only see one incarnation of that with the storage server reference design.
With the acquisition of SeaMicro adding fabric to AMDs long list of expertise, it is surprising to not see a micro server design that connects dozens of these processors together. Calxeda's Boston Virdis server is exactly that, and our own conclusions stated that the design has huge promise if it was only a bit faster.
Perhaps it is due to excitement about this CPU that I am looking for a more innovative reference server design. All in all, that is not a bad position to be in. Perhaps it is enough to even convince micro sever companies to buy their CPU from AMD instead of designing their own. One thing is for sure, it will be interesting to watch the server market evolve over the next few years. It might not happen, but there could be a day when using your phone to post to Facebook is serviced end-to-end by ARM CPUs.