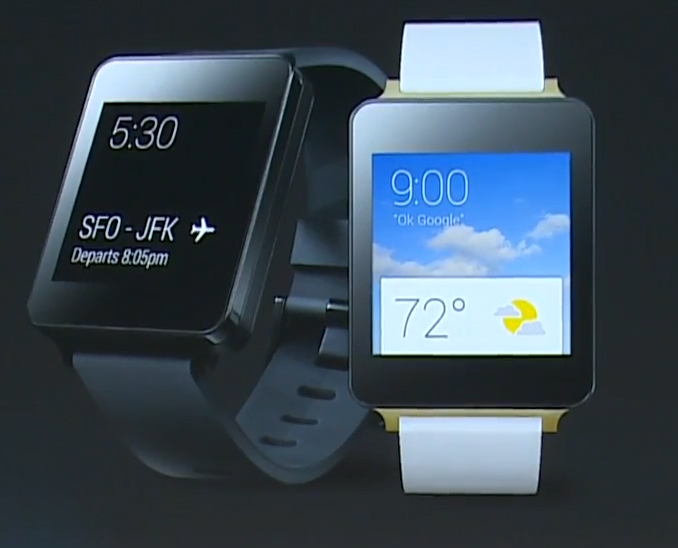 Today at Google IO Google gave the world a sneak peak at some of the features of their upcoming Android Wear OS. They also announced that the first two smartwatches running the new operating system would be available for purchase from Google Play starting today. The first of these is the LG G Watch. Before today information about the G Watch was limited apart from the knowledge that it would be water and dust resistant and sport a 1.2GHz Qualcomm Snapdragon 400 APQ8026 CPU. LG has now updated the product page for the G Watch with some more information. The watch has a 1.65" IPS display with a resolution of 280x280 for a pixel density of 240ppi, 512MB of RAM, 4GB of NAND, Bluetooth 4.0, and a 400mAh (1.52Wh) battery.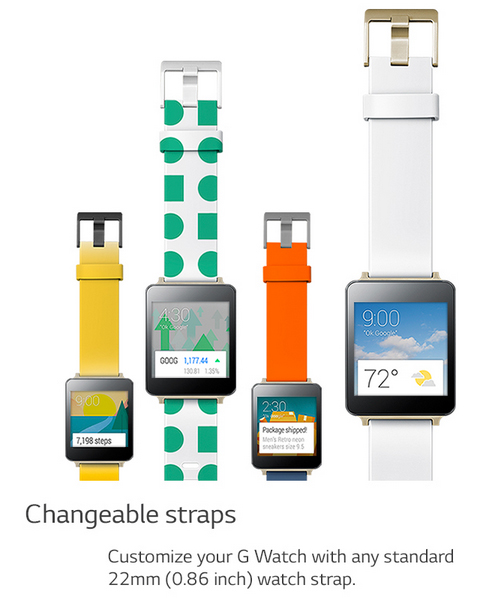 LG also states that the new watches will work with any standard watch strap of 22mm in width. The LG G Watch will be available today on Google Play in both black and white color options.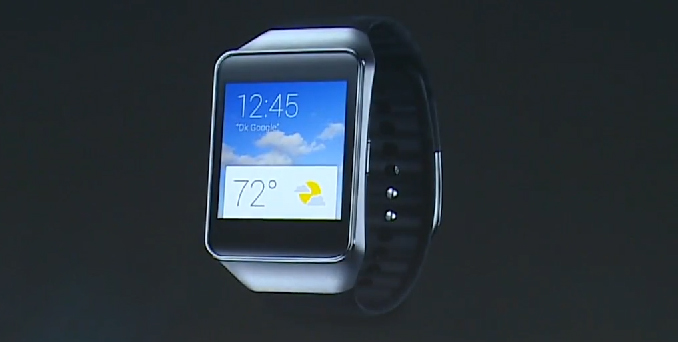 The second smartwatch that will be available to order today is Samsung's Gear Live smartwatch which also runs Android Wear. According to Samsung the Gear Live is similar in specifications to the LG G Watch with the same 1.2GHz Qualcomm Snapdragon 400 APQ8026, 512MB of RAM, 4GB of NAND, Bluetooth 4.0, and IP67 rated dust and water resistance. It differentiates itself with its display, sporting a 1.63" Super AMOLED display with a resolution of 320x320 which works out to a pixel density of 277ppi. The battery in the Gear Live is also smaller than the G Watch with a capacity of 300mAh (1.14Wh). The power usage of the AMOLED display will likely be the factor that determines whether or not the smaller battery capacity results in significantly less battery life than the G Watch. Like other recent Samsung devices the Gear Live also includes a heart rate monitor for tracking heart rate during exercise.
Samsung launching a device running Android Wear is an interesting move as they have moved all their previous smartwatches over to their own Tizen operating system and it will be interesting to see if they pursue both paths or if they eventually transition to smartwatches based on only one operating system. The Gear Live will be available in black and red color options.
Both smartwatches will be available for purchase later today on Google Play and require Android 4.3 or later to work. Based on Google's Android user statistics that puts the percentage of Android users that can use these new smartwatches at about 24%.
Update:
Both devices are now available on Google Play. The LG G Watch is selling for $229 USD with a listed shipping date of July 3 and the Samsung Gear Live is selling for $199 USD with a shipping date of July 8. In the UK the LG G Watch is £159 while the Samsung Gear Live is £169 making the roles of the cheaper and more expensive smartwatch different depending on where you live.