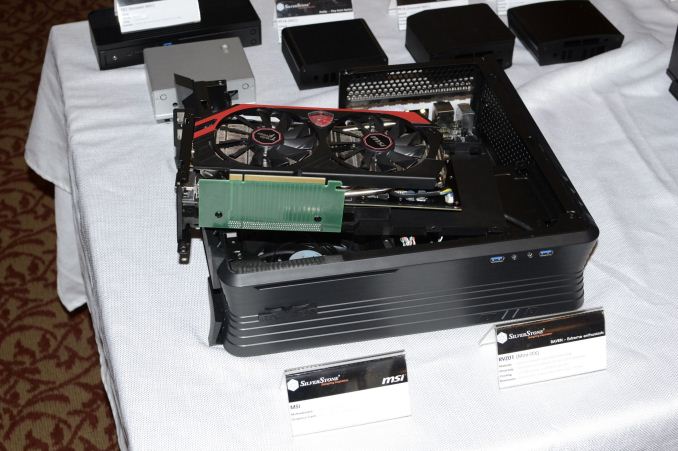 Silverstone had a ton of stuff to show in their CES booth, and while we might know them best for their cases and PSUs, perhaps the most interesting item is one that may not ever see retail: the external Thunderbolt GPU box. Right now, this is more of a proof of concept, but the difficulty with Thunderbolt is that you have to get approval from both Apple and Intel before you can actually sell a device – if either company isn't happy with the product, you're just not going to get the support and/or licensing you need. The first step is of course getting a device to work and fixing any bugs. Routing PCI Express over Thunderbolt should be easy enough in theory, but laptops and other Thunderbolt enabled devices may need driver/firmware updates to use an external GPU.
Silverstone has partnered with ASUS to build an external GPU box that connects over Thunderbolt, the XG2 Station, which has already been demoed prior to CES. To be clear, while the concept works, the unit on display at CES was apparently damaged during shipping and so I couldn't test it in any way. Regardless, external Thunderbolt GPUs are an idea that many are clamoring for, so hopefully all the testing and licensing issues can get worked out. Cost is also likely to be pretty high – not just for the R&D efforts and licensing, but you also have to pay for the high quality case, power, and cooling for the case. How much is an external GPU worth? For some, paying $300 or more for the XG2 Station might be reasonable, while for others that's half-way to the purchase of a new desktop system.
Moving to the other cases, the SD380 is a mini-ITX system with a focus on storage. It supports up to eight 3.5" externally accessible drives and four 2.5" internal drives. The Grandia GD09 and GD10 meanwhile are recently launched "mainstream HTPC" enclosures, using the same core chassis but with a lockable front door on the GD10. They support full-size ATX motherboards and Silverstone said they've seen quite a lot of interest in larger HTPC enclosures. The latest revisions of the Raven and Fortress lines, RV05 and FT05, were also being shown, with the core chassis again being the same while the exteriors differ to cater to different types of user.
Shifting to some prototype systems, the RVZ01 and ML07 again use the same core chassis with different exteriors. The RVZ01 is basically a smaller variant of the Raven, with more of an emphasis on aesthetics that stand out. It has a plastic fascia and sides with ventilation slots and basically caters more towards the gaming market, while the ML07 goes for a minimalistic aesthetic. The cases support mini-ITX motherboards, with the big feature being a high-quality PCIe x16 riser board and supporting shell that allows the use of full-size GPUs. The benefit of this particular design is that it allows Silverstone to compartmentalize the elements of the system, with the GPU getting its own cooling that should hopefully help everything work better overall. Silverstone also showed their new thin 120mm fans with these cases, which help provide cooling without the need to make the case substantially thicker.
Wrapping up the visit, Silverstone had plenty of other items on display, including a selection of PSUs, USB adapters, NUC boxes, cables, audio boxes, laptop coolers, and more. Most of these don't require too much discussion – you can see photos in the gallery below. Perhaps the one noteworthy item is a prototype PSU where Silverstone is looking for a use for 5.25" drive bays. They had a 400W PSU that will fit in a standard drive bay that could potentially be used to power a mini-ITX system, or maybe help power a GPU in a larger case. There are also a few cases that can support a secondary mini-ITX system alongside a full-size ATX build in a single enclosure, with the one problem being finding a way to power the mini-ITX build; the Drive Bay PSU might just solve that dilemma.