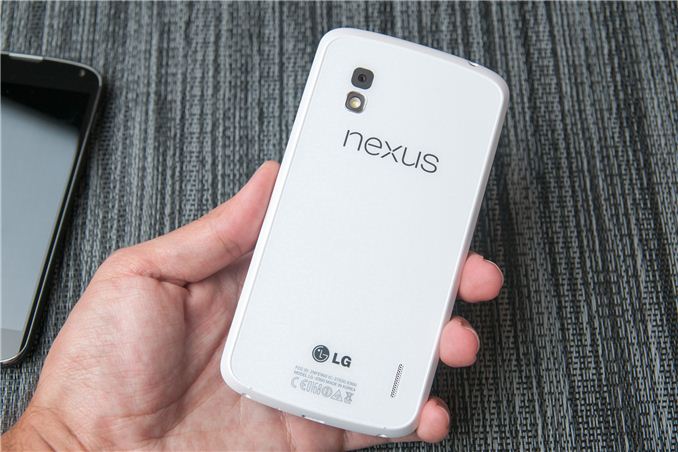 We got a special care package from LG earlier today containing the elusive but recently-announced White Nexus 4. This is the same hardware we saw at Google I/O just a short week ago which I mentioned at the end of the Nexus Experience SGS4 article.
The White Nexus 4 is identical internally to the black Nexus 4 which we reviewed a while back. It's still the same 1.5 GHz APQ8064 inside with 2 GB of LPDDR2 and beautiful 4.7-inch 1280x768 display. The White Nexus 4 we got ahold of came with 16 GB of NAND onboard as well, though there's nothing preventing an 8 GB variant from appearing. All that's different is that now it's a beautiful stark white on the backside with chrome trim everywhere there was black. The front side of the white Nexus 4 remains black, this new model includes white trim around the edge and again white on the back while still including the reflective and faceted structured pattern. It's a purely aesthetic change which – to me at least – looks amazing in person. It's another option which doesn't do anything to sway potential phone shoppers to the Nexus 4 but does refresh the product with a somewhat new look. LG recently made a May 29th date public for the white Nexus 4's availability, there's no official word from Google about when we can expect it to hit the Play Store but release seems imminent. I would expect pricing to be the same for the white version as the black version.
Included with the white Nexus 4 is a white bumper as well, which looks great contrasting with the black Nexus 4 or on the natively white Nexus.
Also our white Nexus 4 came running Android 4.2.2, there's no secret 4.3 or other release running on the hardware we were sampled.