The Moonshot Server Cartridge
As always, HP's server chassis is a well designed, excellent documented chassis with tons of options. However, the server node, or cartridge as HP likes to call it, is the part that will run the software services and the key factor when trying to estimate the performance per watt ratio that this server is capable off.
The server cartridges look like very small blade servers. Inside we find the Atom S1260 at 2GHz, one SO-DIMM slot with 8GB of 1333 MHz of ECC protected DDR-3, a Broadcom 5720 Dual port 1 Gb Ethernet controller and a Marvell 9125 SATA controller.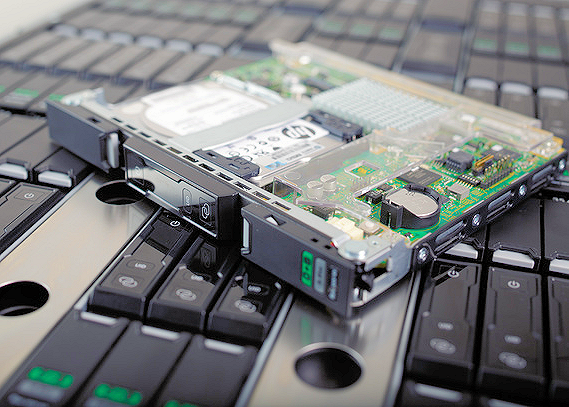 HP also incorporates a local 500GB SATA drive and later on it will be possible to buy a 200GB SSD or 1 TB SATA disk.
The Atom S1260 "Centeron"
Ryan already broke the news on the Atom S1260, but it is good to recap. The Atom launched in 2008 and the CPU architecture was called Bonnel. Bonnel was a dual issue, in order design with a rather long pipeline (16 stage).
Since then, the core architecture has had one minor update, codenamed "Saltwell". Saltwell came with an improved branch predictor and a post-fetch instruction buffer to make sure that the same instructions are not fetched twice. Those were about two of the very few IPC improving features that Saltwell added. Saltwell also got turbo boost and finer grained DVFS (Dynamic Voltage and Frequency scaling). All other improvements were almost strictly power related: the L2-cache got a separate voltage rail, deep sleep state C6 was added.
In the some models, the L2-cache doubled to 1 MB. The end result was that we found Saltwell cores to be about 8% faster than Bonnel based cores, clock for clock. Using a similar amount of power, the 32 nm Saltwell core at 1.86GHz (N2800) was about 20% faster than the older 45 nm 1.66GHz Atom N450 with Bonnel architecture.
The Atom S1260 uses the same "Saltwell" core as all current Atoms. Intel added ECC support, support for twice as much memory (8 vs 4GB), the virtualization technology VT-x, and 4 extra PCIe lanes (8 in total). Those features were necessary to make it a worthy member of the Xeon family.
HP chose the fastest member of the S1200 family, the S1260. This Atom operates at 2GHz and comes with a 8.5 W TDP. It is interesting to note that despite the focus on power efficiency, HP did not favor the S1240 at 1.6GHz with a 6.1 W TDP.