Introducing the NZXT Phantom 820
NZXT is an interesting manufacturer. Each company that designs and manufactures cases has their strengths and weaknesses, things they're good at and things that need work, but NZXT is unique in that they're very closely related to iBuyPower (one of the biggest system building boutiques and one that's starting to threaten established brands) and tend to vend some of the most cost effective enclosures to boutiques in general, for better or worse.
Our experiences with NZXT have been mixed. The H2 when it was released suffered from a serious design flaw that drove up internal thermals (an unmarked revision was silently released later that largely resolved those problems), and the Switch 810 was a good but not great enclosure that couldn't quite live up to its promise. But today NZXT is launching the Phantom 820, a case aimed squarely at the top end of the case market where stalwarts like the Thermaltake Level 10 GT, Corsair Obsidian 800D, and SilverStone FT02 reside. It has a lot to live up to, but most impressively of all...it might actually do it.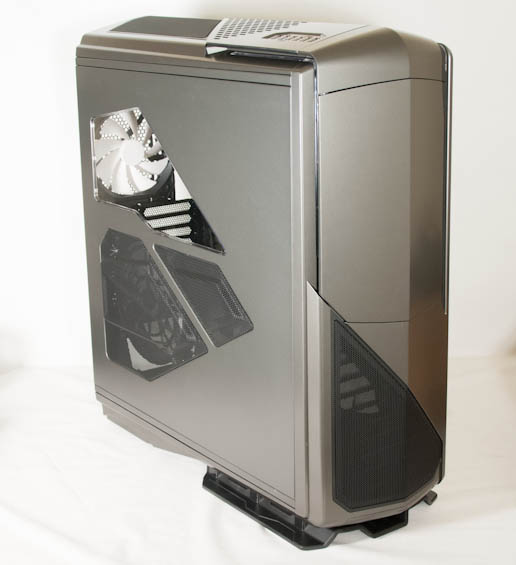 I'll get this out of the way: the Phantom 820 is not coming cheap. NZXT is listing an MSRP of $249, placing it squarely into competition with the highest end enthusiast cases, and it's a pretty bold move from a company that's usually been more about raw value than premium gear. I'm of two minds when it comes to this decision; I think it's a good choice for the company since price is often the best way to give a premium product that extra kick (just ask Apple), but it's ultimately bad for the end consumer who wants and should get great products at reasonable prices.
NZXT Phantom 820 Specifications
Motherboard Form Factor
Mini-ITX, Micro ATX, ATX, E-ATX
Drive Bays
External
4x 5.25"
Internal
6x 2.5"/3.5"
Cooling
Front
1x 200mm intake fan; 1x 120mm/140mm internal fan mount
Rear
1x 140mm exhaust fan
Top
1x 200mm exhaust fan, 1x 180mm fan mount or 3x 120mm fan mounts or 2x 140mm fan mounts
Side
1x 200mm intake fan
Bottom
2x 120mm/140mm fan mounts
Expansion Slots
9
I/O Port
2x USB 3.0, 4x USB 2.0, 1x Headphone, 1x Mic
Power Supply Size
Standard ATX
Clearances
HSF
180mm
PSU
220mm
GPU
13" / 330mm
Dimensions
?
Weight
?
Special Features
USB 3.0 connectivity via internal headers
Toolless 5.25" drive bays and 3.5" drive sleds
Support for 360mm/280mm radiator in top of enclosure, 240mm/280mm in bottom of enclosure, thickness up to 60mm
Integrated four channel (three leads per channel), five step 15W fan controller
Color configurable, toggleable LED lighting system
Toggleable rear I/O and expansion LED illumination
Integrated SD card reader
Price
$249
When I spoke to my rep at NZXT he was very bullish about the Phantom 820 and it's not hard to see why. While Taiwanese case designers have a tendency to try to throw in everything but the kitchen sink (see NZXT's own Switch 810) and call it a product, the Phantom 820 is a different beast. This is a feature rich case, but a lot of the features that have been incorporated are done intelligently. The integrated fan controller in particular is an incredibly slick design that's easily the equal of many entry-level fan controllers; the lack of analog adjustment is offset somewhat by having five different steps, ranging from off to full bore.
I'm also keen to point out that NZXT included an SD card reader; SD cards are pretty much the standard these days, yet for some reason they're seldom integrated in modern case designs. The convenience is appreciated tremendously.
Finally, the Alienware-style LED lighting system is a nice touch and can be disabled entirely if you so choose; otherwise you can turn a dial inside the front door to change the color to whatever you like, and you can toggle between enabling and disabling different lighting zones on the case.