Introducing the Alienware X51
While Alienware isn't openly inviting comparisons to Microsoft's Xbox 360 with their brand new X51 gaming desktop, it's hard not to see the resemblance, at least in form factor. But where Microsoft's aging console continues trudging away with generations old hardware, Alienware has produced an authentic Windows 7 gaming PC in a shell roughly the same size. Not just that, but they're introducing it at one of the lowest prices we've ever seen for what's ordinarily a very premium brand. Was Alienware able to cram a fully-powered machine in this tiny chassis, or were too many sacrifices made?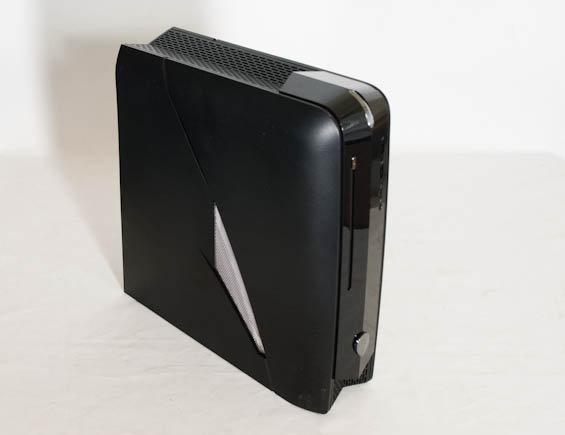 The X51 is basically the size of an Xbox 360, but the insides are pure PC: Alienware employs a Mini-ITX motherboard, desktop-level Sandy Bridge Intel processors, and a full-sized double-slot graphics card (rotated ninety degrees and connected via a riser card to the PCIe 2.1 x16 slot).
The component options available are listed below, and we've bolded the items from our review unit where applicable. Alienware currently has four models listed, with slightly varying specs. Our unit is the $949 model with an upgrade to 8GB RAM, though it's of course possible to upgrade other areas on your own.
Alienware X51 Specifications
Chassis
Custom Alienware X51
Processor
Intel i7-2600
(4x3.4GHz, Hyper-Threading, Turbo to 3.8GHz, 32nm, 8MB L3, 95W)

Intel Core i5-2320
(4x3GHz, No Hyper-Threading, Turbo to 3.3GHz, 32nm, 6MB L3, 95W)

Intel i3-2120
(2x3.3GHz, Hyper-Threading, No Turbo, 32nm, 3MB L3, 65W)
Motherboard
Custom H61 Chipset Board
Memory
2x4GB Hynix DDR3-1333
2x2GB DDR3-1333
Graphics
NVIDIA GeForce GTX 555 1GB GDDR5 (OEM)
(288 CUDA Cores, 736/1472/3828MHz core/shaders/RAM, 192-bit memory bus)

NVIDIA GeForce GT 545 1GB GDDR5 (OEM)
(144 CUDA Cores, 870/1740/3996MHz core/shaders/RAM, 128-bit memory bus)

Intel HD 2000 IGP
(6 EUs, 1100MHz core clock)
Hard Drive(s)
Seagate Barracuda 7200.12 1TB 7200RPM SATA 6Gbps HDD
Optical Drive(s)
HL-DT-ST DVD+/-RW GA31N slot-loading drive
Blu-ray/DVDRW Combo slot-loading drive
Power Supply
330W Custom
240W Custom
Networking
Dell Wireless 1502 802.11b/g/n (150Mbps 2.4GHz)
Realtek PCIe Gigabit Ethernet
Audio
Realtek ALC892
Speaker, mic/line-in, surround jacks, optical out and S/PDIF for 7.1 sound
Front Side
Optical drive
2x USB 2.0
Headphone and mic jacks
Top
-
Back Side
Optical and S/PDIF
HDMI (IGP)
4x USB 2.0
Ethernet
2x USB 3.0
Speaker, mic/line-in, surround jacks
2x DVI-D (GeForce)
1x Mini-HDMI (GeForce)
Operating System
Windows 7 Home Premium 64-bit SP1
Dimensions
12.54"-13.5" (back-front) x 12.52" x 3.74"
(318.5-343mm x 318mm x 95mm)
Weight
12.1 lbs. (5.49kg)
Extras
External PSU
Integrated 802.11b/g/n
User-configurable external lighting
NVIDIA Optimus
Warranty
1-year parts, labor, and support
Pricing
Starts at $699
Review system configured at $999
Alienware keeps the configuration options for the X51 pretty lean, but they benefit tremendously from being a subdivision of Dell as opposed to a standalone boutique. The X51 enjoys a custom chassis design just like all of Alienware's hardware does, but they also have access to OEM only graphics hardware.
The entry level system offers Intel's Core i3-2120 dual-core processor, certainly plenty for gaming, and pairs it up with NVIDIA's GeForce GT 545. Our review unit steps each of these up to the next available part: the Intel Core i5-2320 and GeForce GTX 555. Unfortunately the X51 maxes out at the GTX 555 while the processor can be upgraded to a Core i7-2600 for users who want an extra 400MHz plus Hyper-Threading on the CPU.
The GT 545 and GTX 555 are odd birds in and of themselves, but the graphics card in the X51 is user upgradeable. So why these parts? The GT 545 is a touch above entry-level; it's a GDDR5-equipped part (OEM only as opposed to the DDR3-equipped retail parts) and sports a cut-down GF116 GPU, with 144 CUDA cores and a 128-bit memory bus hooked up to 1GB of GDDR5. The chip is clocked at 870MHz (putting the shaders at 1.7GHz) and the memory is clocked at an effective 4GHz.
More compelling is the GeForce GTX 555 that our review unit is equipped with. Due to limitations on the X51's external power supply, the X51 can't handle graphics cards rated for more than 150 watts. Thankfully the GTX 555 maximizes that power envelope; it employs a trimmed-down GF114 GPU with 288 CUDA cores enabled along with a 192-bit memory bus and 1GB of GDDR5. That's an asymmetrical memory configuration just like the desktop GTX 550 Ti has but on different silicon. The GPU itself is clocked at 736MHz (for 1472MHz on the shaders) and the memory runs at an effective 3.8GHz. Note also that models that ship with the upgraded GTX 555 GPU get the larger 330W external power brick, so if you're thinking about upgrading to a different GPU in the future you will most definitely want to go with the higher spec system.
The icing on the graphics cake is that the X51 is the first instance of desktop Optimus we've seen. That's right: you can actually plug your monitor into the IGP's HDMI port and the tower will power down the GPU when it's not in use. This implementation functions just like the notebook version does, and it's a welcome addition.
Where I think Alienware does lose a point is in the storage configuration. Understanding internal real estate is at a premium, the single 3.5" drive bay still hurts a little at a time when the ideal system configuration is an SSD for a system drive and a mechanical disk for storage. The 1TB Seagate Barracuda 7200.12 included isn't bad, but it will hurt the X51 in PCMark testing and detracts a little from the overall user experience. Given the sloped shape of the chassis, however, we would have preferred a modified design with space for a 2.5" SSD/HDD at the back. That said, the X51's motherboard has enough SATA ports for you to remove the 3.5" drive and replace it with a pair of 2.5" drives, so the enterprising end user can opt to install an SSD and notebook hard drive.
Finally, the X51 supports USB 3.0 on the back, has a slot-loading optical drive that can be upgraded to a Blu-ray reader, and has wireless networking included on a user-replaceable mini-PCIe card that's mounted to the motherboard.
The final price of $1000 for our review unit gets you a very interesting piece of hardware, though obviously there's a price premium for going with the custom Mini-ITX chassis, PSU, etc. You could put together a similar system in terms of performance with a Micro-ATX case/motherboard for under $800 quite easily, but if you want to go the Mini-ITX route things become a bit more difficult--both in terms of finding hardware that will all fit and work together well, plus the assembly process in ITX chassis generally requires more time and effort than mATX. Overall then, the price and specs are very reasonable, so let's see what this black beauty can do on the race track.