I promise this is the last thing I'll write about
802.11ac
today
, but it is very relevant to our smartphone and tablet coverage. If you've followed any of our reviews in the mobile space you'll notice that there seems to be a bit of a glass ceiling in terms of WiFi performance on smartphones and tablets: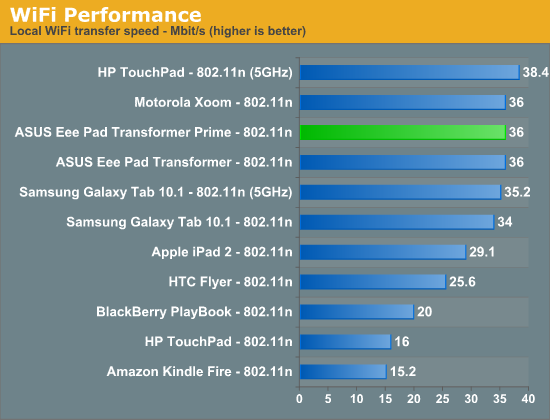 We have yet to see a device that can download consistently at more than 36Mbps. For most smartphones/tablets this isn't alarming as they only support 2.4GHz 802.11n and a single spatial stream, resulting in a maximum interface speed of 72Mbps. Factor in loss and overhead and you're left with about half that as real world performance.
It turns out, as you'd expect, that there's another bottleneck in these devices limiting their peak WiFi performance: the SDIO interface and it's associated drivers.
SDIO is an I/O interface based on the Secure Digital (SD) standard. This is the same standard that is used for removable flash storage in cameras. The SDIO interface itself is capable of a maximum bandwidth of 100Mbps. It turns out that the SDIO software stack can further limit the interface's performance to the 30 - 40Mbps range. The appeal of rewriting SDIO drivers for Android likely contributes to continued propagation of this issue.
One solution to this problem is a transition to a more modern interface: HSIC. HSIC (High-Speed Inter-Chip) is a serial USB based interface that is destined to replace SDIO. Whereas today SDIO based WiFi solutions are offered to phone and tablet vendors, with 802.11ac we'll see both SDIO and HSIC versions. HSIC should guarantee speeds of up to 480Mbps (theoretical).
The HSIC software stack is also apparently more robust and isn't expected to pose a problem in the way that SDIO has thus far. Given that smartphones and tablets are
expected to use single stream 802.11ac
at 433Mbps, HSIC looks to be the appropriate SoC interface.
It remains to be seen how fast 802.11ac will be in practice. But if all goes well, I wouldn't be too surprised to see at least 100Mbps over 802.11ac WiFi on a smartphone in the next two years. If we're lucky, we may even get 2 - 3x that.