Introducing the HP EliteBook 8760w
Just over ten months ago, we had a chance to take a look at a very big, reasonably impressive mobile workstation: HP's EliteBook 8740w. It sported HP's DreamColor IPS screen at a glorious 1920x1200 resolution and had fairly beefy hardware under the hood, including the at-the-time fastest mobile workstation GPU, the NVIDIA Quadro 5000M. But since HP unveiled the dramatic redesign of their enterprise notebooks earlier this year, we've been anxiously anticipating the 8740w's refresh. Today we have it, specced to kill with a shiny new DreamColor IPS screen, Sandy Bridge quad-core processor, and an even faster NVIDIA Quadro GPU.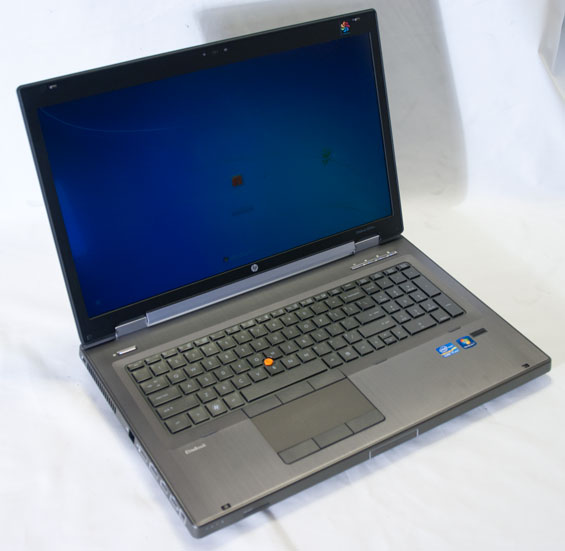 I'll go ahead and get this out of the way right now before we even get into the nitty gritty: the chassis on the 8760w is a massive improvement on the 8740w's schizophrenic aesthetic, but there's a cost that some of you aren't going to be willing to pay, and I'm not talking a monetary one. You may have noticed that all of HP's new business-class notebooks feature 16:9-aspect panels instead of the old standby 16:10, and the 8760w hasn't been spared. I personally don't have a huge problem with it, but it's hard to deny something's been lost here. Where consumer notebooks have potentially benefitted from the move to 16:9 (1280x800 to 1366x768 is basically a wash, while 17" notebooks got a boost from 1440x900 to 1600x900), the change from a 1920x1200 panel to a 1920x1080 panel is a loss; end of conversation.
With all that said, hopefully the move to Sandy Bridge and access to the new GF110-based Quadro will make the transition a little less painful.
HP EliteBook 8760w Specifications
Processor
Intel Core i7-2820QM
(4x2.3GHz, 32nm, 8MB L3, Turbo to 3.4GHz, 45W)
Chipset
Intel QM67
Memory
4x4GB Samsung DDR3-1333 (Max 4x8GB)
Graphics
NVIDIA Quadro 5010M 4GB GDDR5
(384 CUDA cores, 450MHz/900MHz/2.6GHz core/shader/memory clocks, 256-bit memory bus)
Display
17.3" LED Matte IPS 16:9 1920x1080
(LGD02FC Panel)
Hard Drive(s)
Micron C300 256GB SATA 3Gbps SSD
Optical Drive
HP BD-ROM/DVD+-RW Combo Drive
Networking
Intel 82579LM Gigabit Ethernet
Intel Centrino Ultimate-N 6300 802.11a/b/g/n
Bluetooth v3.0
Audio
IDT 92HD81B1X HD Audio
Stereo speakers
Mic and headphone jacks
Battery
8-Cell, 14.3V, 83Wh battery
Front Side
SD/MMC Reader
Left Side
Kensington lock
Exhaust vent
Ethernet
DisplayPort
eSATA/USB Combo port
2x USB 3.0
4-pin FireWire
ExpressCard/54
Right Side
Headphone and mic jacks
USB 2.0 (charging)
USB 2.0
Smart Card Reader
Optical drive
VGA
Back Side
Modem
Exhaust vent
AC adaptor
Operating System
Windows 7 Professional 64-bit SP1
Dimensions
16.4" x 10.7" x 1.47" (WxDxH)
Weight
7.8 lbs
Extras
Webcam
DreamColor IPS display
Flash reader (MMC, SD/Mini SD, MS/Duo/Pro/Pro Duo)
USB charging
Blu-ray
HP Performance Advisor
Backlit keyboard with 10-key
Warranty
3-year limited warranty
Pricing
Starting at $1,899
Priced as configured: $6,497
Thus far we've only really seen the i7-2820QM in the Sandy Bridge review notebook we received way back when Sandy Bridge was first launched, so the EliteBook 8760w is at least going to be our first experience with it "in the field" so to speak. It's a pretty beefy CPU, too, with a 2.3GHz nominal clock speed that turbos up to 3.1GHz on all four cores or a very healthy 3.4GHz on just one. That actually puts it within spitting distance of desktop Sandy Bridge quads, and it's a testament to the power efficiency of Intel's architecture. HP has also seen fit to grant it access to four memory slots and our review unit is specced with 16GB of non-ECC DDR3-1333.
The NVIDIA Quadro 5010M is a much more incremental update to its predecessor than the GeForce GTX 485M was to the 480M, though I suspect NVIDIA opted to continue using GF1x0 for their top shelf mobile workstation GPU due to its superior HPC capabilities. With the move to GF110, the 5010M now benefits from 384 CUDA cores instead of the 320 found on the previous generation Quadro 5000M, as well as bumps in clock speed to 450MHz on the core, 900MHz on the shaders, and 2.6GHz on the GDDR5. Gamers will undoubtedly be disappointed at the low clocks across the board, but the 5010M isn't really for them. While GF1x4 is more friendly for high-end mobile gaming hardware, GF1x0 likely remains the better choice for workstation tasks.
Our review unit is also bolstered by Intel's QM67 chipset, allowing for RAID 0/1/5 support as the EliteBook 8760w can support two 2.5" drives natively and a third if the user chooses to swap out the optical drive for another drive bay. As befitting a workstation notebook of this caliber, there's also virtually every type of connectivity the end user could ask for: eSATA, USB 2.0, USB 3.0, FireWire, Bluetooth, and even ExpressCard/54 are all present.