Alienware's Medium-Sized Monster
Understanding that many users would just as soon want to be able to game on the go without having to lug a ten pound land monster with them, Alienware offers the M14x, a notebook that offers portable performance without breaking your back in the process. Featuring support for quad-core Sandy Bridge mobile processors and a reasonably fast GeForce GT 555M, the M14x promises an awful lot of power in a reasonably small package. But at what cost?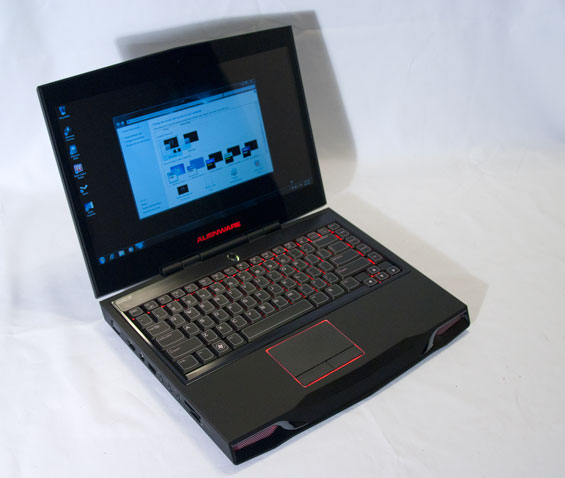 This review continues our coverage of Alienware's current mobile lineup, coverage that began with the M17x R3. We also have the M11x R3 in-house and that review is forthcoming, and the M18x is due for review soon. The M14x is basically Alienware's "mainstream" offering for users who don't want a giant gaming machine but aren't interested in going with their pint-sized M11x R3. On paper at least, there's an awful lot to recommend it.
Alienware M14x Gaming Notebook
Processor
Intel Core i7-2630QM
(4x2.0GHz + HTT, 2.9GHz Turbo, 32nm, 6MB L3, 45W)
Chipset
Intel HM67
Memory
2x2GB Hynix DDR3-1600 (Max 2x4GB)
Graphics
NVIDIA GeForce GT 555M 3GB DDR3
(144 CUDA cores, 590MHz/1180MHz/1.8GHz core/shader/memory clocks, 192-bit memory bus)
Display
14" LED Glossy 16:9 900p (1600x900)
SEC544B
Hard Drive(s)
Samsung SpinPoint MP4 500GB 7200-RPM HDD
Optical Drive
Slot-loading DVD+/-RW Combo (HL-DT-ST GS30N)
Networking
Atheros AR8151 PCIe Gigabit Ethernet
Intel Centrino Advanced-N 6205 a/b/g/n
Bluetooth 3.0
Internal WirelessHD
Audio
Realtek ALC665 HD Audio
Klipsch 2.1 speakers
Mic and two headphone jacks
Battery
8-Cell, 14.8V, 63Wh
Front Side
N/A (Speaker grilles)
Right Side
Slot-loading optical drive
2x USB 3.0
Ethernet
Kensington lock
Left Side
VGA
HDMI
Mini-DisplayPort
USB 2.0 charging port
Mic and two headphone jacks
MMC/SD/MS reader
Back Side
AC jack
2x exhaust vents
Operating System
Windows 7 Home Premium 64-bit
Dimensions
13.27" x 10.17" x 1.49" (WxDxH)
Weight
6.45 lbs
Extras
2MP Webcam
82-key backlit keyboard
Flash reader (MMC, SD/Mini SD, MS/Duo/Pro/Pro Duo)
Internal WirelessHD
Configurable lighting
Klipsch audio with subwoofer
Warranty
1-year standard warranty
2-year, 3-year, and 4-year extended warranties available
Pricing
Starting at $1,099
Price as configured: $1,543
Just by looking at the specs it should be reasonably clear the M14x is potentially one of the fastest, if not the fastest, 14-inch notebooks available. It weighs an extra pound for the privilege, but Alienware has specced it with performance in mind, period. The Intel Core i7-2630QM in our review unit is actually the second-slowest processor you can order the M14x with, and there's only one dual-core option: the i5-2410M. Strapped to the integrated memory controller is 4GB of DDR3-1600, configurable up to 8GB.
On the GPU side we have NVIDIA's mobile branding nightmare, the GeForce GT 555M. In our recent mobile graphics guide we cited two completely different GPUs shipped as the GT 555M, but in the case of the M14x we seem to have the more desirable version. This one comes with 144 of NVIDIA's CUDA cores and a frankly excessive 3GB of DDR3 strapped to a 192-bit memory bus. That extra 1.5GB of DDR3 is a $100 upgrade and isn't liable to bring any real improvement in performance, so when custom ordering you'll probably want to just stick with the stock 1.5GB. The GT 555M comes clocked at 590MHz on the core and 1180MHz on the shaders, and the DDR3 runs at an effective 1.8GHz for 43.2GB/s of bandwidth. (For the record, the GDDR5 version offers slightly more bandwidth and slightly less compute, but the deal breaker is that it only has 4 ROPs.) As part of NVIDIA's 500M series, the GT 555M also supports Optimus graphics-switching technology, which Alienware puts to good use.
The rest of the M14x is delightfully modern, sporting two USB 3.0 ports, a slot-loading DVD+/-RW drive, and a keyboard with color-configurable backlighting. Probably the biggest perk you can get from the M14x may not even be the powerful underlying hardware, but the 1600x900 resolution on a 14" screen. Having spent some time with this notebook, the biggest shame is that this is the exception and not the rule.