Almost all the major motherboard manufacturers have had some form of X79 on display – Anand has already shown you the MSI and ECS offerings, but I stopped by the Intel booth today to a magnificent display. Almost every X79 board at Computex was on show, so let us play a game of spot the difference.
Of the 12 models on display, ASUS alone have six – the C1X79, C1X79 LE, C1X79 EVO, C1X79 PRO, C1X79 Deluxe and the C1X79 Plus, which covers most of their standard P67 launch model names. We have one from Sapphire (PB-C17X79N), one from ECS (X79R-A), one from ASRock (X79 Extreme4), and three from MSI (GD65, GD70 and GD80) also.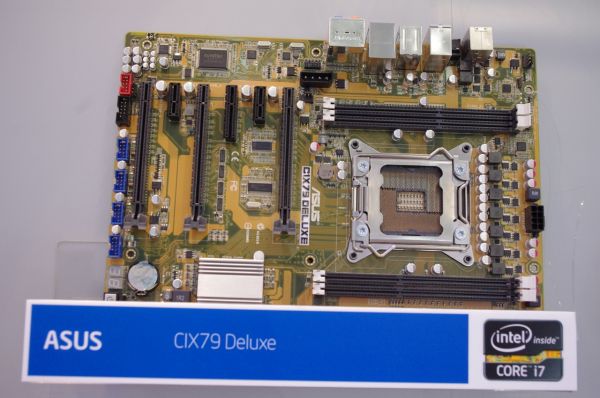 All the X79 on show are likely to be early engineering samples or mockups – this is more than clear with the brown PCB shown on the ASUS boards and the lack of cooling on the VRMs across most on display. The lack of I/O on the ASUS boards adds more to this realisation.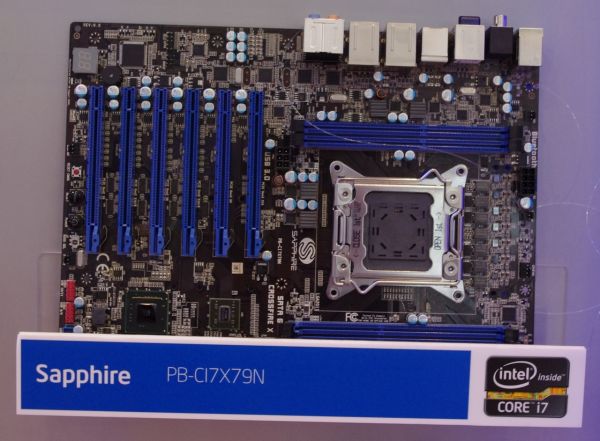 The Sapphire model is interesting given that it contains 6 full length PCIe and an 8-pin 12V connector, whereas the ECS board has four PCIe – possibly color coded for an nForce 200 quad GPU configuration.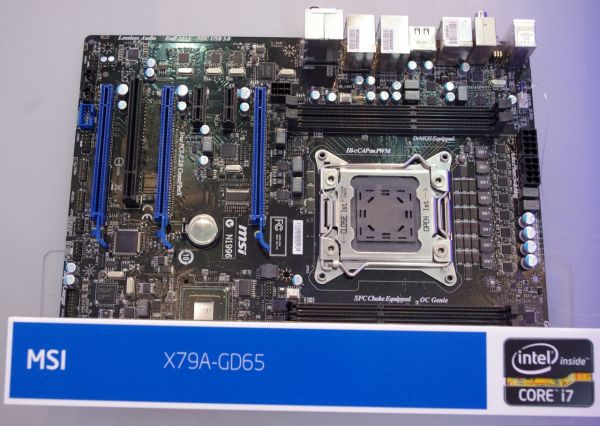 The MSI series starts with the high end GD80 having a blue PCB with a PCH fan, an 8-pin power slot and an angled fan cooler. Unfortunately it seems the display had the GD70 and GD65 boards in the wrong place, as the board above the GD70 said GD65 however where the GD65 was, there was a sticker over the model number and that board required two 8-pin PCIe. Perhaps it was a new GD90 designation in this spot to confuse us?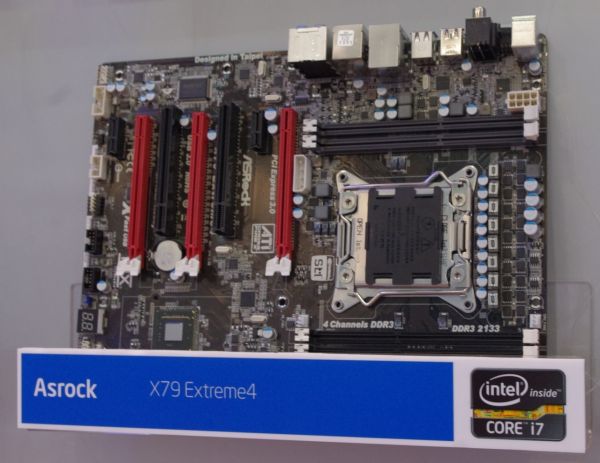 It will ultimately be a while before we can get our hands on working boards to let you know how they feel, but stay tuned – this is an exciting time for the CPU and motherboard industry. Have a look at the gallery for the full X79 line-up from the Intel booth.