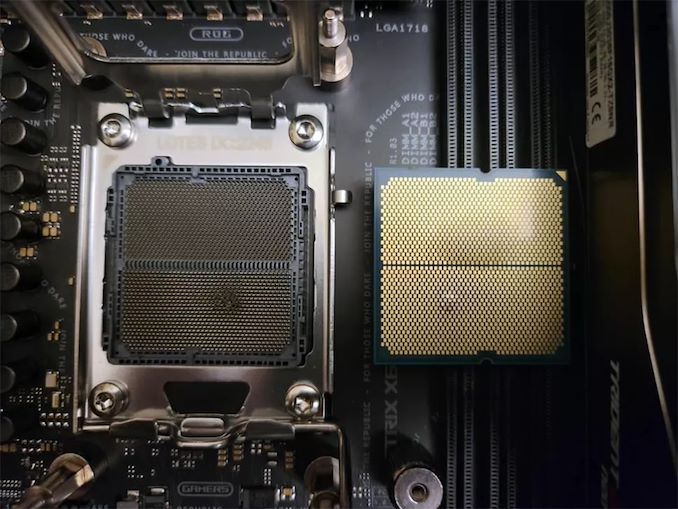 Yesterday we reported that MSI announced a wave of firmware updates designed to address and alleviate potential issues with users on AM5 using AMD's Ryzen 7000X3D processors with 3D V-Cache. One of the main changes with MSI's latest UEFI firmware for AM5 included voltage restrictions when using Ryzen 7000X3D series CPUs. Further to recent reports of users with AMD Ryzen 7000X3D processors experiencing damage to their chip and motherboard socket, we reached out to AMD this morning to seek clarification. AMD has just responded with an official statement concerning the current problem.
The statement directly from AMD is as follows:
"We are aware of a limited number of reports online claiming that excess voltage while overclocking may have damaged the motherboard socket and pin pads. We are actively investigating the situation and are working with our ODM partners to ensure voltages applied to Ryzen 7000X3D CPUs via motherboard BIOS settings are within product specifications. Anyone whose CPU may have been impacted by this issue should contact AMD customer support."
As the statement clarifies, AMD themselves are investigating the issue that users have been experiencing, which has been reported on through various channels such as social media and Reddit. This is further to MSI, which launched new firmware yesterday, and ASUS announced new firmware today for users with AMD Ryzen 7000X3D processors, such as the Ryzen 9 7950X3D and the Ryzen 7 7800X3D. The new firmware specifically limits the SoC voltages applied so that these critical limits aren't breached when users enable AMD EXPO memory profiles on supported DRAM.
While AMD hasn't officially confirmed the problem regarding the burnt pads on the Ryzen 7000X3D series processors and the burnt pins within the motherboard socket, AMD is actively looking to resolve this issue. One theory thus far is that the issue is being triggered when users are enabling AMD EXPO memory profiles – which, much like Intel's XMP counterpart, is technically a form of overclocking and officially voids the product warranty. Given the rollout of new firmware, which targets SoC voltages and restricts them, all things point towards voltages and overclocking said processors, which are, by default, multiplier and CPU VCore locked.
AMD is actively working with motherboard vendors such as MSI, ASUS, GIGABYTE, and ASRock to roll out the new firmware. AMD also specifies that if users have a Ryzen 7000X3D processor affected by this problem, to contact AMD customer support directly.
Update (04/27): AMD has officially made a second statement regarding the Ryzen 7000 and 7000X3D burnout issues. It is as follows:
We have root caused the issue and have already distributed a new AGESA that puts measures in place on certain power rails on AM5 motherboards to prevent the CPU from operating beyond its specification limits, including a cap on SOC voltage at 1.3V. None of these changes affect the ability of our Ryzen 7000 Series processors to overclock memory using EXPO or XMP kits or boost performance using PBO technology.
We expect all of our ODM partners to release new BIOS for their AM5 boards over the next few days. We recommend all users to check their motherboard manufacturers website and update their BIOS to ensure their system has the most up to date software for their processor.
Anyone whose CPU may have been impacted by this issue should contact AMD customer support. Our customer service team is aware of the situation and prioritizing these cases.
Image source: Speedrookie/Reddit