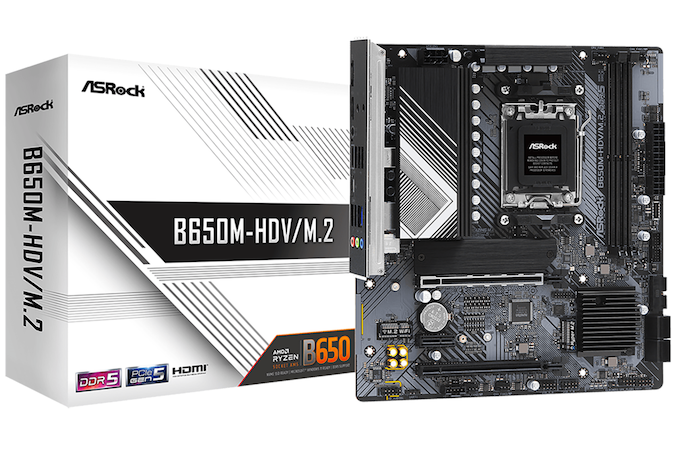 When AMD introduced its Ryzen 7000-series processors and AM5 platform last September, it said that over time motherboards for the new CPUs would get to mainstream price points. Yet, nearly six months after launch, AM5 motherboards have proven to be stubborn in their high prices, which is one of the reasons of the platform's slow adoption by the masses. Fortunately, this week ASRock started to sell a new budget microATX motherboard, the B650M-HDV/M.2, which has become first one to land on retail shelves for $125.
Most existing AM5 motherboards, including those based on the mid-range B650 chipset, are generally aimed at enthusiasts who are looking for extra features and willing to pay for them. As a result, there's been a dearth of truly cheap B650 boards on the market. But, at long last, things are starting to turn around with ASRock's B650M-HDV/M.2, which at $125 is able to bring the advantages of AMD's latest platform down to a lower price point.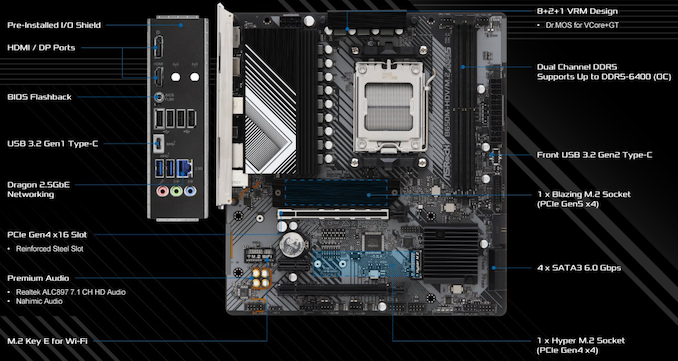 Given that this is a $125 motherboard, it's fair to say it's not packed to the gills with frills. But ASRock seems to have done a good job balancing features with costs. The resulting board offers just 2 DDR5 DIMM slots (1 DPC) and as a non-Extreme motherboard the PCIe x16 slot is just PCIe 4.0. But ASRock has still been able to build in a powerful enough VRM system to supports all AM5 processors (including the top-of-the-range Ryzen 9 7950X). Meanwhile, I/O connectivity includes two physical PCIe 4.0 x16 slots (x16 and x4 electrical), a PCIe 5.0 x4 M.2 slot and a PCIe 4.0 x4 M.2 slot for SSDs, a USB 3.2 Gen2 Type-C port, four SATA connectors, a 2.5GbE port, an M.2-2230 slot for a Wi-Fi adapter, and a Realtek ALC897 7.1-channel audio controller.
The end result is a relatively cheap AM5 board that, on paper, looks like it should still be more than enough for a building a high-performance Ryzen 7000 system.
"When AM5 launched I said that we would see motherboards starting at $125," wrote David McAfee, CVP and GM of Ryzen channel business at AMD, in a Tweet. "As HotHardware noticed, my timing 'might' have been a bit off, but I'm happy to see that ASRock is first to market with a $125 B650 board for AMD Ryzen."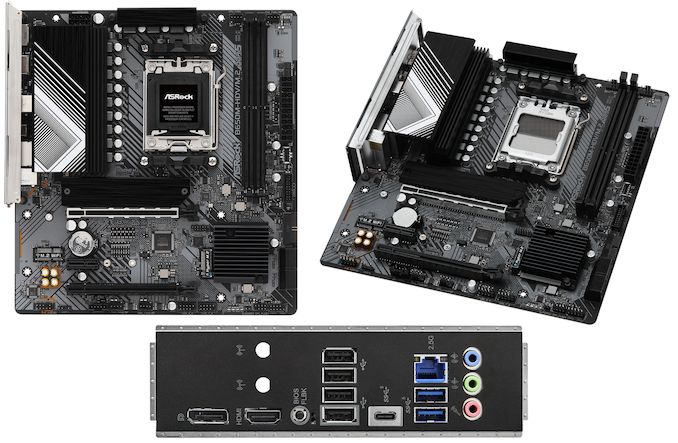 The motherboard has a basic 8+2+1-phase CPU VRM that is not meant for overclocking, but it is good enough for running processors at stock clocks. Since it only has 2 DIMM slots, it only supports 64 GB of DDR5-6400 memory; though besides the fact that 64 GB should be enough for most desktop workloads, Ryzen 7000 processors take a significant memory frequency hit with more than 1 DIMM per channel anyhow, making 4 DIMMs non-ideal. The platform does not have a PCIe 5.0 x16 slot for graphics boards, but there aren't any consumer graphics cards with such interface anyway. Otherwise, it should be noted that the motherboard does not have built-in Wi-Fi support, though M.2-2230 adapters are not expensive to come by if Wi-Fi is needed on a desktop computer.
For now, ASRock's B650M-HDV/M.2 is the only $125 motherboard for AM5 processors, but we hope to see other board makers to follow suit and offer cheaper boards to allow for more inexpensive Ryzen 7000 system builds. Eventually AMD is expected to introduce its A620 chipset with cut-down features that will allow motherboard makers to offer even cheaper AM5 platforms. But for now the inexpensive B650M-HDV/M.2for $125 at Newegg seems like a reasonable choice.
Source: AMD (Twitter)