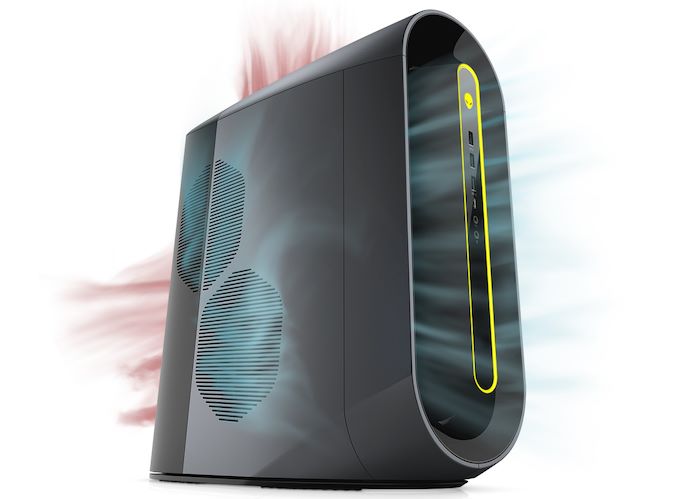 Dell's Alienware division has started sales of its Aurora Ryzen Edition desktops. The latest Aurora systems not only put AMD's processors back into mid-tower Aurora machines for the first time in more than a decade, but also feature rather interesting configurations. In order to address as wide audience as possible, Dell is offering their Aurora Ryzen Edition PCs with nearly the complete range of AMD's Ryzen 3000 processors, including the entry-level Ryzen 5 3500, which up until now has only officially been available in China, Russia, and select Eastern European countries.
The Alienware Aurora Ryzen Edition desktop comes in the brand's latest chassis featuring its Legend design language, which blends futuristic style of Alienware (known from the early 2000s) with the recent trends towards minimalism, efficiency, and, of course, addressable RGB LEDs. Traditionally for Alienware, these systems can be configured using various AMD Ryzen 3000-series CPUs supporting the PCIe Gen 4 interface, a variety of GPUs from AMD (up to Radeon VII) or NVIDIA (up to GeForce RTX 2080 Ti), and different storage options.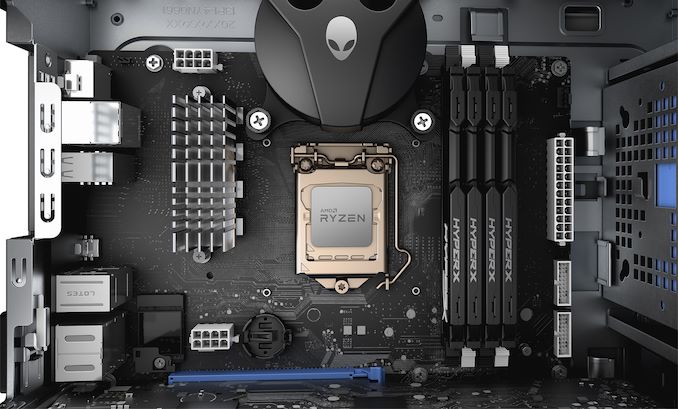 (ed: yes, Dell put the Ryzen logo on top of an LGA processor)
One of the interesting things about the Aurora Ryzen Edition configurations offered by Dell is that the cheapest machines come with AMD's six-core Ryzen 5 3500 CPU (w/ AMD Radeon RX 5700 8 GB GDDR6, 8 GB DDR4 RAM, 1 TB HDD, 850 W PSU) and start at $1,199, whereas the most advanced builds are equipped with 16-core Ryzen 9 3950X processor and can be beefed up with any graphics and storage components.
AMD's Ryzen 5 3500 CPU is currently only officially sold in select markets where the company has to compete against Intel's entry-level six-core Core i9-9000-series CPUs, and where the relatively inexpensive Ryzen 5 3500 does not affect sales of cheaper previous-generation Ryzen 2000-series products. Eventually, the CPU should make it to other markets, but for now it is exclusively available in China, Russia, select Eastern European countries, and from Alienware, a boutique PC maker.
At present, Dell's Alienware Aurora Ryzen Edition desktops can be purchased in North America, whereas customers in China and Europe will be able to buy them in the first half of 2020.
Related Reading:
Source: Dell/Alienware