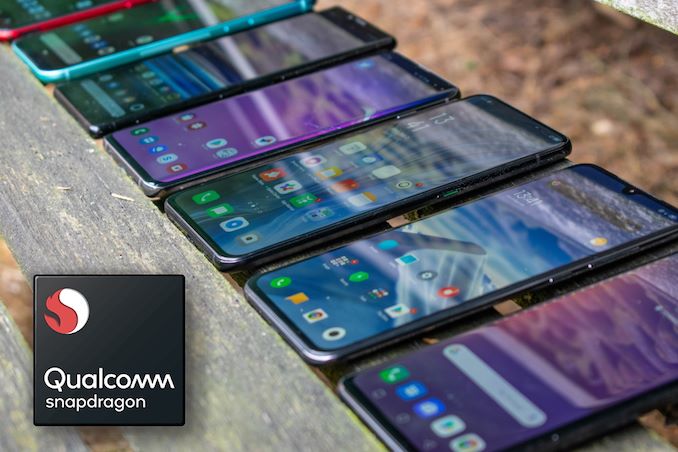 AnandTech has reviewed these products as part of a paid partnership with Qualcomm. The contents of this article are entirely independent and solely reflect the editorial opinion of AnandTech.
Over the last few years we've seen a lot of changes in the mobile market when it comes to the internal hardware of devices. At the heart of every smartphones sits the SoC, which dictates almost every aspect of a device's experience. Qualcomm has played a major role in shaping the smartphone, thanks to its widely-used Snapdragon platform. The company has had its ups and downs over the last few years, but particularly starting with the Snapdragon 835 from a couple of generations ago we've seen some continued and very robust execution from the chip vendor.
This year, Qualcomm's flagship SoC was the Snapdragon 855. The chip is well known and has been powering the vast majority of Android devices this year, bar a few exceptions. With so many options from various vendors, an interesting question arises: who has managed to do the best implementations in getting out the most out of the silicon? To help settle that question, today we're doing a smartphone roundup – we're taking a look at device performance from a slew of different S855 devices from various vendors, while investigating how software and hardware designs can change a device's experience on the very same silicon.
Qualcomm Snapdragon Flagship SoCs 2018-2019
SoC

Snapdragon 855

Snapdragon 845
CPU
1x Kryo 485 Prime (A76 derivative)
@ 2.84GHz 1x512KB pL2

3x Kryo 485 Gold (A76 derivative)
@ 2.42GHz 3x256KB pL2

4x Kryo 485 Silver (A55 derivative)
@ 1.80GHz 4x128KB pL2

2MB sL3 @ 1612MHz
4x Kryo 385 Gold (A75 derivative)
@ 2.8GHz 4x256KB pL2

4x Kryo 385 Silver (A55 derivative)
@ 1.80GHz 4x128KB pL2

2MB sL3 @ 1478MHz
GPU
Adreno 640 @ 585MHz
Adreno 630 @ 710MHz
Memory
Controller
4x 16-bit CH @ 2092MHz
LPDDR4X
33.4GB/s

3MB system level cache
4x 16-bit CH @ 1866MHz
LPDDR4X
29.9GB/s

3MB system level cache
ISP/Camera
Dual 14-bit Spectra 380 ISP
1x 48MP or 2x 22MP
Dual 14-bit Spectra 280 ISP
1x 32MP or 2x 16MP
Encode/
Decode
2160p60 10-bit H.265
HDR10, HDR10+, HLG
720p480
2160p60 10-bit H.265
720p480
Integrated Modem
Snapdragon X24 LTE
(Category 20)

DL = 2000Mbps
7x20MHz CA, 256-QAM, 4x4

UL = 316Mbps
3x20MHz CA, 256-QAM
Snapdragon X20 LTE
(Category 18/13)

DL = 1200Mbps
5x20MHz CA, 256-QAM, 4x4

UL = 150Mbps
2x20MHz CA, 64-QAM
Mfc. Process
TSMC
7nm (N7)
Samsung
10nm LPP
The Snapdragon 855 is Qualcomm's first chipset to come manufactured on TSMC's 7nm process node, giving the chipset a much-heightened degree of power efficiency, which in turn enables it to have achieve a high degree of performance.
The chip is powered by a derivative of Arm's Cortex-A76 and Cortex-A55 cores. Qualcomm markets these as the Kryo 485 cores. The company makes use of Arm's "Built on Cortex Technology" license which allows vendors to request changes to some of the microarchitectural configurations of the "standard" IP core. In the case of the Kryo 485, Qualcomm has revealed that it has raised the re-order buffer of the core from 128 to a higher undisclosed figure. It's to be noted that the successor of the Cortex-A76, the A77, comes with a 160 entry ROB, and given that the RTL is still designed by Arm, I'd wager Qualcomm was an early beneficiary of this work. Other improvements are found in the prefetchers which are said to be tuned for more web-browsing type of workloads.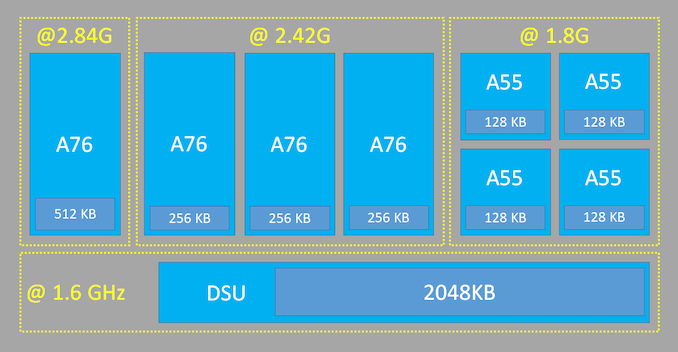 The key aspect of the Snapdragon 855's CPU complex is the fact that it's a 1+3+4 setup. The single large "Prime" performance core runs at up to a 2.84GHz clockspeed and uses a larger 512KB L2 cache, whereas the "Gold" or middle cores run at up to 2.42GHz and have 256KB L2 cache implemented. The bigger cores are paired with four A55 derived cores running at up to 1.8GHz and serve as the efficient workhorses of the chip. The whole complex is tied off with a 2MB L3 cache running at up to 1.6GHz.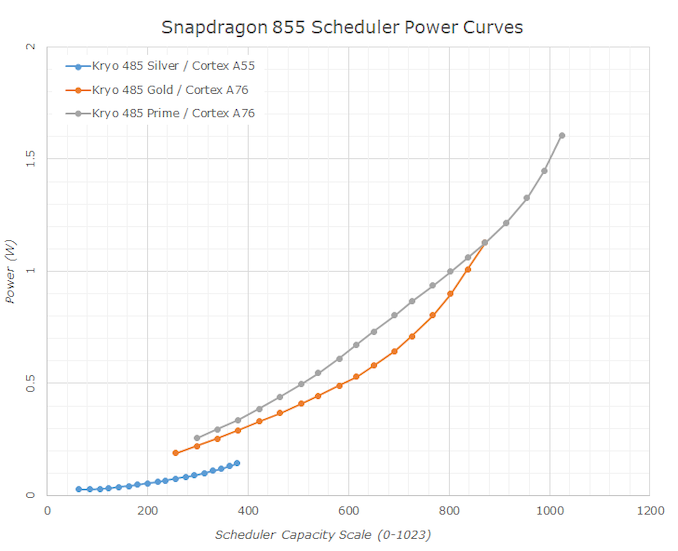 The reason for the 1+3 configuration is that Qualcomm achieves better a better silicon area footprint while also min-maxing any given workload's power efficiency and maximum single-threaded performance. The Prime core is implemented via more relaxed transistor library which enables it to reach higher frequencies at a cost of higher leakage. The middle cores are implemented with a more tight and power efficient library, using less power clock-for-clock than the Prime core, but hitting the frequency wall earlier in its frequency/power curve.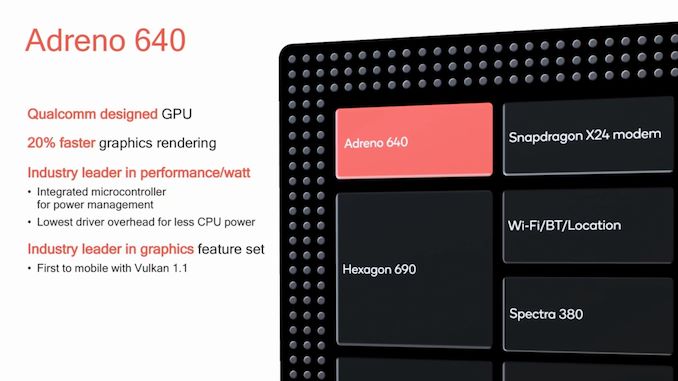 Meanwhile the Adreno 640 GPU is a new iteration over last year's Adreno 630. The GPU seems largely the same, as it's part of the same architecture family. However, Qualcomm notably changed the execution unit count in the new block, and as a result the Adreno 640 has 50% more ALUs than its predecessor. Interestingly, despite this large increase in execution units, Qualcomm only promised a more modest 20% increase in graphics performance. This difference is due to the new GPU going for a slower-and-wider philosophy, with Qualcomm running it at lower clock compared to its predecessor, reaching only 585MHz versus the 710MHz of last year's Snapdragon 845.
Other big changes in the Snapdragon 855 include Qualcomm's introduction of a new Tensor processing unit integrated with its Hexagon DSP – a block which also saw a doubling of its execution prowess. It's to be noted that the Tensor accelerator to date seems to have seen little action, as Qualcomm says the IP will only see more usage on newer Android 10-based device drivers, which will finally enable the block to be exposed to the OS's Neural Networks API (NNAPI) acceleration.
But it's the same chip! How will performance differ?
Today we'll be looking at 8 different Snapdragon 855 devices from various vendors, including a few different devices from the same vendor. One would be actually surprised to expect much variation from a group of devices being powered by the same SoC; however as we've learned over the years, aspects such as software and the physical hardware design of a handset can have great impact on the performance of a device – particularly in thermally constrained workload scenarios such as gaming.
Putting 8 different devices with the same SoC against each other gives us a unique perspective on the topic of software optimizations, as well as device thermal dissipation design, all of which will hopefully shed some light on which vendors were able to deliver the best implementations of the Snapdragon 855 platform.