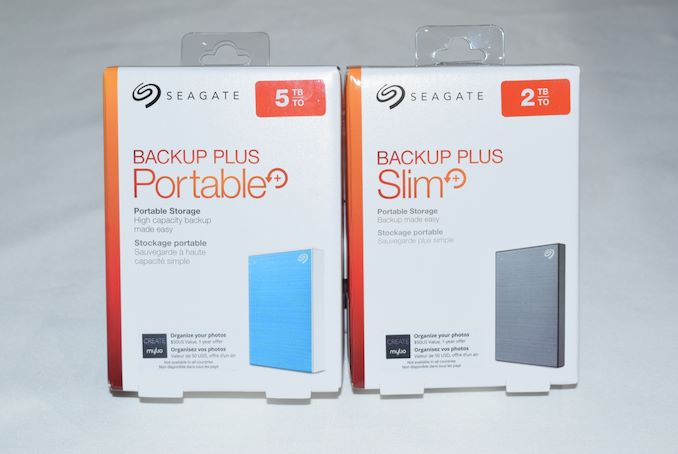 Hard drives continue to remain the storage media of choice for cost-conscious consumers with bulk storage requirements. HDD vendors have typically used their 2.5" drives for bus-powered high-capacity models. This market segment has been stuck at the 4TB mainstream capacity point for a few years now, with the z-height of the models coming in at well over 15mm. Earlier this year, Seagate announced an update to their massive 5TB Backup Plus Portable, while also introducing a new svelte 2TB Backup Plus Slim external hard drive. Both of them adopt SMR platters (similar to the Backup Plus models being sold since late 2016), and given the performance impact of SMR, today we'll be taking a detailed look at how SMR in bus-powered hard drives behaves for consumer workloads.
Introduction and Product Impressions
The number of vendors delivering portable, bus-powered hard drives is limited: only Seagate, Western Digital, and Toshiba serve this market. Of these, only Seagate has a 5TB model in the market currently. While Western Digital and Toshiba use conventional magnetic recording (CMR) for their 2.5" hard drives, Seagate makes use of shingled magnetic recording (SMR). This enables higher data storage density in their platters, which, in turn enables them to deliver the highest capacity 2.5" hard drives. The high density platters also allows them to deliver slim hard drives (at industry-leading capacity points taking thickness into consideration). Today, we are taking a look at the high-capacity Seagate Backup Plus Portable 5TB drive and the ultra-thin Seagate Backup Plus Slim 2TB dual-platter drive.
Mass-market bus-powered hard drives typically employ a USB 3.0 micro-B interface port (contrast this with the LaCie Porsche Design Mobile Drive that comes with a Type-C port). The Seagate Backup Plus models we are looking at today belong to that category. Seagate's portable drives have come with different value additions over the last several years. A few years back, the drives came with free cloud storage (OneDrive) for a limited time. Recently, we have seen them bundle a two-month subscription to Adobe's Creative Cloud package with select models. The Seagate Backup Plus models also come with value additions: In addition to the aforementioned Creative Cloud, Seagate also offers the Mylio Create cloud-based photo organization feature.

Package-wise, the two drives are remarkably similar. They come with a 18 inch. USB 3.0 Type-A male to Micro-B male cable. The cable color depends on the color of the drive itself. Other than that, we have a quick-start guide and a bunch of papers describing the value additions.
The drives come pre-formatted in exFAT, guaranteeing compatibility with both Macs and Windows-based systems. A setup executable is also available to help users get step-by-step guidance for product registration, warranty activation, and redemption of the value additions.
Moving on to the technical details, we get a quick understanding of the internals using CrystalDiskInfo.
Internal Drive Characteristics
Typical of bus-powered hard drives, both the Seagate Backup Plus Portable and Slim are 5400 RPM drives. It turns out that the internal drive of the Portable (the ST5000LM000) is available in the retail market as a Seagate BarraCuda Compute drive, while the one in the Slim (the ST2000LM007) is marketed as a Seagate Mobile HDD.
We have reviewed a number of bus-powered hard drives over the last few years. The table below presents the detailed specifications and miscellaneous aspects of all those units and how the two Seagate Backup Plus models being reviewed today compare against them.
Comparative HDD-Based Direct-Attached Storage Device Configurations
Aspect
Bridge Configuration
SATA III to USB 3.0 Micro-B
SATA III to USB 3.0 Micro-B
Power
Bus-Powered
Bus-Powered
Internal Drive
ST5000LM000-2AN170
5TB 5400 RPM 2.5" SATA Hard Drive
Seagate Barracuda Compute
ST2000LM007-1R8174
2TB 5400 RPM 2.5" SATA Hard Drive
Seagate Mobile HDD
Physical Dimensions
115.3 mm x 20.9 mm x 80 mm
114.8 mm x 11.7 mm x 78 mm
Weight
265 grams
126 grams
Cable
USB 3.0 Micro-B to Type-A
USB 3.0 Micro-B to Type-A
Evaluated Capacity
5TB
2TB
Price
$95
$70
Review Link
Seagate Backup Plus Portable 5TB Review
Seagate Backup Plus Slim 2TB Review
The key things to note here include the thickness of the Backup Plus Slim and with its weight. With a z-height of 11.7mm, it is comfortably the thinnest external hard-drive we have reviewed. At 126g, it comes in at barely half the weight of the other models in the above table.
In the rest of this review, we first take a look at our standard direct-attached storage benchmarks. Following this, we have some performance measurements from a typical external HDD real-world use-case. Finally, we talk about power consumption and provide some concluding remarks.