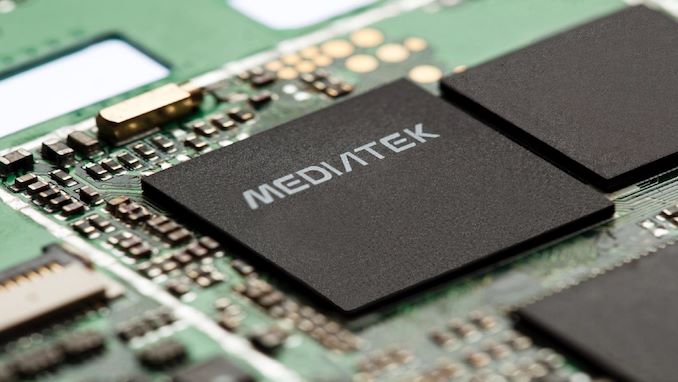 Today MedaTek is making quite an unusual announcement: The company is the first to announce a SoC with an integrated 5G modem. Even more interesting is the fact that the new silicon is the first announced design to employ Arm's brand-new Cortex-A77 cores and new Mali-G77 GPU that were both announced only two days ago.
The odd thing about today's announcement is that this seems like a relatively early pre-announcement. MediaTek doesn't divulge the actual product name of the new SoC nor does it go into detail of the specifications. What is divulged however is that the chipset is built on TSMC's new 7nm process-node, and integrates MediaTek's own Helio M70 modem IP.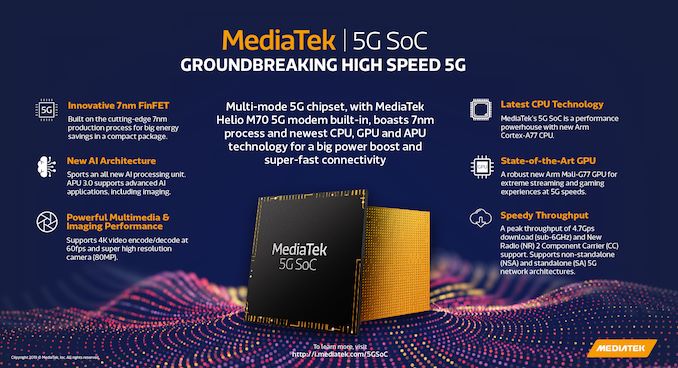 The M70 modem supports 5G NR in the sub-6GHz spectrum with up to 2x carrier aggregation. The modem supports both standalone as well as non-standalone 5G network architectures. It's to be noted that we won't be seeing mmWave from MediaTek this early: In the markets that the company sees the SoC we won't be seeing mmWave networks deployed for several more years, and in general the US is the odd one out with early mmWave deployments while the rest of the world focuses on sub-6GHz coverage.
The use of Arm's new Cortex-A77 and Mali-G77 GPU means that the SoC will have the most up-to-date IP at release, something that MediaTek hasn't been able to achieve in a few generations. Alongside the CPU and GPU, MediaTek will employ its third generation APU design, which uses the company own in-house IP.
Finally, the imaging capabilities of the SoC are said to have been greatly enhanced and now supports 4K60 decode and encode along with 80MP ISP capability.
We don't know a lot more about the SoC, and exactly what product category its targeting, but we expect MediaTek to still largely target the mid-range. We should be seeing devices with the new SoC released in 2020.
Related Reading