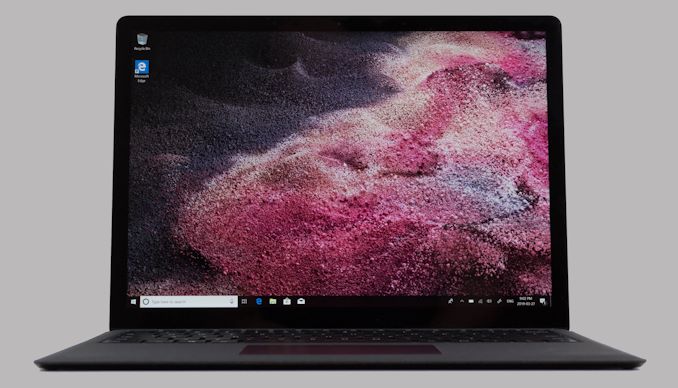 Microsoft's Surface lineup was created to bring a spark of innovation into the PC industry at a time where much of the competition was slow to change, and slow to adopt new form factors and new technologies. Microsoft's Surface Pro lineup has undoubtedly been a huge success in this respect, with the 2-in-1s providing plenty of flexibility coupled with great hardware.
Unsurprisingly then, Microsoft has taken this success and run with it, growing the Surface brand by fleshing out the product line with more models. However even as Microsoft expanded the Surface family, they have always tried to keep that same edge – always embracing a unique feature on their lineup to differentiate a Surface device from the competition. Surface Pro had the kickstand, of course. Surface Book is a laptop with a detachable display. Surface Studio is an all-in-one PC that can fold into a drafting table.
But even with the Pro as a successful template for how to build out the Surface family, Microsoft has one product that doesn't really fit in with the rest, and that is the Surface Laptop. There are no tricks or unique chassis features here. Microsoft just set out to create a thin and light laptop to fill a void where people want to buy a Surface, but want to use it in their lap; and they don't need the performance, heft, or price of the Surface Book. It's a simple concept for a company that's been more focused on distinctive designs, but one that helps tap an important segment of the notebook market.

We didn't get a chance to review the original Surface Laptop, but the Surface Laptop 2 is only a small update, offering new color choices and the move from Kaby Lake dual-core processors to Kaby Lake-Refresh quad-core options. Also, Microsoft has ditched the anemic 4 GB of RAM in the base model; all Surface Laptop 2 models ship with a minimum of 8 GB of LPDDR3, with high-end and upgraded models increasing that to 16 GB, which happens to be the maximum supported by Intel's current U-series processors.
Even without any crazy chassis features, Microsoft has set the Surface Laptop apart from the competition in a couple of key ways. First and foremost, they've kept the excellent 3:2 aspect ratio display in a sea of 16:9 laptops. The extra vertical height is welcome when doing any sort of productivity work, though it is a design tradeoff of sorts since less of the display is used when watching 16:9 video. Along these lines, Microsoft's PixelSense displays are some of the best in the industry as well, offering class-leading color accuracy along with touch and pen support. The 13.5-inch display in the Surface Laptop 2 offers 201 pixels per inch, which isn't quite as sharp as the Surface Book 13.5's 267 pixels per inch, but still enough to offer a sharp image.
Meanwhile the other differentiating features for the Surface Laptop 2 come down to asthetics and the typing experience. In terms of looks, Microsoft offers the Surface Laptop 2 in a choice of four colors, going so far as to color-match the Alcantara keyboard deck. Which as it happens, is the other notable feature here, as the Alcantara keyboard rounds out the device by providing a smooth typing experience.
Microsoft Surface Laptop 2
Model Tested: Core i7-8650U 8GB 256GB $1599
Processor
Intel Core i5-8250U
4C/8T, 1.6-3.4GHz, 6MB L3, 14nm, 15w

Intel Core i7-8650U
4C/8T, 1.9-4.2GHz, 8MB L3, 14nm, 15w
Memory
8 GB or 16 GB Dual-Channel LPDDR3
Graphics
Intel Core i5-8250U
Intel UHD Graphics 620 (24 EUs, 300-1100 MHz)
Intel Core i7-8650U
Intel UHD Graphics 620 (24 EUs, 300-1150 MHz)
Display
13.5" 2256x1504 3:2 PixelSense
Touch and Pen support
100% sRGB color, individually calibrated panels
Storage
128 GB, 256 GB, 512 GB, 1 TB PCIe 3.0 x2
Networking
802.11ac, 2x2:2, 866Mpbs Max, 2.4 and 5GHz
Bluetooth 4.1
Marvell AVASTAR
Audio
Omnisonic Speakers
Dolby Audio Premium
Battery
47.5 Wh, 44 W AC Adapter with USB charging port
Right Side
Surface Connect Port (charging and docking)
Left Side
USB 3.0 Type-A
Mini DisplayPort 1.2
Headset Jack
Dimensions
308 x 223 x 14.48 mm (12.13 x 8.79 x 0.57 inches)
Weight
Core i5: 1252 grams (2.76 lbs)
Core i7: 1283 grams (2.83 lbs)
Camera
Front: 720p Camera and Windows Hello support
Dual microphones
Extras
Surface Pen and Dial (sold separately)
Surface Dock - 2 x mDP 1.2, 4 x USB 3.0, 1 x Gigabit (sold separately)
TPM 2.0
Pricing
128 GB Core i5 8GB RAM: $999
256 GB Intel Core i5 with 8GB of RAM: $1299
256 GB Intel Core i7 with 8GB of RAM: $1599
512 GB Intel Core i7 with 16GB of RAM: $2199
1 TB Intel Core i7 with 16GB of RAM: $2699
Buy the Microsoft Surface Laptop 2 at Microsoft.com
Yet even with all of the Surface Laptop 2's cutting-edge hardware, what you surprisingly won't find here is a USB Type-C port. In fact it's a bit ironic; Microsoft first launched the Surface brand because they felt the competition wasn't innovating quickly enough, only for Microsoft to adopt USB Type-C at such a slow pace. As a result of this, the Surface Laptop 2 offers just a single USB port, and that is USB-A. While you can't fault Microsoft for including a Type-A port (since it improves compatibility dramatically), the lack of any USB-C is a fault that is difficult to overlook, especially when you consider the laptop has a Mini DisplayPort instead, a port that has been rendered all but redundant by USB Type-C alt modes.
The real benefit of USB-C in a laptop like this would be in charging though, especially since numerous laptops and pretty much all Android phones have migrated to the new connector by now. Instead, Microsoft continues to rely on its proprietary Surface Connect port for charging. And while the magnetic connector works flawlessly while also granting the laptop compatibility with the Surface Dock, I still see little reason why they couldn't offer both USB-C and the Surface Connect, like they do on the Surface Book 2.
But, if you can get past the lack of expandability, there is a lot to like about the Surface Laptop 2, starting with its design.