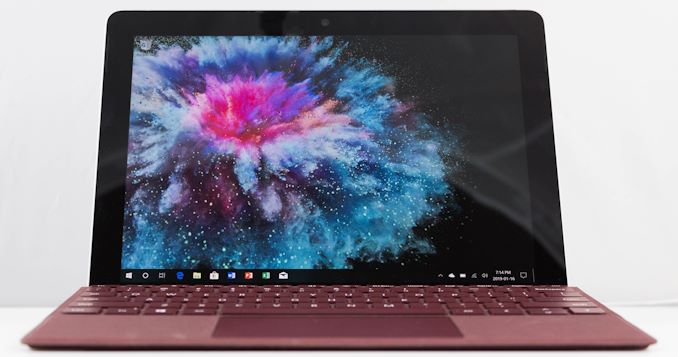 Microsoft's Surface Pro lineup has been a design win for the company for several years now. The Surface Go was launched in July of 2018 as a lower-cost version of the Surface Pro, offering buyers a less expensive way to become a Surface customer, and by the nature of its smaller size compared to the Surface Pro, an even more portable convertible Surface tablet. When the device was initially announced, a model with LTE connectivity was also in the works, and the Surface Go LTE arrived in November 2018.
Featuring a 10-inch display, the Surface Go is quite a bit smaller than the Pro, and the obvious comparison to make would be against the Surface 3, which launched way back in 2015. In the three year gap between these models, Microsoft had seemed to abandon the idea of the smaller convertible tablet in their lineup. But thanks to the smaller price tag, it was always a popular model, and it is great to see them reintroduce the reduced size Surface again. Even though the Surface 3 launched way back in 2015, it still has a usage share higher than any Surface launched outside of the Pro models, and now the Surface Go.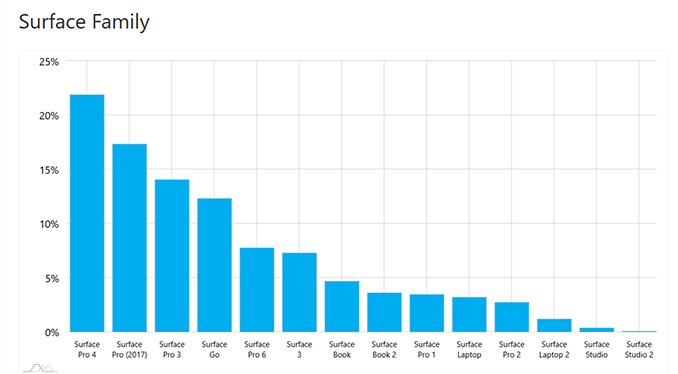 Source: AdDuplex.com
Looking at numbers from AdDuplex from December 2018, it makes it clear why the Surface Go was launched. And despite it only being on the market for about five months, it's clearly gained a lot of traction in the Surface market, with usage share outstripping that of every other non-Pro model ever launched. We never got a chance to review the original Surface Go, but Microsoft has sent us the Surface Go LTE model for a full review.
The Surface Go LTE offers the benefit of always-on connectivity – assuming you have cellular coverage of course – and this opens it up to an even wider audience of customers. Microsoft is clearly aiming the Surface Go LTE at business customers looking for a small device they can take on-site, with an even smaller footprint than the Surface Pro LTE, and a lighter form factor. As has been the case with the last couple of LTE variants for Surface, the Surface Go LTE utilizes a Qualcomm X16 modem.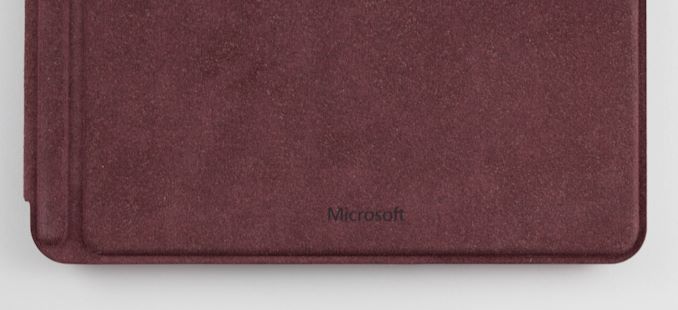 The rest of the Surface Go is unchanged. It's still powered by the dual-core Intel Pentium 4415Y processor, and has the same 10-inch 1800x1200 3:2 PixelSense display. The only real difference is that the LTE variant is only available with 8 GB of RAM and 128 GB of SSD storage. The 4 GB / 64 GB eMMC model cannot be purchased with LTE.
Microsoft Surface Go
Surface Go Specifications
CPU
Intel Pentium Gold 4415Y (Kaby Lake-Y)
2 core, 4 thread, 1.6 GHz base frequency
GPU
Intel HD 615
24 EUs 850 MHz boost frequency
Display
10-inch PixelSense
1800x1200 3:2 aspect
216 Pixels Per Inch
10-point Multitouch
Surface Pen support
Dimensions
245 x 175 x 8.3 mm
9.6 x 6.9 x 0.33 inches
Weight
522 grams (WiFi) / 532 grams (LTE)
1.15 lbs (WiFi) / 1.17 lbs (LTE)
RAM
4 or 8 GB LPDDR3-1866
Storage
64 GB eMMC
128 NVMe SSD optional
256 GB NVMe SSD (Commerical Option)
Wireless
802.11ac with Bluetooth 4.1
Qualcomm Snapdragon X16 LTE Optional
Battery
Up to 9 hours of video playback
24W Charger
Cameras
Windows Hello IR camera
5 MP Front Camera with 1080p video
8 MP Rear Camera with 1080p video
Ports
USB Type-C 3.1 Gen 1 with power delivery
Surface Connect
MicroSD
Headset
Price
4GB/64GB $399
4GB/128GB $499
8GB/128GB $549
8GB/128 GB LTE $679
Windows 10 Pro $50 extra
The Surface Go offers many of the same features as its larger siblings, including the Surface Connect port for charging and data. This is a big upgrade over the Surface 3, which only offered micro USB charging, and the Surface Go ships with a 24-Watt AC adapter. The advantage for business customers here is that the Surface Go will work with the same Surface Dock as the rest of the lineup, meaning it can easily be connected to power, displays, and Ethernet on the desk, and then with one magnetic connector, becomes instantly portable.
The Surface Go also offers USB Type-C, which is a huge advantage for the Surface Go compared to the Surface Pro, since you can use any Type-C charger while on the road with the Surface Go. It does lose the USB Type-A port that is a key feature of the Surface Pro, but on a portable device like this, that is a worthwhile trade-off. If you need Type-A, you can of course get an adapter for Type-C, or use the Surface Dock.
It's been quite remarkable to see just how popular this device is in the market, despite it only being available for a few months. Let's dig into the Surface Go LTE.