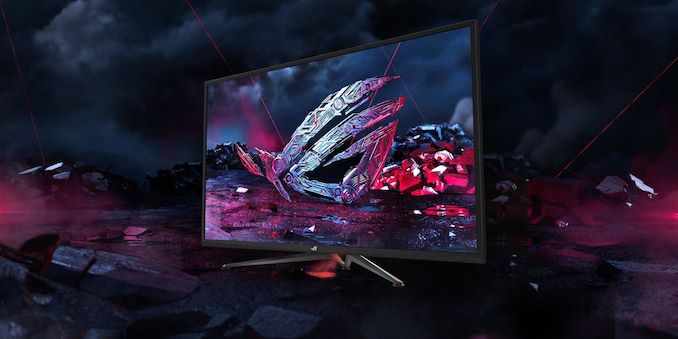 ASUS has announced their upcoming lineup of gaming monitors at CES under the Republic of Gamers branding, and as with everything in Las Vegas, bigger appears to be better. The Strix XG32VQR is a 32-inch 2560x1440 144Hz display, the Strix XG438Q is a 43-inch UHD HDR with a 120 Hz refresh rate monitor, and the Strix XG49VG is a massive 49-inch 32:9 3840x1800 144 Hz beast.
ASUS ROG Strix XG Monitors
XG438Q
XG49VQ
XG32VQR
Panel Size
43-inch 16:9
49-inch 32:9
31.5-inch 16:9
Panel Type
VA Panel
VA Panel
VA Panel 1800R Curve
Color Saturation
P3-D65 90%
P3-D65 90%
P3-D65 94%
Brightness
600 nits
450 nits
450 nits
Response time (GTG)
4 ms
4 ms
4 ms
Resolution
3840x2160
3840x1080
2560x1440
Refresh Rate
120 Hz
144 Hz
144 Hz
HDR Support
Radeon FreeSync 2 HDR
Radeon FreeSync 2 HDR
Radeon FreeSync 2 HDR
VESA HDR Specification
DisplayHDR 600
Display HDR 400
DisplayHDR 400
Speakers
10 W x 2
5 W x 2
No Speakers
Availability
Spring 2019
January 2019
January 2019
To hit VESA HDR specifications, ASUS has custom designed the backlights on all three models to improve the local dimming. They also support FreeSync 2 HDR with low framerate compensation.
ASUS Strix XG438Q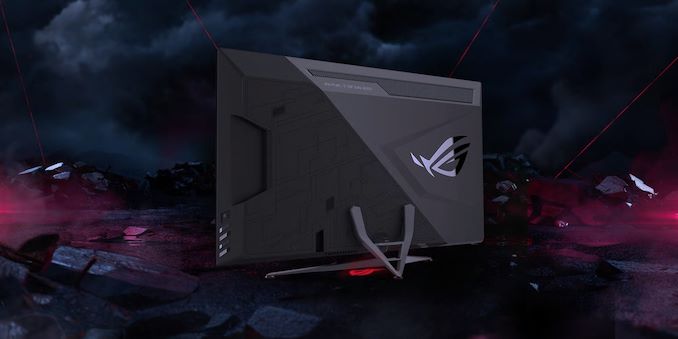 The ASUS Strix XG438Q is an impressive piece of tech, and ASUS claims it's the biggest and fastest UHD Freesync 2 HDR gaming monitor on the market. This VA panel offers 90% of the P3-D65 gamut, and a 120 Hz refresh rate, so if you have the hardware to drive this, it should offer very smooth response. This display meets the VESA DisplayHDR 600 specifications, and features ASUS GameFast Input, along with PiP, and PbP modes. Availability is listed as Spring 2019, with no pricing offered yet. It likely won't be inexpensive.
ASUS Strix XG49VQ
If a 43-inch UHD display isn't big enough, perhaps a 49-inch Ultrawide is just what you were after. The Strix XG49VQ is a 32:9 aspect ratio VA monitor, with a 3840x1080 resolution. This display offers a 144 Hz refresh rate, along with FreeSync 2 HDR. It covers 90% of the P3-D65 gamut, and is VESA DisplayHDR 400 compliant. Pricing has not been announced but the display will be on the market by the end of January.
ASUS Strix XG32VQR
This 32-inch monitor seems outright small by comparison, but the 2560x1440 VA display offers a 144 Hz refresh rate, and covers 94% of the P3-D65 gamut. It also features FreeSync 2 HDR, and is DisplayHDR 400 compliant. This display also will be available by the end of January, with pricing to be determined.
Source: ASUS
Images will be updated when made available by ASUS