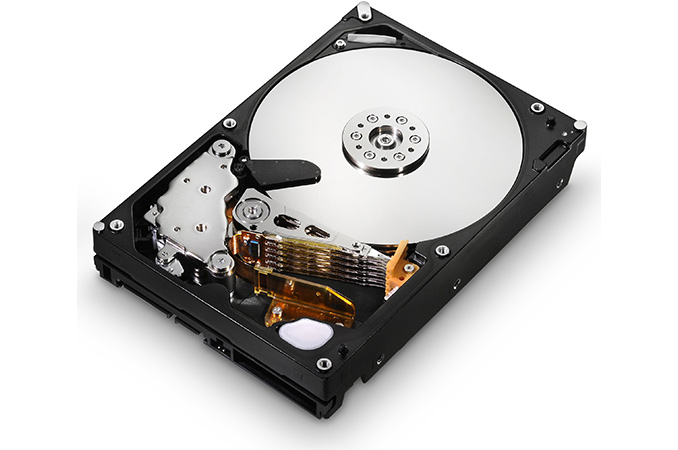 Western Digital this week announced plans to shut down its HDD assembly facility (near Kuala Lumpur, Malaysia) by the end of 2019, and then sell the property. The factory has been used for several decades, but Western Digital says that the total available market for client hard drives has been shrinking in the recent years and will continue to do so in the coming years, which is why it does not need the extra manufacturing capacities that it will not be able to use.
Western Digital is a vertically integrated maker of hard drives. The company produces all the components of HDDs in-house, everything from media substrates to platters and from head substrates to HGAs (head gimbal assembly) and HSAs (head stack assembly). Obviously, it performs final assembly and testing too. At present Western Digital has three factories that produce hard drives: the largest one is located in Bang Pa-In (Thailand), the second largest one is situated near Kuala Lumpur in Petaling Jaya (Malaysia), and the smallest one is sited in Prachinburi (Thailand). Meanwhile only the largest one is more or less vertically integrated and makes not only HDDs, but also many of their components (see the table below for details).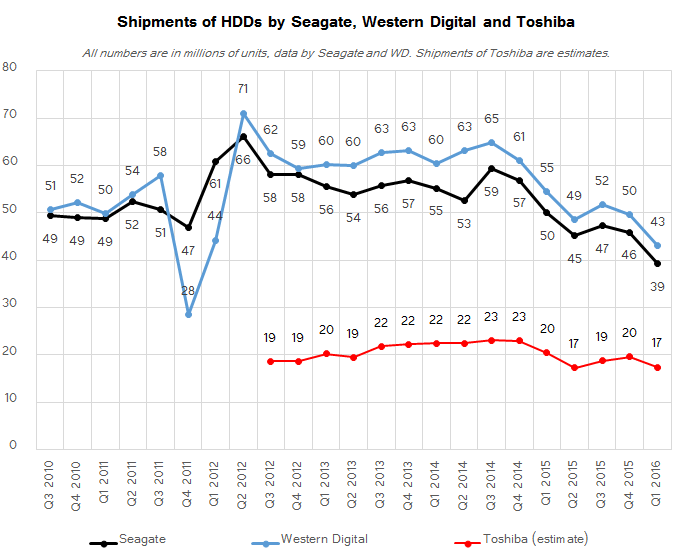 The total available market of hard drives dropped to around 400 million units in 2017, down from around 550 million units in 2014. As a result, both Seagate and Western Digital have been reducing their HDD manufacturing capacities in the recent years. Seagate shut down its HDD assembly factory in Suzhou, China, in 2017, whereas Western Digital closed down its head wafer facility in Odawara, Japan, in 2016. While the HDD TAM has been on the decline for years now, sales of nearline hard drives featuring a massive capacity for datacenters have been growing. Therefore, neither Western Digital nor Seagate have plans to limit production of these products.
"In response to declining long-term demand for client HDDs, Western Digital has taken steps to rationalize its HDD manufacturing operations globally," a statement by Western Digital published by The Register reads. "The company will decommission its HDD manufacturing facility in Petaling Jaya, Selangor, by the end of calendar 2019. This transition will be executed in close collaboration with employees, customers, supply partners and other critical stakeholders."
The production facility in question was established in 1973 and initially made semiconductors. Since the factory had a clean room, it was relatively easy to convert it to an HDD assembly plant in 1994. After the facility is decommissioned, Western Digital intends to sell the site near Kuala Lumpur. What remains unclear is what is going to happen to Western Digital's sites near Johor and Kuching, where the company makes HDD components. The company also did not disclose its plans for its HDD R&D facility near Kuala Lumpur that was added to the plant in 2010 – 2011 and cost $1.2 billion.
Instead of making hard drives in Malaysia, Western Digital says it plans to expand production of SSDs in the country and will commission another SSD assembly factory in Penang in the coming months.
"Market transformation is driving increased adoption of SSDs and NAND flash in traditional HDD applications," the statement by Western Digital reads. The change has contributed to growth in SSD/NAND flash and declining long-term demand for client HDDs. Consequently, Western Digital plans to expand SSD manufacturing in Penang. The company is in the final stages of commissioning its second SSD facility in Penang, which will go into production in the coming months."
It is noteworthy that production of SSDs is relatively easy and cheap. Assembly of SSDs does not require state-of-the-art facilities, unlike production of NAND flash memory and assembly of HDDs. Meanwhile, by adding another SSD production plant in Malaysia, Western Digital will have three SSD assembly factories: one in Shanghai, China and two others in Penang, Malaysia.
Western Digital's's Manufacturing, Development, Marketing and Administrative Facilities
Location
Primary Use
Type of Products*
Approximate Area
Ownership
USA
California
Fremont
R&D,
Manufacturing of head wafers
HDDs
392,000 ft²
Owned
Irvine
R&D,
Administrative, Marketing, Sales
490,000 ft²
Leased
San Jose
R&D,
Product/Head/Media Development, Manufacturing of head wafers
2,887,000 ft²
Owned/Leased
Milpitas
R&D,
Administrative, Marketing, Sales, Operations
SSDs
589,000 ft²
Owned
Colorado
Longmont
R&D
HDDs
62,000 ft²
Leased
Minnesota
Rochester
Product Development
118,000 ft²
China
Shanghai
Assembly & Test of NAND Flash ICs
SSDs
715,000 ft²
Owned
Shenzhen
Manufacturing of Media,
Administrative
HDDs
548,000 ft²
Owned/Leased
Japan
Fujisawa
Product Development
661,000 ft²
Owned
Malaysia
Johor
Manufacturing of Substrates
271,000 ft²
Owned
Kuala Lumpur
R&D,
Manufacturing of HDDs
1,074,000 ft²
Kuching
Manufacturing and Development of Substrates
285,000 ft²
Penang
Assembly and Test, Manufacturing of Media and SSDs, and R&D
SSDs
1,075,000 ft²
Singapore
R&D,
Administrative
SSDs (?)
324,000 ft²
Leased
Thailand
Bang Pa-In
R&D,
Slider Fabrication,
Manufacturing of HDDs,
Manufacturing of HGAs
HDDs
1,665,000 ft²
Owned
Novanakorn
Manufacturing of HGAs
290,000 ft²
Prachinburi
Manufacturing of HDDs
729,000 ft²
India
Bangalore
R&D,
Marketing, Administrative
SSDs
220,000 ft²
Israel
Kfar Saba
R&D,
Marketing, Administrative
167,000 ft²
Tefen
64,000 ft²
*Products originally developed/made in the facility.
Related Reading
Sources: The Register, TheEdgeMarkets