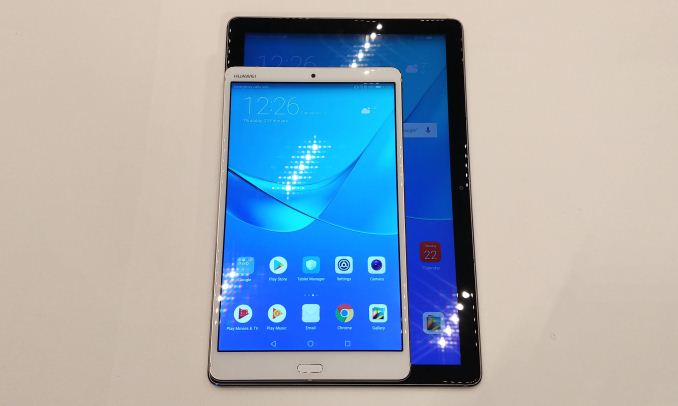 BARCELONA, ESP – One of the questions we get now and again as AnandTech editors is to suggest what high-end Android tablets a person should buy. The truth of the matter is, aside from the mêlée of Chinese low-end tablets or ones like Alcatel that use quad-A53 processors, there have been no serious updates to this space. Requests are few and far between for something high-end on Android, and the market in the high-end is almost exclusively for iPad devices, especially for a saturated market.
Nonetheless, the questions do come, and several times a year. Huawei is now moving on this market for an updated device for 2018: the MediaPad M5. Available in two sizes, an 8.4-inch display and a 10.8-inch display, one of the key features is going to be the SoC. The Kirin 960 is not the latest flagship SoC, but it is at the heart of Huawei's Mate 9, Honor 8 Pro, and Honor 9 smartphones, the Huawei flagship devices through most of 2017.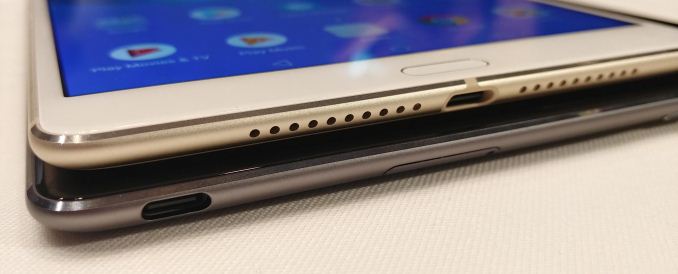 Rather than a jumble of low-speed Arm Cortex A53-cores for both performance and efficiency, and low-end graphics, the Kirin 960 has four high-frequency A73 cores for performance, four A53 cores for efficiency, and a Mali G71 8-cluster GPU solution, using Arm's BiFrost GPU architecture. The point here is that with sufficient CPU and GPU resources, the MediaPad has to potential to be on par with Huawei's recent flagship devices for games and audiovisual experiences, rather than most Android tablets which end up as low-end Netflix playback system. The MediaPad devices will also have a dedicated 'Game Mode', which extends the internal power/current limits for the SoC graphics and maintains turbo frequencies for longer.
Huawei MediaPad M5
8.4-inch
10.8-inch
SoC
HiSilicon Kirin 960
4 x Arm Cortex A73 @ 2.36 GHz
4 x Arm Cortex A53 @ 1.84 GHz
Graphics
Arm Mali-G71MP8 @ 1037 MHz
Display
8.4-inch
2560x1600
10.8-inch
2560x1600
Storage
32 GB / 64 GB / 128 GB
+ microSD up to 256GB
Memory
4GB LPDDR4-1866
Battery
5100 mAh
Up to 11 hours
7500 mAh
Up to 10 hours
Wireless
LTE on select mdoels
802.11ac Wi-Fi, Dual Band
Bluetooth 4.2
Connectivity
Type-C Charging
USB Type-C to 3.5mm Audio
Camera
Rear Camera: 13MP Autofocus
Front Camera: 8MP Fixed Focus
Dimensions
212.6 x 124.8 x 7.3 mm
~316g
258.7 x 171.8 x 7.3 mm
~498g
Android
Android 8.0 + EMUI 8.0
Price
TBD
TBD
For the display, both devices will have a 2560x1600 IPS panel. This means that the 8.4-inch unit will run at 359 PPI and the 10.8-inch unit is at 280 PPI. The display will feature 'ClariVu', an enhanced display software technology that manipulates the image through the display buffer to provide 'a 20% improvement in picture quality'. Huawei did not clarify how this was done or how the metric was measured, as there are many ways to do it, but they confirmed it was a full software solution. The MediaPad M5 will also have a comfort mode that reduces the blue-color intensity. The brightness, contrast ratio, and color accuracy were not reported by Huawei in our briefing.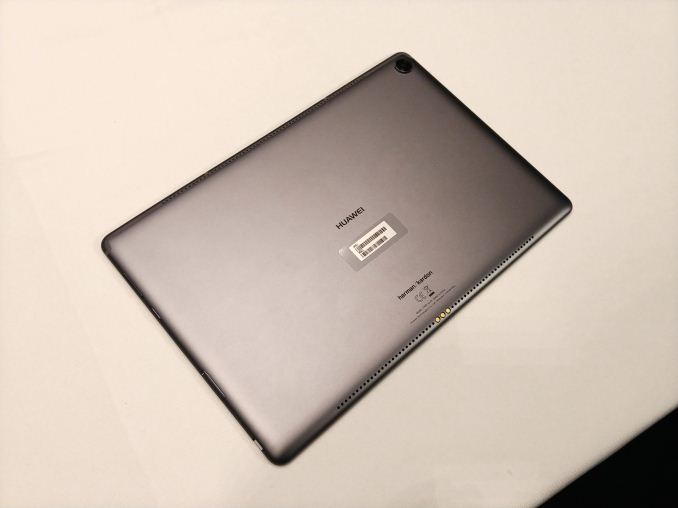 The MediaPad design is an aluminium unibody construction, with four speakers on the 10.8-inch and two speakers on the 8.4-inch. All the speakers are on the rear, and are co-engineered with harmon/kardon. Huawei is in the process of introducing its Histen surround sound software to its family of products, to which the MediaPad M5 range is an early recipient, with the idea of getting better sound quality through a software package.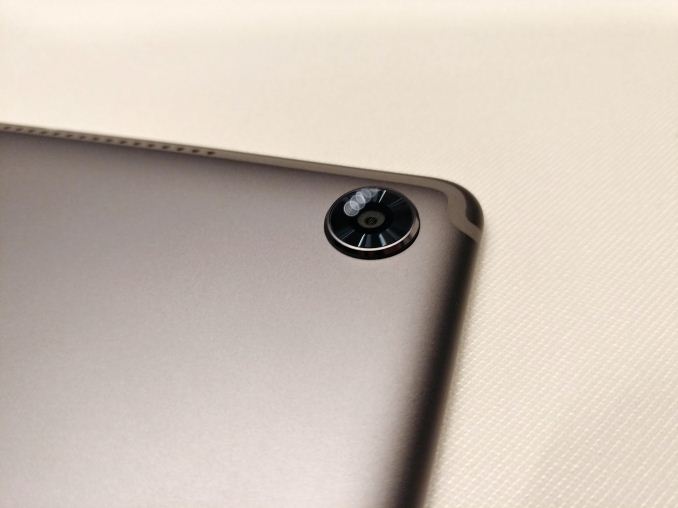 The battery capacity of the 8.4-inch device is set at 5100 mAh, which Huawei states is good for 11 hours of 1080p video, and can be charged from flat to full in two hours. The larger 10.8-inch device, due to the backlight requirements of having the same resolution panel but bigger achieve the same brightness, means that the larger 7500 mAh battery supports a shorter battery life: Huawei quotes up to 10 hours of 1080p video, citing a flat to full metric of 3 hours of charging, using the fast charge technology.
The MediaPad M5 will be available in two colors: Champagne Gold and Space Grey. As per previous Huawei launches, pricing will be announced during the official presentation. The key competition to the MediaPad M5 will be the Samsung Galaxy Tab S3, which uses a Snapdragon 820 SoC, launched last year.
The MediaPad M5 Pro
Along with the two 'regular' M5 tablets, Huawei is also launching an M5 Pro version. The M5 Pro is the pen-enabled edition of the 10.8-inch M5, and uses Huawei's latest M-Pen technology. The M-Pen comes in the box of the M5 Pro, and is upgraded over previous M-Pen implementations by being USB Type-C, rather than microUSB. The pen supports 4096 levels of pressure, and will last for 50 days on a full charge.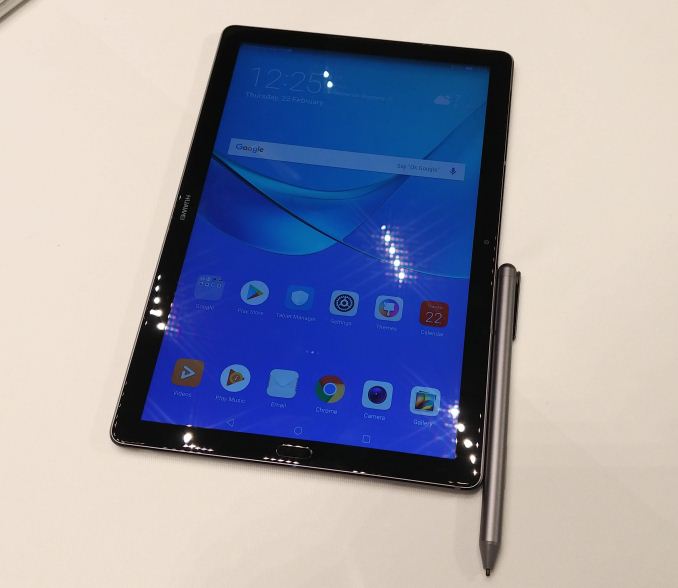 The other element to the M5 Pro is support for an additional keyboard case accessory, so the tablet can be used with a physical keyboard via the pins in Huawei's Desktop Mode. This is a similar mode to the desktop mode exhibited with the Mate 10 smartphones, giving a Windows-esque environment and easier access to the file management system.

Again, pricing and availability will be given during Huawei's launch event.
Related Reading