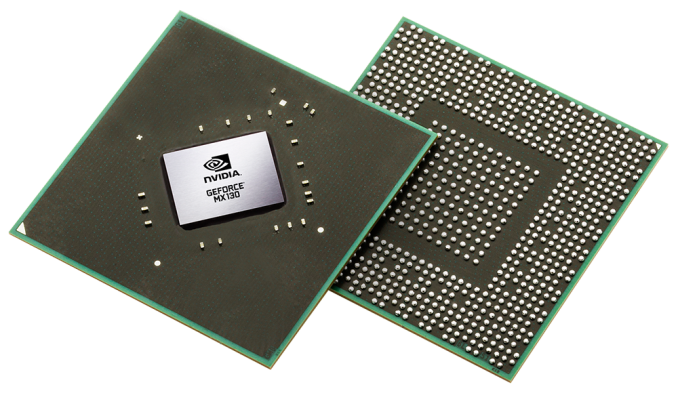 Earlier this month, NVIDIA quietly released the Maxwell-based entry-level GeForce MX130 and MX110, joining the earlier Pascal-based MX150. The MX130 and MX110 product pages were later updated to specify that they were Maxwell-based parts. These discrete mobile GPUs are OEM-focused, and fill out the very bottom of NVIDIA's mobile GPU product stack.
Officially, as with previous low-end GPU launches, NVIDIA is remaining tight-lipped on formal GPU specifications. In lieu of hard numbers on CUDA cores and clocks – the latter of which is variable among laptop designs due to power and cooling – NVIDIA is citing performance relative to the Intel UHD 620, the iGPU featured in the i5-7200U (and most other Intel 8th Gen Core CPUs). There the company has the MX110 listed as 1.5x faster in games than the UHD 620, while the MX130 is cited as 2.5x faster. In comparison, the MX150 was cited at 4x faster than the Intel's iGPU.
Best Guess: NVIDIA Laptop Video Card Specification Comparison
MX150
MX130
MX110
CUDA Cores
384
384
256
ROPs
16
8
8
Boost Clock
Variable
Variable
Variable
Memory Type
GDDR5
GDDR5/DDR3
GDDR5/DDR3
Memory Bus Width
64-bit
64-bit
64-bit
VRAM
<=2GB
<=2GB
<=2GB
GPU
GP108
GM108
GM108
Manufacturing Process
Samsung 14nm
TSMC 28nm
TSMC 28nm
Launch Date
05/26/2017
11/2017
11/2017
Presumably, these parts are GM108-based 940MX and 920MX rebrands, a common occurrence in mobile GPUs. A SiSoftware entry for a Dell Latitude 5591, mentioned on a Dell Accessories product page, details the MX130 as a 384 CUDA core configuration at 1189 MHz, which again suggests a rebranded GeForce 940MX. Based on the performance difference between the MX130 and MX110, it is likely that the MX110 is a rebrand of the 256 CUDA core 920MX, as opposed to the 384 CUDA core 930MX. As the MX130 and MX110 features both DDR3 and GDDR5 interfaces, OEMs may outfit video memory as they see fit.
Both Maxwell parts support Optimus and Turbo Boost 2.0. As is typical with their low-end mobile product launches, NVIDIA had no further details or information to provide.
Source: NVIDIA (via SH SOTN)