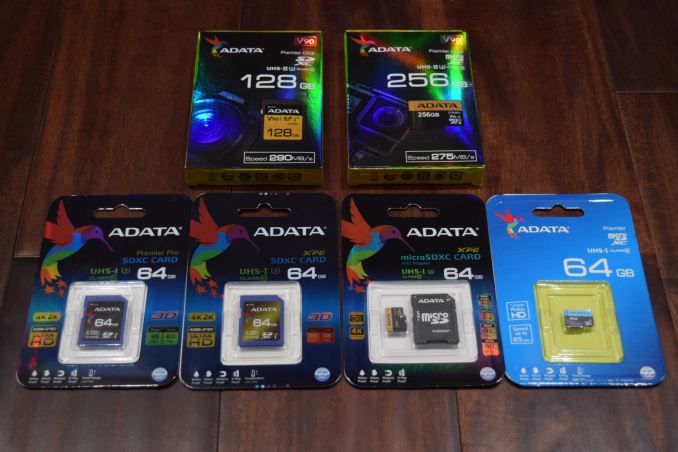 Digital cameras and camcorders employ memory cards (flash-based removable media) for storage of captured content. There are different varieties of memory cards catering to various performance levels. CompactFlash (CF) became popular in the late 90s, but, has now been overtaken by Secure Digital (SD) cards. Many computing systems (PCs as well as smartphones) also support SD cards for augmenting local storage capabilities. We recently started in-depth evaluation of the performance of various memory cards. This piece evaluates a number of memory cards from ADATA.
Introduction
SD (Secure Digital) cards were introduced in 1999, as an update to the existing MultiMediaCards (MMCs). It gained traction even in areas where CompactFlash had been preferred, thanks to its small size. Its popularity is evident by the fact that it has spawned two follow-ups in the same form factor - starting with the SDSC in 1999 for capacities between 1MB and 2GB, we got SD High Capacity (SDHC) in 2006 (up to 32GB) and SD eXtended Capacity (SDXC) in 2009 (up to 2TB). The cards also come in various sizes - standard, mini, and micro. Currently, the standard and micro sizes are more popular in the market. SD's popularity and affordability has meant that almost all consumer cameras come with a SD card slot.
ADATA is a popular vendor in the memory market with their DRAM and SSD lineup. Their expertise with flash obviously places them in a good position to target the memory card market. In particular, they have a large number of SD and microSD cards targeting various performance levels. They sent across 6 different cards (three in SD and three in microSD form factors):
ADATA Premier ONE 128GB SDXC UHS-II U3 Class10 V90 3D NAND SD Card
ADATA XPG 64GB SDXC UHS-I U3 Class 10 SD Card
ADATA Premier Pro 64GB SDXC UHS-I U3 Class 10 SD Card
ADATA Premier ONE 256GB microSDXC UHS-II U3 Class10 V90 3D NAND microSD Card
ADATA XPG 64GB microSDXC UHS-I U3 Class 10 microSD Card
ADATA Premier 64GB SDXC UHS-I U3 Class 10 microSD Card
Each of these six cards were subject to our comprehensive memory card evaluation routine, and five of them emerged unscathed.
The next two sections will details the obtained performance numbers. Prior to that, we take a look at the testbed setup and evaluation methodology.
Testbed Setup and Testing Methodology
Evaluation of memory cards is done on Windows with the testbed outlined in the table below. The USB 3.1 Type-C port enabled by the Intel Alpine Ridge controller. It connects to the Z170 PCH via a PCIe 3.0 x4 link. is used for benchmarking purposes on the testbed side. SD cards utilize the Lexar Professional Workflow SR2 SDHC / SDXC UHS-II USB 3.0 Reader. The reader was placed in the Lexar Professional Workflow HR2 hub and uplinked through its USB 3.0 port with the help of a USB 3.0 Type-A female to Type-C male cable.
AnandTech DAS Testbed Configuration
Motherboard
GIGABYTE Z170X-UD5 TH ATX
CPU
Intel Core i5-6600K
Memory
G.Skill Ripjaws 4 F4-2133C15-8GRR
32 GB ( 4x 8GB)
DDR4-2133 @ 15-15-15-35
OS Drive
Samsung SM951 MZVPV256 NVMe 256 GB
SATA Devices
Corsair Neutron XT SSD 480 GB
Intel SSD 730 Series 480 GB
Add-on Card
None
Chassis
Cooler Master HAF XB EVO
PSU
Cooler Master V750 750 W
OS
Windows 10 Pro x64
Thanks to Cooler Master, GIGABYTE, G.Skill and Intel for the build components
The full details of the reasoning behind choosing the above build components can be found here.