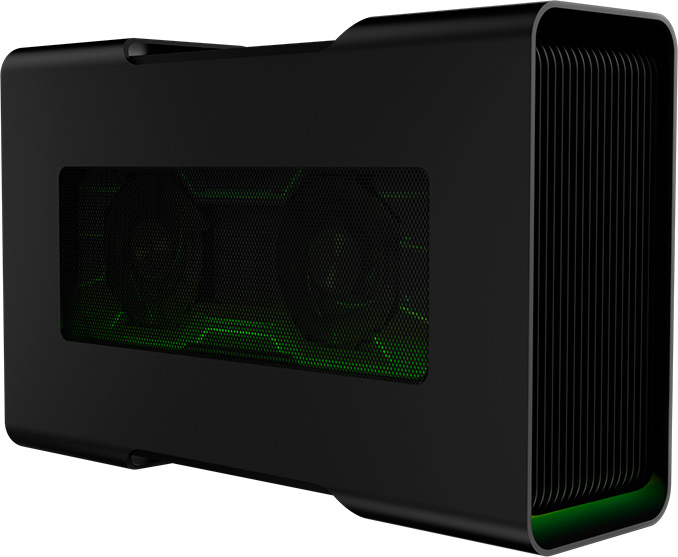 Razer has launched a new version of its Thunderbolt 3 external graphics enclosure for video cards, the Core v2. The new Core v2 chassis uses dual Thunderbolt 3 controllers and a USB-C/USB PD controller for easier routing of traffic to/from GPU and other components located in the box. In addition, the Core v2 can support larger graphics adapters than the Core v1, according to the company. As for the price, it remained the same as in the case of the first-gen Razer Core.
The new Razer Core v2 looks exactly the same as the predecessor from the outside: it has the same design, dimensions, two zone RGB Chroma lighting, the same card mounting mechanism, one Thunderbolt 3 input, four USB 3.0 Type-A ports, a GbE connector and so on. Meanwhile, the internal architecture of the Razer Core v2 has been revamped to include two TB3 controllers in order to "ensure fluid gameplay", as Razer puts it. While two TB3 controllers and one TB3 connector seem a little odd, the two Intel DSL6540 controller chips actually make sense in case of this box.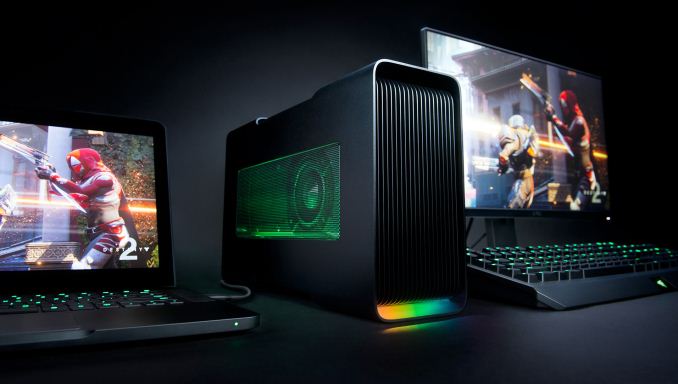 Every Thunderbolt 3 controller has one or two input/output ports used to connect to external device(s) as well as four PCIe 3.0 x1 input/output lanes to connect to the host and/or to other devices. Each TB3 controller is paired with a USB Type-C and Power Delivery (PD) controller that detects cable orientation, negotiates USB PD, and configures alternate mode settings for internal and external multiplexers, and virtually all eGFX enclosures use Texas Instruments TPS65982 or TPS65983 controllers for this. (The TI controllers are slightly different, with varying Mac compatibility depending on which one is used given macOS does not officially support eGFX at the moment, but this is an entirely different conversation).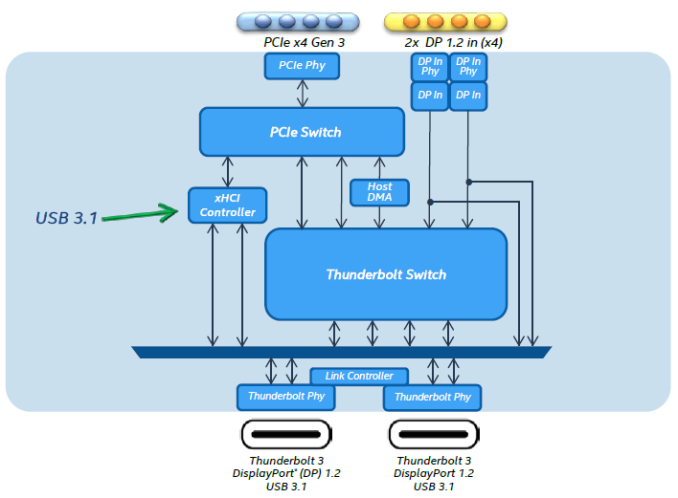 In the first generation of the Razer Core the company used one Intel DSL6540 controller coupled with one TI TPS65982 to connect the PCIe GPU slot, a GbE controller, and a USB controller/hub to the external TB3 output (multiplexing all the clients across the PCIe lanes). When all three were used at the same time (when a mouse and a keyboard are plugged to USB Type-A ports and the GbE is used instead of Wi-Fi), they naturally fought for bandwidth and latency, which affected real-world performance, Razer says.
With its second generation Razer Core, the company uses two dual-port Intel DSL6540 ICs coupled with the newer TI TPS65983 controllers. The primary TB3 controller now uses all four PCIe lanes to connect the GPU to the host PC. The secondary TB3 controller is connected to the primary one using the downstream TB3 port of the primary DSL6540 (essentially creating an internal daisy chain) and uses its PCIe lanes for the GbE and the USB controllers (basically, the DSL6540 is used like a PCIe switch). In this scenario, the GPU always gets a priority and the traffic from the other clients is always routed properly. As a bonus, the Core v2 does not have compatibility problems because they now use the newer TI TPS65983 controller.
Razer Core v2 Thunderbolt 3 eGFX Chassis Specifications
Max Video Card Size
Double-Wide, 12.2" Long
(312 x 145 x 43 mm)
Max Video Card Power
375W
Connectivity
4x USB 3.0
1x Gigabit Ethernet
Laptop Charging via Thunderbolt 3
Chassis Size
4.13 x 13.9 x 8.66 inches
(105 x 353 x 220mm)
Internal PSU
500W
System Requirements
Thunderbolt 3 eGFX Certified PC
Thunderbolt 3 w/Active Cable
Windows 10
Compatible Graphics Cads
AMD Radeon RX-series and later
NVIDIA GeForce GTX 10-series and later
Shipping Date
Q4 2017
Price
$499
When it comes to compatibility with video cards, the Razer Core v2 supports all graphics adapters that consume no more than 375 W and have appropriate driver support. Razer claims that the optimized internal designs now allows installation of larger adapters with custom PCBs, but the difference with the v1 is not that significant.*
Comparison of Thunderbolt 3 eGFX Chassis
ASUS ROG XG Station 2
AKiTiO
Node
PowerColor
Devil Box
Razer
Core
Razer Core V2
Chassis Dimensions
Length
45.6 cm
17.95 in
42.8 cm
16.85 in
40 cm
15.748 in
34 cm
13.38 in
Height
27.8 cm
10.94 in
22.7 cm
8.94 in
24.2 cm
9.52 in
21.84 cm
8.6 in
Width
15.8 cm
6.22 in
14.5 cm
5.71 in
17.2 cm
6.77 in
10.5 cm
4.13 in
Max Dimension of Compatible Graphics Card
Length
31.2 cm
12.2 in
Height
(PCB+Cables)
over 14 cm
over 5.51"
17 cm
6.7 in
14 cm
5.51 in
13 cm
5.12 in
14.5 cm
5.71 in
Width
4.4 cm
1.73 in
5 cm
1.96 in
4.3 cm
1.69 in
Maximum GPU Power
500 W (?)
300 W (?)
375 W
PSU
Wattage
600 W
400 W
500 W
Form-Factor
internal proprietary
SFX
internal proprietary
Cooling Fans (mm)
3 × 80
120
unknown
3 × 80
3 × 80 (?)
Connectivity
Thunderbolt
1 × TB3
1 × TB3
1 × TB3
Ethernet
1 × GbE
-
1 × GbE
USB
4 × USB 3.0
1 × USB-B
-
4 × USB 3.0
SATA
1×SATA 6Gb/s
-
1×SATA 6Gb/s
-
DisplayPort
-
-
-
Availability
1/2017
12/2016
10/2016
4/2016
Q4 2017
Price
$?
$299
$379
$499
Razer intends to ship the Core v2 Thunderbolt 3 eGFX enclosure in the coming weeks in the U.S., U.K., Canada, France, and Germany. The MSRP of one unit for the U.S. market is $499.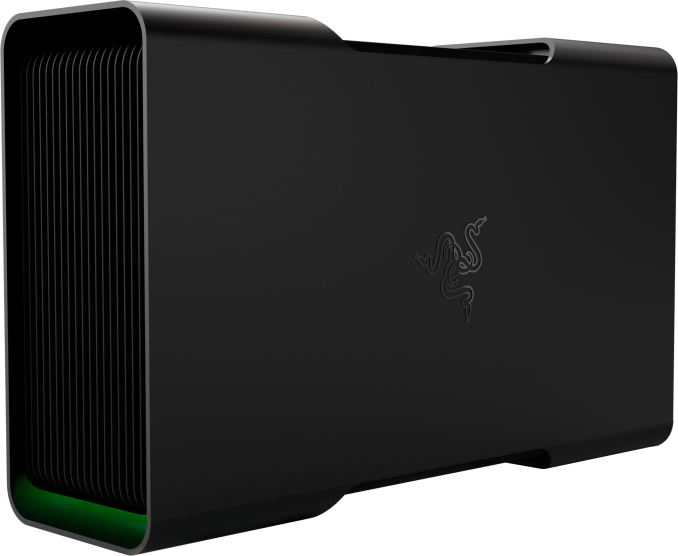 *Note that at some point Razer has changed internal specs of the Core v1 compared to the originally declared.
Related Reading
Source: Razer