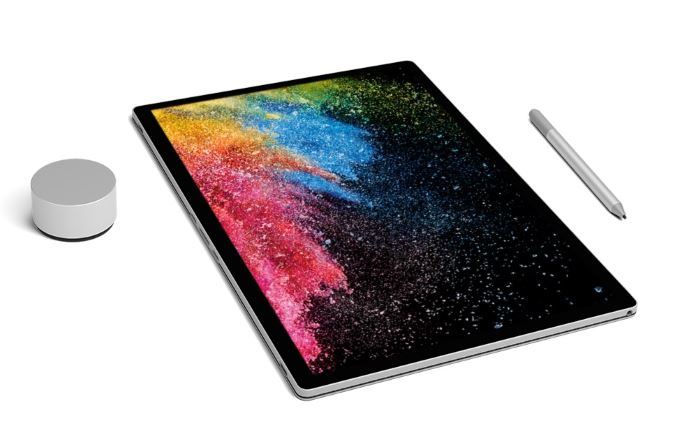 In what some would call a surprise announcement, Microsoft has unveiled the much anticipated Surface Book 2, 2 in 1 laptop. With content creators, designers, and PC gamers requiring more and more horsepower for demanding tasks, the two-year-old Surface book could be perceived as a bit long in the tooth. And while the Surface Book is a solid 2 in 1, people still wanted more out of their device. Microsoft says the Surface Book 2, "removes the barrier between the desktop and the laptop by giving mobile professionals the power of a desktop, the versatility of a tablet, and the freedom of a light and thin laptop…"

The appearance of the SB2 compared to the original looks to be identical with its silver magnesium case and the familiar Muscle Wire hinge making its way forward as well. When closed, due to the special hinge, it looks like a book closed over a pencil as there as a gap towards the hinge side which shrinks to nothing as it nears the opposite end. The keyboard also looks the same and uses LED backlit keys for ease of use in low light situations. Ports on the outside consist of two USB 3.0 (5 Gbps) Type-A, and one USB Type-C. It also has a UHS-II SDXC card reader and for audio a 3.5mm headphone jack.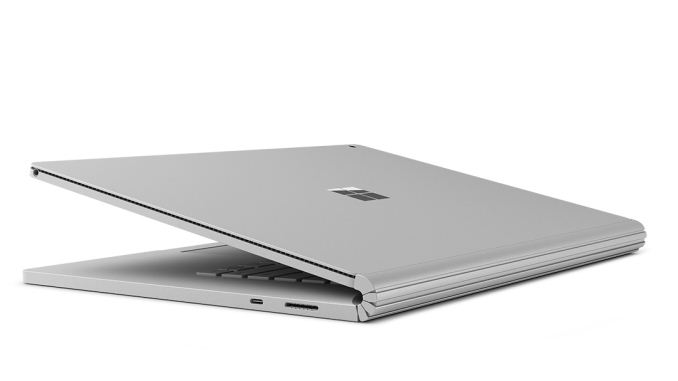 The Surface Book 2 will come in two main options; either the 13.5", 3000 x 2000 PixelSense display (found in the original SB), or now in a 15" 3240 x 2160 Pixelsense Display. Both options are 10-point multi-touch capacitive screens and still use a 3:2 ratio instead of the more popular 16:9. The monitor supports the Surface Pen and Surface Dial on-screen support. Microsoft worked with Adobe for increase integration between the Surface Book 2 and Adobe Creative Cloud with new Surface Dial functionality in Photoshop letting users to more easily access and change your most frequent brush settings.
The latest SB2 is now powered by Intel's 8th Generation Core processors and offer NVIDIA GTX 1050 2GB in the 13.5" model, or GTX 1060 6GB discrete graphics options in the larger 15" version. The graphics upgrades are a significant update from the original which shipped with a GT 940MX, but the new models appear to follow the thermal design of Performance Base version of the Surface Book which shipped with a GTX 965M as a mid-cycle upgrade. If a discrete video card isn't necessary, the CPUs had Intel HD/UHD Graphics 620 integrated GPUs. With the use of more powerful discrete GPUs, 1080p PC gaming at 60 FPS is possible according to Microsoft. With this, the SB2 is ready for Windows Mixed Reality applications using a compatible headset and controller.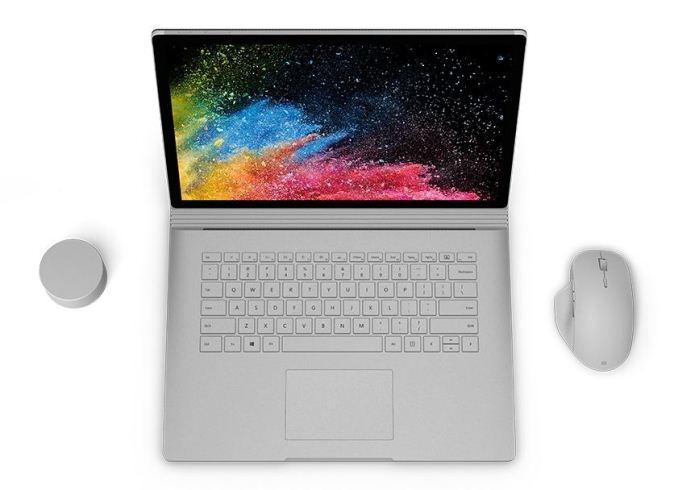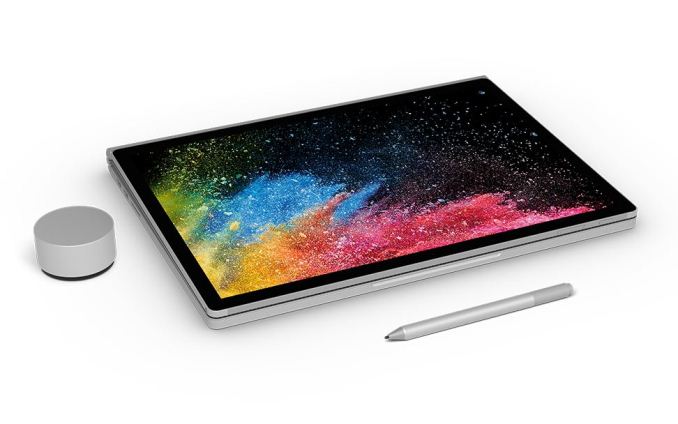 The two CPU options are a 7th Generation i5-7300U with 2C/4T sporting a 2.6 GHz base clock and up to 3.5 GHz Turbo, and the 8th Generation i7 8650U with 4C/8, a base clock of 1.9 GHz and Turbo to 4.2 GHz. Microsoft says the SB2 will provide "all-day" battery life – up to 17 hours of video playback with the i5 version. No mention of how long it will last with more intense use or through testing software but are quick to share it is 70% more than the latest MacBook Pro. Storage options range from a 256GB SSD to a 1TB SSD, while RAM capacity is either 8GB/16GB of LPDDR3-1866.
On the multimedia side of things, there is a 5MP front-facing camera with 1080p HD video and an 8MP rear-facing autofocus camera with 1080p Full HD video. The front-facing camera has IR capabilities since the SB2 works with Microsoft Hello. Audio input put is handled by dual stereo microphones while there are two front-facing speakers with Dolby Audio Premium. Wireless connectivity is integrated and supports 802.11a/b/g/n/ac as well as Bluetooth 4.1 LE. The 15" model has Xbox Wi-Fi Direct built in for gaming with compatible controllers as well.
Pricing starts at $1499 for the smaller model, and $2499 for the new 15" version. The Surface Book 2 13" will be available for pre-order starting November 9th in the US and other markets around the world along with the Surface Book 2 15" in the US at the Microsoft Store and Microsoft.com. Delivery begins on November 16th.
Microsoft Surface Book 2
Warranty Period
1 Year Limited Hardware
Product Page
Microsoft Surface Book 2
Price
N/A
Type
2 in 1
Processor Family
7th and 8th Generation Intel Core i5 and i7
Processors
i7-7300U 2C/4T (2.6 GHz base, 3.5 GHz Turbo)
i7-8650U 4C/8T (1.9 GHz base, 4.2 GHz Turbo)
Maximum Memory
SODIMM
8GB/16GB
Dual Channel
LPDDR3-1866
Network Connectivity
802.11 a/b/g/n/ac
Bluetooth 4.1 LE
Internal Storage
256GB, 512GB, or 1TB SSD
Available Graphics
Integrated: Intel HD 620 or UHD 620
Discrete: NVIDIA GTX1050 (13.5") or GTX 1060 (15")
Expansion Slots
1 x UHS-II SDXC Card Reader
Display
13.5", 3000 x 2000 resolution PixelSense Display
15" 3240x 2160 resolution, PixelSense Display

Both 10-point multi-touch G5
Ports and Connectors
2 x USB3.0 (5 Gbps) Type-A
1 x USB Type-C
3.5" headphone jack
2 Surface Connect
Input Device
Backlit keyboard with function key control
Optional Surface Pen
Optional Surface Dial
Camera
5MP front-facing camera with 1080p HD video
8MP front-facing camera with 1080p Full HD vido
Dual Microphones
Front-facing stereo speakers with Dolby Audio Premium
Power
Details not listed
Dimensions
(W x D x H)
13.5" (i5) 12.3" x 9.14" x 0.51-0.90"


13.5" (i5) 12.3" x 9.14" x 0.59-0.90"


15" (i7) 13.5" x 9.87" x 0.59-0.90"
Weight
13.5" Starting at 3.38 lbs including keyboard
15" Starting at 4.2 lbs including keyboard
Related Reading:
Source: Microsoft