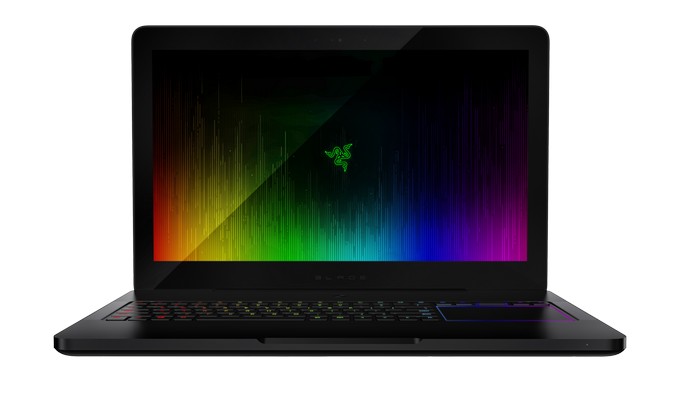 Late last year, Razer acquired the majority of THX, and while it may have seemed like something outside their normal realm, today Razer is announcing an updated Razer Blade Pro, with THX Certification. For those unfamiliar, THX has been certifying audio and video equipment for decades, with an initial focus on the cinema, and then branching out in to consumer electronics. With their new parent company, it makes a lot of sense to branch into computer certification.

First, let's go over what's new on the Razer Blade Pro. Just this month, Brandon finished his review on the Razer Blade Pro which launched late last year. The updated model launching today has some decent upgrades over the original model. First off, the CPU has been upgraded to Kaby Lake, but rather than doing a straight swap from the Core i7-6700HQ to the Core i7-7700HQ, Razer has gone with the Core i7-7820HK processor, which is 2.9-3.9 GHz, but it is also an unlocked processor, and Razer is supporting CPU overclocking in the Synapse software. One of the issues Brandon pointed out in the review was that Razer was billing the Razer Blade Pro as the ultimate laptop, but they went with the same quad-core processor as far less expensive laptops, so this is a great change. There's only one quad-core mobile part over this, and it's not unlocked, and being unlocked is going to improve the appeal to this market. In addition, Razer has bumped the RAM frequency to DDR4 2667 MHz, up from 2133 MHz DDR4 previously. It's a small change, but a welcome one.
The other specifications have not changed. It still features a NVIDIA GTX 1080 8 GB graphics card, driving a 17.3-inch UHD 3840x2160 IGZO G-SYNC display, with 100% Adobe RGB color gamut, and 512 GB to 2 TB SSD support in RAID 0 with two SSDs. We've said this before, but honestly one good SSD would be better for most users, but it seems like the gaming market is migrating towards RAID 0 again. The form factor, light weight for a laptop of this performance, and other items remain.
Razer Blade Pro
Model
2017
2016
CPU
Intel Core i7-7820HK
4C/8T
2.9-3.9 GHz
8MB Cache
45W TDP
Intel Core i7-6700HQ
4C/8T
2.6-3.5 GHz
6MB Cache
45W TDP
GPU
NVIDIA GTX 1080 8GB
2560 CUDA Cores
1556 - 1733 (Boost) MHz
Memory
32 GB 2667MHz DDR4
32 GB 2133MHz DDR4
Display
17.3" 3840x2160 60 Hz w/G-SYNC
Storage
512GB (2 x 256GB) M.2 PCIe SSD
1TB (2 x 512GB) M.2 PCIe SSD
2TB (2 x 1TB) M.2 PCIe SSD
I/O
3 x USB 3.0 Ports
1 x Thunderbolt 3
1 x HDMI 2.0
SD Card Slot
1 x Headset Jack
1 x Killer E2400 Ethernet (10/100/1000Mbps)
Dimensions
22.5mm x 424mm x 281mm (HxWxD)
0.88" x 16.7" x 11" (HxWxD)
Weight
3.54 kg / 7.8 lbs
Battery
99 Wh, 250W AC Adapter
Wireless
Killer Wireless-AC 1535
2x2:2 with Bluetooth 4.1
Price
$3999.99 and up
$3699.99 512GB
$3999.99 1TB (Model tested)
$4499.99 2TB
The big new feature is THX Certification, and the Razer Blade Pro is the first laptop to be qualified for THX Mobile Certification. I spoke with Razer and THX about what this entails, and it appears to be good news for end users. THX tests several models from the pre-production phase onwards, with feedback from the first test looping back into the hardware configuration until the later generation units meet the testing guidelines. What those guidelines are, are unfortunately still a mystery, since THX and Razer have not gotten back to us yet on their targets, but if they do we will let you know. THX did say that they test panel performance on brightness and contrast, and are including a color profile to give a white point of D65, Rec. 709 color gamut, and low error levels, although low wasn't defined at our meeting. The color gamut support here is important, since previous to this, the Razer Blade Pro only displayed in the Adobe RGB color space, which is much wider than sRGB. This leads to blown out colors, unless the app itself is color managed, which is a rare thing in Windows. This new color profile from THX should alleviate one of the biggest issues with the Razer Blade Pro in day to day use.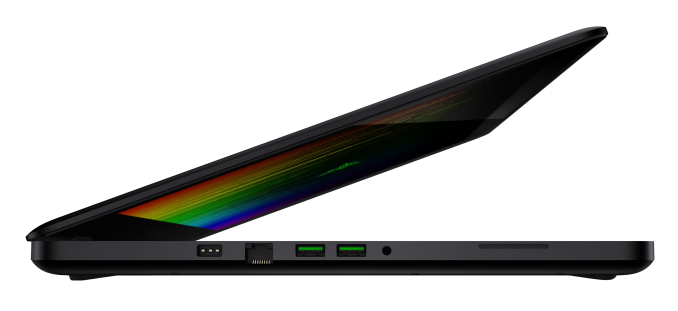 The second part of THX Mobile Certification is for audio, and while you may be expecting this to apply to the speakers, it's actually certification for the headphone jack. This might seem a bit odd, but with the noise level of a thin and powerful system, certifying the headphone jack is arguably the better call, and honestly there's little chance for small laptop speakers to meet much of a certification anyway. On the headphone jack, THX certification means that there has to be a flat frequency response, even with different impedance loads from different headphones, along with low distortion and high power, and a low noise floor to ensure there is no background hiss. Assuming the Razer Blade Pro didn't already meet these targets, this should mean an improved experience from the headphone jack, although as with the display certification, we were not provided exact certification standards.
There are certainly going to be people who feel this kind of certification isn't necessary, but there definitely is some extra confidence when you purchase something as expensive as a Razer Blade Pro, and you are ensured that the display and audio meet a certain threshold of performance. The addition of a Rec. 709 color gamut profile from THX for the Razer Blade Pro is a big win for end users as well, since there was no way before to cap the color gamut for apps with no color management.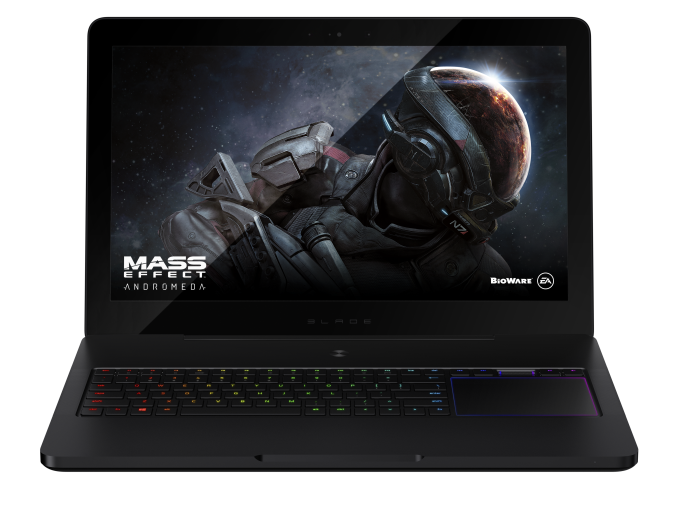 With the new overclockable CPU, faster memory, and THX Certification, Razer has also bumped the starting price to $3999.99, and availability will start in April on Razerzone.com.
Source: Razer