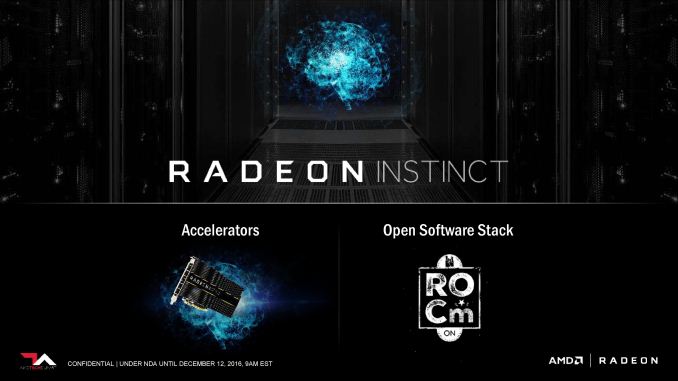 With the launch of their Polaris family of GPUs earlier this year, much of AMD's public focus in this space has been on the consumer side of matters. However now with the consumer launch behind them, AMD's attention has been freed to focus on what comes next for their GPU families both present and future, and that is on the high-performance computing market. To that end, today AMD is taking the wraps off of their latest combined hardware and software initiative for the server market: Radeon Instinct. Aimed directly at the young-but-quickly-growing deep learning/machine learning/neural networking market, AMD is looking to grab a significant piece of what is potentially a very large and profitable market for the GPU vendors.
Broadly speaking, while the market for HPC GPU products has been slower to evolve than first anticipated, it has at last started to arrive in the last couple of years. Early efforts to port neural networking models to GPUs combined with their significant year-after-year performance growth have not only created a viable GPU market for deep learning, but one that is rapidly growing as well. It's not quite what anyone had in mind a decade ago when the earliest work with GPU computing began, but then rarely are the killer apps for new technologies immediately obvious.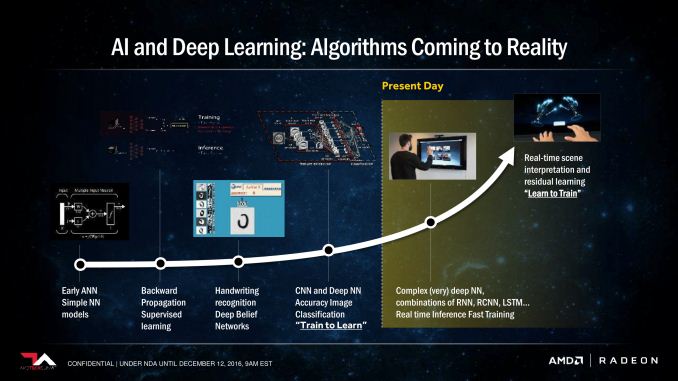 At present time the market for deep learning is still young (and its uses somewhat poorly defined), but as the software around it matures, there is increasing consensus in the utility of being able to apply neural networks to analyze large amounts of data. Be it visual tasks like facial recognition in photos or speech recognition in videos, GPUs are finally making neural networks dense enough – and therefore powerful enough – to do meaningful work. Which is why major technology industry players from Google to Baidu are either investigating or making use of deep learning technologies, with many smaller players using it to address more mundane needs.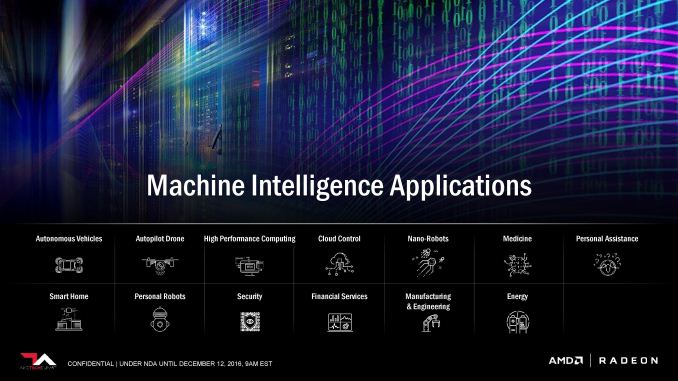 Getting to the meat of AMD's announcement today then, deep learning has the potential to be a very profitable market for the GPU manufacturer, and as a result the company has put together a plan for the next year to break into that market. That plan is the Radeon Instinct initiative, a combination of hardware (Instinct) and an optimized software stack to serve the deep learning market. Rival NVIDIA is of course already heavily vested in the deep learning market – all but staking the Tesla P100 on it – and it has paid off handsomely for the company as their datacenter revenues have exploded.
As is too often the case for AMD, they approach the deep learning market as the outsider looking in. AMD has struggled for years in the HPC GPU market, and their fortunes have only very recently improved as the Radeon Open Compute Platform (ROCm) has started paying dividends in the last few months. The good news for AMD here is that by starting on ROCm in 2015, they've already laid a good part of the groundwork needed to tackle the deep learning market, and while reaching parity with NVIDIA in the wider HPC market is still some time off, the deep learning market is far newer, and NVIDIA is much less entrenched. If AMD plays their cards right and isn't caught-off guard by NVIDIA, they believe they could capture a significant portion of the market within a generation.
(As an aside, this is the kind of quick, agile action that AMD hasn't even been able to plan for in the past. If AMD is successful here, I think it will prove the value in creating the semi-autonomous Radeon Technologies Group under Raja Koduri).