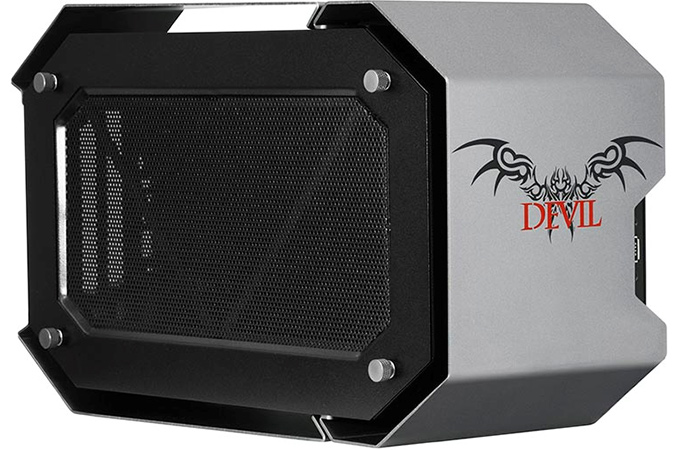 PowerColor has introduced its first enclosure for external graphics cards, the Devil Box. The accessory enables gamers to connect desktop video cards to AIO, SFF or laptop PCs using the Thunderbolt 3 interface and comes with its own power supply. The Devil Box will be a limited edition product compatible with select graphics cards (due to driver and physical limitations) and, like other external GPU chassis we've seen thus far, is priced as a premium product. Nonetheless, for the time being, this box will be among a few TB3-based external enclosures capable of running desktop GPUs.
The PowerColor Devil Box supports both NVIDIA and AMD (XConnect) GPUs, and resembles Razer's Core eGFX enclosure introduced earlier this year. The two boxes have slightly different dimensions, but both can accommodate a qualified double-wide PCIe x16 video card (which will operate in PCIe x4 mode) that is up to 12.2"/310 mm long. The design of the Devil Box (as well as the Core) allows operation of graphics adapters with different cooling systems (blower, open air), except hybrid (e.g., Radeon Fury X, Radeon R9 295X2) due to space constraints. To feed the GPUs, the Devil Box incorporates a 500 W PSU and the maximum GPU power draw is rated at 375 W (exactly the specs of the Core).
Next up is connectivity and this is where PowerColor's Devil Box has an edge over Razer's Core. Both enclosures support additional USB 3.0 receptacles to connect peripherals and a GbE port to enable high-speed wired Internet on ultra-thin laptops that do not feature GbE. However, the product from PowerColor can also host a 2.5" HDD or SSD (I suspect with the help of a USB-to-SATA bridge, to simplify the process), thus expanding storage capabilities of the host system.
PowerColor Devil Box Thunderbolt 3 eGFX Chassis Specifications
Max Video Card Size
Double-Wide, 12.2" Long
(310 × 152 × 44 mm)
Max Video Card Power
375 W
Connectivity
1 × Thunderblot 3 (40 Gbps) port to connect to host PCs and charge them
4 × USB 3.0 Type-A
1 × USB 3.0 Type-C
1 × SATA 6 Gbps
1 × Gigabit Ethernet
Chassis Size
6.77 × 15.74 × 9.52 inches
(172 × 400 × 242 mm)
Internal PSU
500 W
System Requirements
Thunderbolt 3 eGFX Certified PC
Thundebolt 3 w/Active Cable (included)
Windows 10
Shipping Date
October 2016
Price
$379, €419
Retailers
1st Wave
U.S.: http://www.newegg.com
Germany: http://www.mindfactory.de/
U.K.: https://www.overclockers.co.uk/
China: https://www.jd.com/
2nd Wave
Japan: https://www.amazon.co.jp/
Singapore: http://www.banleong.com/
When it comes to compatibility, PowerColor lists the latest AMD Radeon RX 400-series as well as NVIDIA's GeForce GTX 10-series graphics adapters in addition to numerous previous-gen products. We cannot verify whether all of the GPUs listed by the manufacturer support plug'n'play properly, but they are guaranteed to work inside the Devil Box.
PowerColor Devil Box Video Card Compatibility List
AMD
NVIDIA
Radeon RX 480
GeForce GTX 1080
Radeon RX 470
GeForce GTX 1070
Radeon RX 460
GeForce GTX 1060
Radeon R9 Fury
GeForce GTX Titan X
Radeon R9 Nano
GeForce GTX 980 Ti
Radeon R9 300 Series
GeForce GTX 980
Radeon R9 290X
GeForce GTX 970
Radeon R9 290
GeForce GTX 960
Radeon R9 285
GeForce GTX 950
GeForce GTX 750/750 Ti
While the whole external GPU idea seems very plausible because all-in-one, small form-factor and mobile PCs are gaining popularity among gamers, eGFX chassis are still not mainstream. This is not exactly surprising given the fact that the eGFX hardware (Thunderbolt 3 with v16 or newer firmware) and software (Windows 10 with updates, drivers) were finalized only months ago and far not all PCs can properly support external graphics adapters. As a result, being aware of limited demand (because far not all TB3-enabled laptops are eGFX-certified), Power Color naturally does not want to produce a lot of Devil Boxes, which is why the enclosures will be available from select retailers and in select countries (see the table).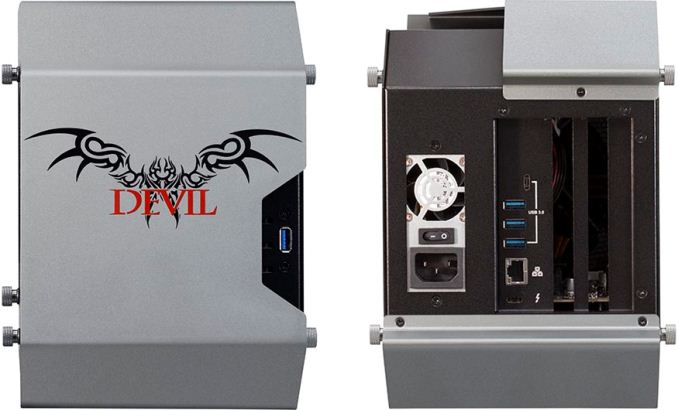 A good news is that PowerColor's Devil Box will be more affordable than Razer's Core and will sell for $379 or €419, depending on the market. The price of the enclosure is still rather high, but none the less a good improvement over where the Razer Core launched earlier this year.
Source: PowerColor