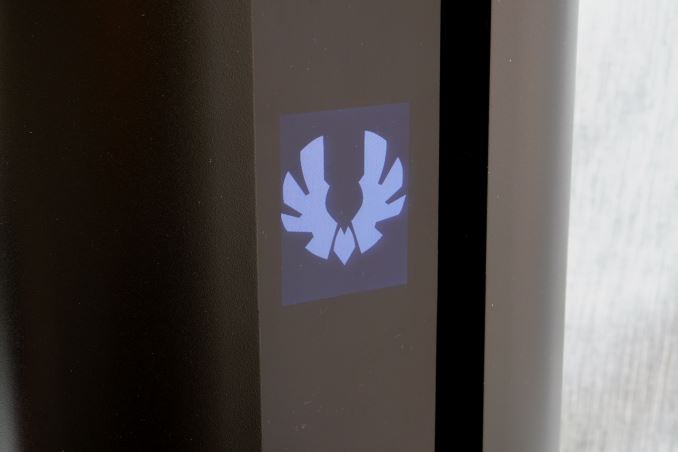 BitFenix is a company that is strongly focused on the design of PC cases and the supply of case modding parts. They currently produce over two dozen cases, covering nearly all segments of the market, with most of them being marketed as visually unique cost-effective designs. Many of their products have been through our labs, from the $39 Merc Alpha to the $159 Shinobi XL, each with its own target group, strengths, and weaknesses. Today we are looking at the latest design - a scaled up version of the Pandora.
BitFenix owes a lot of their recent success as a company to the Pandora. It is a case that was loved for its design and price to performance ratio. However, the Pandora was compact and could only take up to Micro ATX motherboards, with limited expandability and cooling options. In this review we are having a look at a newer version of the Pandora, the Pandora ATX, which shares the aesthetic design of the original Pandora but is both much larger and comes with extensive support for liquid cooling systems.
Introduction
Tthe Pandora was BitFenix's first case with aluminum parts and designed to combine aesthetics with versatility. The original Pandora was designed for Micro-ATX and Mini-ITX motherboards only, something that was a deal breaker for many advanced users and gamers, but did not stop the case from succeeding in the market. As such, BitFenix decided to design an oversized version of the Pandora, the Pandora ATX, as a case with a similar aesthetic design but large enough to support ATX motherboards and advanced liquid cooling systems. We are having a thorough look at it in this review.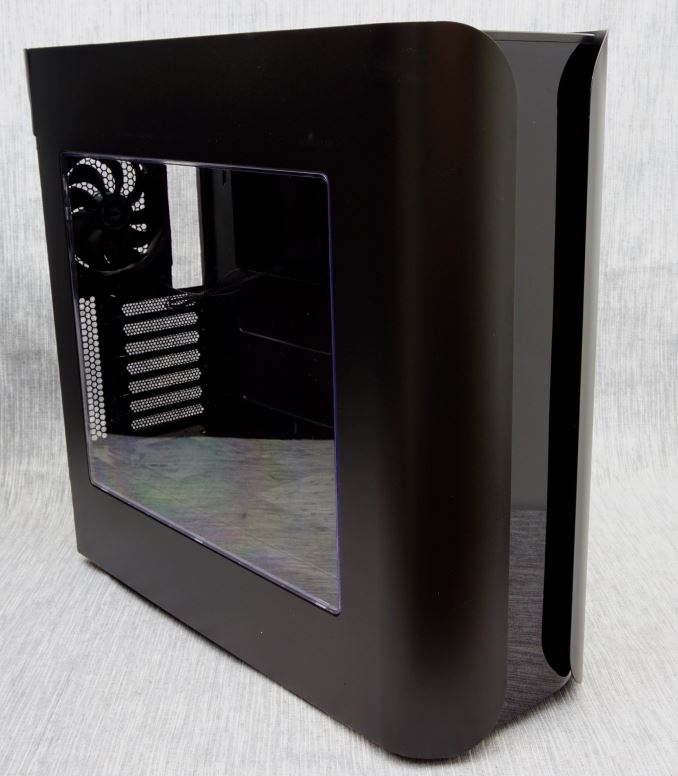 BitFenix Pandora ATX
Motherboard Size
ATX, Micro-ATX, Mini-ITX
Drive Bays
External
-
Internal
4 × 3.5"
4 × 2.5"
Cooling
Front
3 × 120 mm or 2 x 140 mm (1 × 140 mm included)
Rear
1 × 120 mm (included)
Top
3 × 120 mm or 2 x 140 mm (none included)
HDD
-
Bottom
-
Radiator Support
Front
Up to 360 mm or 280 mm
Rear
Up to 120 mm
Top
Up to 360 mm or 280 mm
Side
-
Bottom
-
I/O Port
2× USB 3.0, 2× USB 2.0, 1× Headphone, 1× Mic
Power Supply Size
ATX
Clearances
HSF
160 mm
PSU
240 mm
GPU
440 mm
Dimensions
510 mm × 203 mm × 558 mm
20.08 in × 7.99 in × 21.97 in
Prominent Features
· 2.8" BitFenix ICON™ Display
· One-piece powercover and MB tray
· Top, Front and Bottom Dust Filters
· 360mm Radiator Support
· 20mm Cable Clearance
· Graphics Card Length up to 440mm
Price
$112
Packaging & Bundle
We received the Pandora ATX supplied inside a large and fairly sturdy cardboard box. The case is protected inside the box by two thick Styrofoam slabs and a nylon bag, providing adequate shipping protection. Aesthetically it may be just a brown box, but BitFenix spent some effort and resources trying to make it appealing via simple geometric artwork and a schematic of the case itself.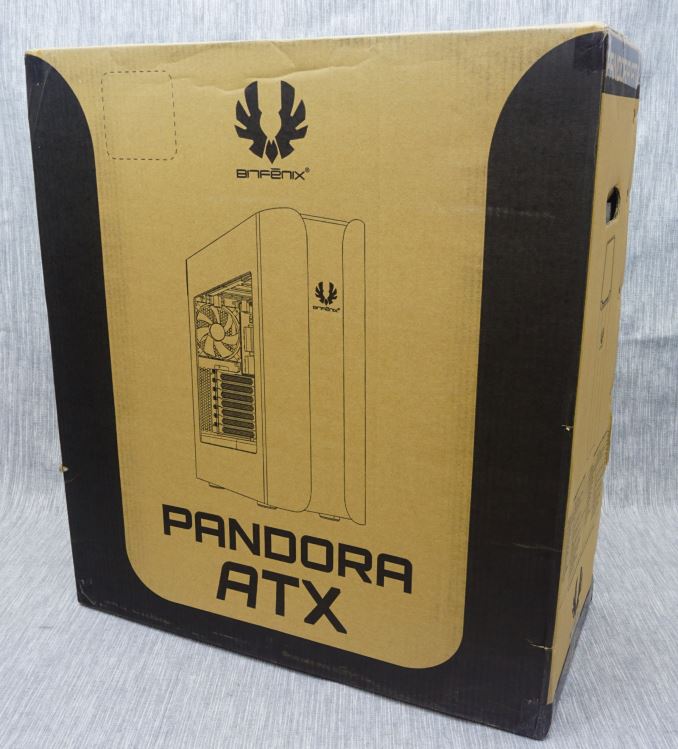 The items bundled alongside with the Pandora ATX are fairly standard, with the exception of a metallic brace that can be installed to give the rear of the chassis a rounded appearance. The rest of the supplied items are for the installation of devices and parts inside the case, a few cable ties, and a thick metallic company logo. As this case has an LCD installed, BitFenix thoughtfully decided to leave the installation of the case badge up to the user.