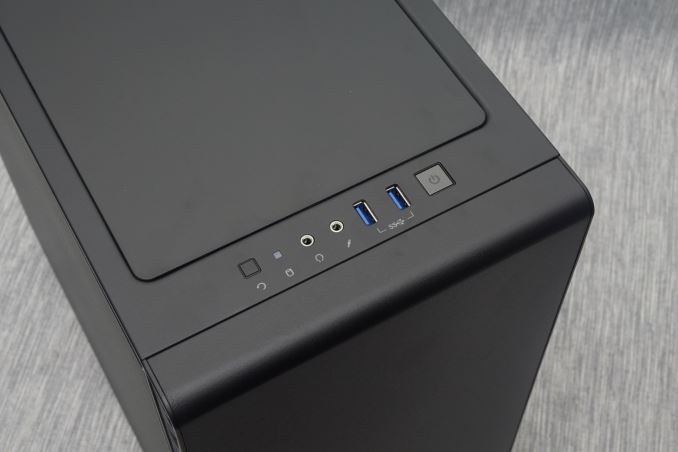 Corsair is a company that does not need much of an introduction - they are one of the world's most reputable manufacturers of PC components and peripherals, with a vast range of products for all wallets and tastes. One market section that Corsair is highly active in is that of PC cases, with the company frequently releasing new designs and currently marketing dozens of products.
Introduction
Today we are having a look at one of Corsair's most recent releases, the Carbide 400Q. The Carbide 400Q is not formally designed to replace or compete with any of the company's previous models, but it feels as if it the spiritual successor of the Carbide 330R. The midi-tower case is designed as a financially reasonable solution for users that want an refined yet simple and quiet system. We are having a close look at the features, quality, performance, shortcomings and value of the Carbide 400Q in this review.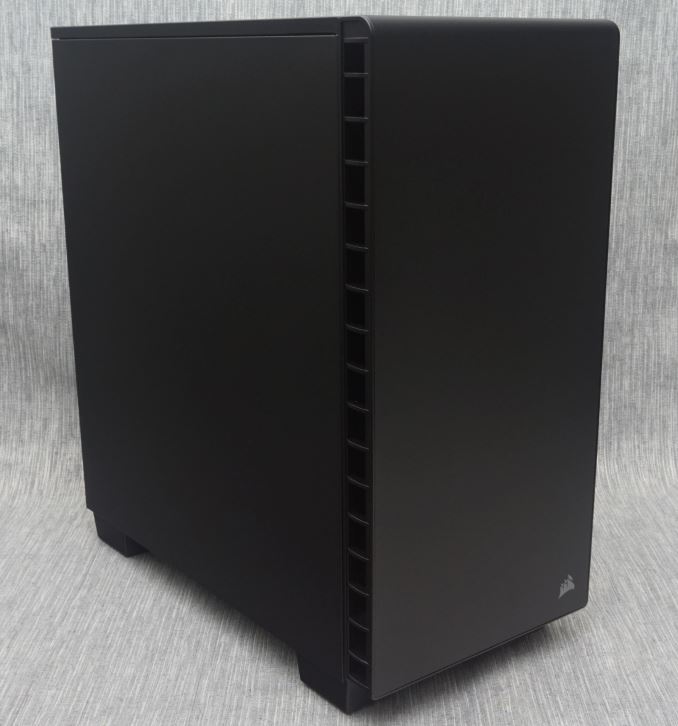 Corsair Carbide 400Q
Motherboard Size
EATX, ATX, Micro-ATX, Mini-ITX
Drive Bays
External
-
Internal
2 × 3.5" (internal drive cage)
3 × 2.5" (Rear of motherboard tray)
Cooling
Front
3 × 120 mm or 2 x 140 mm (1 × 140 mm included)
Rear
1 × 120 mm (included)
Top
2 × 120 mm or 2 × 140 mm (none included)
HDD
-
Bottom
-
Radiator Support
Front
Up to 360 mm or 280 mm
Rear
Up to 120 mm
Top
Up to 240 mm
Side
-
Bottom
-
I/O Port
2× USB 3.0, 0× USB 2.0, 1× Headphone, 1× Mic
Power Supply Size
ATX
Clearances
HSF
170 mm
PSU
190 mm
GPU
370 mm
Dimensions
464 mm × 215 mm × 425 mm
18.27 in × 8.46 in × 16.73 in
Prominent Features
· Silenced panels for quiet operation
· Easy to build, hard to beat
· Clean, modern lines with an all steel exterior
· Direct Airflow Path
· Compact design, full size capabilities
· Liquid cooling capable
· Two included AF series fans
· PSU and 3.5" Bay Cover
· Easy to clean
Price
$99 (MSRP)
Packaging & Bundle
Corsair supplies the Carbide 400Q in a sturdy brown cardboard box. The monochromic artwork is simple and based on a schematic of the case itself, with a short description of the case printed in several languages. Although it is not much to gaze upon, the sturdy box and thick Styrofoam slabs provide more than good protection during shipping.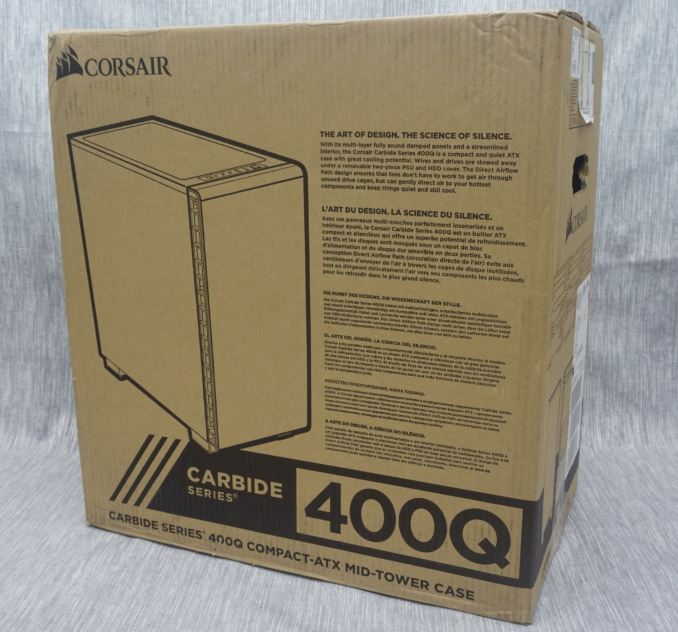 Corsair barely supplies more than just the basics alongside with the Carbide 400Q. The bundled items are just a user's manual, black mounting screws and a few short cable ties.