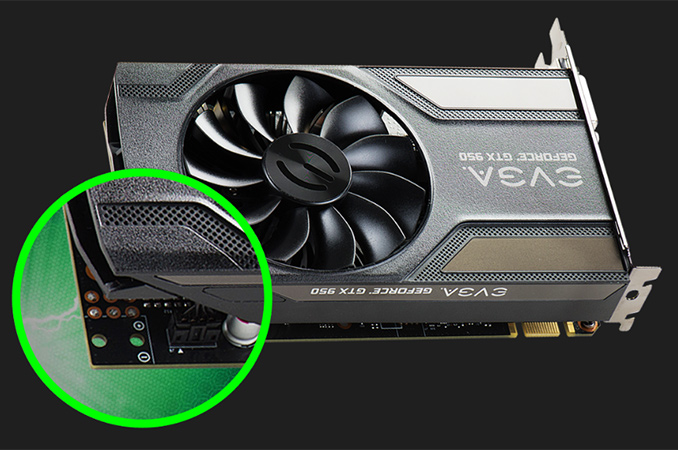 EVGA this week unveiled their NVIDIA GeForce GTX 950-based video cards with reduced power consumption. As a result, these new cards do not require auxiliary power connectors and can be powered entirely by a PCIe x16 slots Similar variants have already been announced from companies like ASUS and MSI, but EVGA decided to release a range of such graphics cards as well, including factory-overclocked models.
EVGA's family of low-power GeForce GTX 950 graphics cards that do not need external power consists of four models, which is a lot by contrast to other manufacturers. The GPUs are based on NVIDIA's cut-down GM206 graphics die (768 stream processors, 48 texture units, 32 ROPs, 128-bit GDDR5 memory interface) but use EVGA's custom PCB with 3+1 phase VRM. The GPUs are equipped with 2 GB of GDDR5 memory, one or two DVI connectors depending on model, one HDMI 2.0 port and one DisplayPort output.
From the four cards, two of them run at NVIDIA's reference GPU clock rates of 1025/1190 MHz, while the other two a little bit faster and run the graphics chip at 1076/1253 MHz. In each pair, one has a single DVI-I while the other has DVI-I and DVI-D connectors. All the boards feature 6.6 Gbps GDDR5 memory. As for cooling, they use dual-slot single-fan EVGA ACX 2.0 coolers.
Unfortunately, EVGA does not mark its GeForce GTX 950 boards with reduced power consumption with any easy to recognize label, hence, the only way to distinguish the adapters without PCIe connectors is by referencing the product numbers:
NVIDIA GeForce GTX 950 Graphics Cards Specification Comparison
EVGA GTX 950
EVGA GTX 950
EVGA GTX 950
EVGA GTX 950
MSI
GTX 950
ASUS
GTX 950
Ref
Product Name
02G-P4-0952
02G-P4-0956
02G-P4-0954
02G-P5-258
2GD5 OCV2
GTX950-2G
-
CUDA Cores
768
Texture Units
48
ROPs
32
Core Clock
1025
MHz
1076
MHz
1025
MHz
1076
MHz
1076
MHz
1026
MHz
1024
MHz
Boost Clock
1190
MHz
1253
MHz
1190
MHz
1253
MHz
1253
MHz
1190
MHz
1188
MHz
Memory Clock
6.6 Gbps
GDDR5
Memory Bus Width
128-bit
VRAM
2 GB
TDP
75 W
90 W
Outputs
DVI-I
DP 1.2
HDMI 2.0
DVI-I
DP 1.2
HDMI 2.0
DVI-D
DVI-I
DP 1.2
HDMI 2.0
DVI-D
DVI-I
DP 1.2
HDMI 2.0
DVI-I
DisplayPort 1.2
HDMI 2.0
Architecture
Maxwell 2
GPU
GM206
Transistor Count
2.94 B
Manufacturing Process
TSMC 28nm
Launch Date
Apr '16
Mar '16
Mar '16
Aug '15
Launch Price
unknown
$159
While graphics cards like the GeForce GTX 950 are not used to build high-end gaming PCs, these new PCIe-less models can be purchased to upgrade inexpensive or older PCs which sometimes come without an auxiliary PCIe power connector on the power supply. In addition, a GM206-based adapter is a reasonable choice for an HTPC as the GPU supports hardware-accelerated decoding and encoding of H.265 (HEVC) video, as well as HDCP 2.2 content protection over HDMI 2.0 (which is required for Ultra HD Blu-ray playback).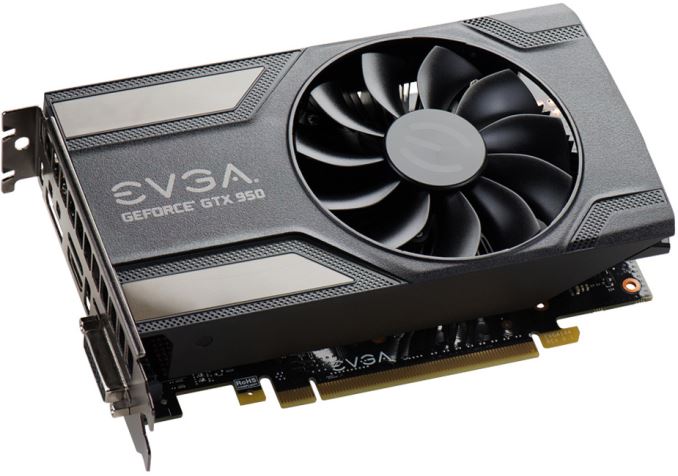 Since at least three manufacturers of NVIDIA graphics cards already offer GeForce GTX 950 boards without auxiliary PCIe power connectors, it is could be assumed that the GM206-251 GPU (revealed by MSI) has been selected due to reduced power requirements. It is unclear whether NVIDIA picks such GPUs itself and then marks them accordingly, or if there is a new revision of the chip and makers of add-in-cards have to test power requirements themselves through binning.
Right now EVGA does not sell its GeForce GTX 950 low power graphics cards on its website. It is unknown at what price these units will be launched at this time.
Source: EVGA