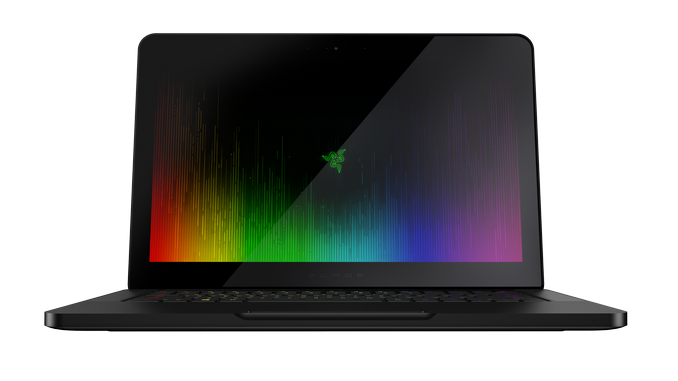 The 2015 Razer Blade was a nice evolution in the history of Razer's 14-inch gaming notebook lineup. This 0.70", or 17.8 mm thick notebook is built from a solid aluminum chassis, CNC milled and finished with a matte black finish. It is one of the thinnest and lightest gaming laptops around, and yet it still packs in a NVIDIA GTX 970M GPU. Today Razer is announcing an update to the Blade which brings some nice additions to one of the best built notebooks around.
The exterior is very much the same design, which is not a bad thing. It is not identical though. Razer has shaved a bit of weight off of the package, and it is now just 4.25 lbs / 1.92 kg, down from 4.47 lbs / 2.03 kg on the previous generation. The overall finish is the same, but closer inspection reveals the addition of a USB-C port with Thunderbolt 3 as well. With Razer announcing the Razer Core external graphics dock at CES, it was a sure bet that the next Blade would also be compatible, and right on cue, Razer's lineup which supports their external graphics dock has doubled.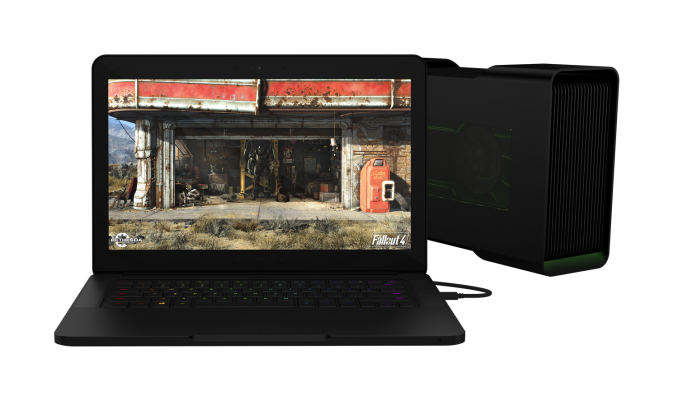 Keeping to the outside, another feature which Razer debuted at CES on the Razer Blade Stealth has also found its way to the Blade, and that is the Chrome keyboard. This anti-ghosting keyboard now supports 16.8 million colors on each individual key, and it supports the Razer SDK so that games and other applications can tap in to the Chroma software to customize the lighting effects on a per-application basis. I like Razer green, but user customization trumps that color any day, and this is a welcome addition.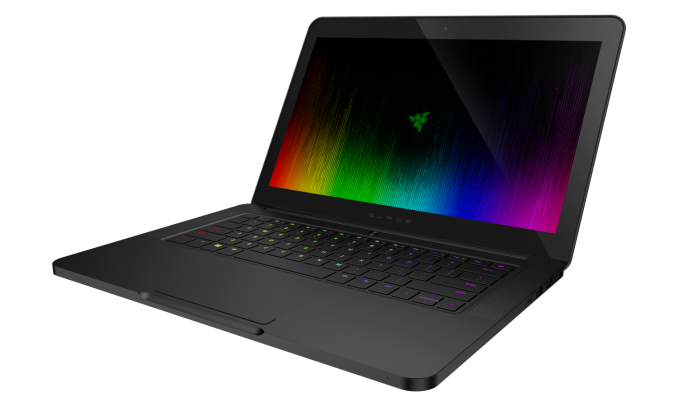 On the inside, there are some nice updates as well. The CPU is now an Intel Core i7-6700HQ processor, which has a 2.6 GHz base frequency and 3.5 GHz turbo, and this quad-core model also supports hyperthreading. Last year Razer bumped the memory up to 16 GB on the higher end version of the Blade, and that is now standard across the lineup, and it is of course DDR4-2133 with the inclusion of Skylake. NVIDIA hasn't released any new GPUs in a while, and as we wait for the new FinFET graphics cards to come sometime later this year, Razer has instead moved to the 6 GB GTX 970M option, up from the 3 GB version in the Blade last year. The wireless has also been switched to the Killer Wireless-AC 1535, which can help with latency when gaming. Finally, storage has been switched out to PCIe M.2 SSDs, and for 2016 there will only be 256 GB and 512 GB options, meaning the too small 128 GB version is thankfully no more. When games can be 50 GB on their own, that simply wasn't enough storage for this type of system.
Razer Blade Comparison
2015 Razer Blade
2016 Razer Blade
CPU
Intel Core i7-4720HQ
quad-core 2.6-3.6GHz 22nm 47W
Intel Core i7-6700HQ
quad-core 2.6-3.5GHz 14nm 47W
GPU
NVIDIA GTX 970M 3GB
NVIDIA GTX 970M 6GB
Memory
8-16 GB DDR3L-1600
16GB DDR4-2133
Display
1920x1080 IPS matte
3200x1800 IGZO touch
3200x1800 IGZO touch
Storage
128/256/512GB SATA M.2
256/512GB PCIe M.2
I/O
3xUSB 3.0
HDMI 1.4a
3xUSB 3.0
HDMI 1.4b
USB-C Thunderbolt 3
Wireless
Intel Dual Band Wireless-AC 7260
Killer Wireless-AC 1535
Dimensions
13.6" x 9.3 " x 0.70"
345mm x 235mm x 17.8mm
13.6" x 9.3 " x 0.70"
345mm x 235mm x 17.8mm
Weight
1080p Model:
4.19 lbs / 1.9 kg
QHD+ Model:
4.47 lbs / 2.03 kg
4.25 lbs / 1.93 kg
Battery
70 Wh
70 Wh
Keyboard
Razer Green anti-ghosting
Razer Chroma anti-ghosting
Price
$1999-$2699
$1999-$2199
The display is pretty much unchanged. Razer is sticking with their Sharp IGZO 3200x1800 touch display, which we've seen on the Blade since 2014. It is a solid panel, offering great clarity, along with good color accuracy. When I say pretty much, the one change is that the short lived 1920x1080p matte offering which lost touch capabilities, but improved battery life, is no longer available. Razer didn't say whether this would be coming back, but they only told me they would continue listening to customer feedback. It's possible that this model just didn't have enough sales to justify the extra SKU.

Possibly the biggest change though is the pricing structure. For 2015, the lowest cost Razer Blade was the 256 GB 1080p model, for $1999, and the touch version started at $2199 for 128 GB and $2399 for 256 GB. For 2016, the entry level Blade with the QHD+ touch display and 256 GB of storage is just $1999, and the 512 GB version adds $200 to that. At the same storage capacity, Razer has lowered the price $400, and it is $500 less for the 512 GB version. That's a significant cut, although the Razer Blade was certainly a high priced offering before. With the aggressive pricing on the Razer Blade Stealth at $999, Razer seems to be making a move to be a bigger volume player than they were in the past.
The 2016 Razer Blade will be available for pre-order on RazerZone.com tomorrow, with shipments starting in April.
Source: Razer